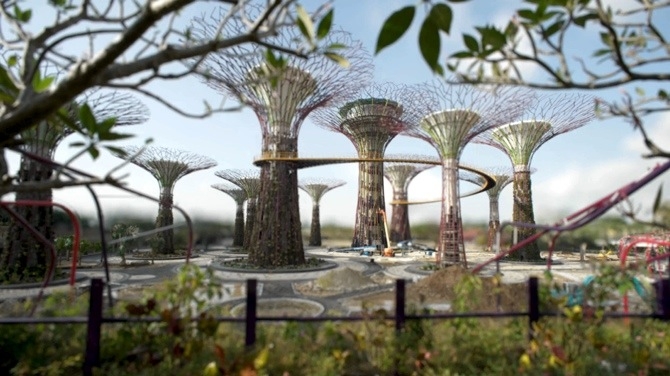 Tilt-Shift, Time-Lapse and wacky-looking architecture are the unusual mix of ingredients that make this short film by Keith Loutit question your cognitive apparatus.
I don't know about you but for me there's a combined sense of massive, almost foreboding, scale - and yet miniaturisation at the same time in this fascinating piece.
We got hold of Keith, who's based in Singapore, where the film was shot, and asked him all about it.
What were you hoping to add by using this unusual combination of time-lapse and Tilt/shift techniques?
I first developed the tilt shift / time-lapse combination around 4 years ago in photographic experiments that I released within the Bathtub series of films. The idea was to present well known landscapes and daily life in a style that is both documentary and transformative. Often people start to take their surroundings and lives for granted, and in these Sydney films my aim was to help people see their amazing surroundings with fresh eyes, as if for the first time.
Were your effects made entirely with special lenses, or did you use post production software as well?
My style uses a combination of optical and post production effects. For in camera optical effects, I use a large format bellows and custom built ball mounts to fit enlarger lenses and large format lenses to Nikon camera bodies. For the post production techniques I use After Effects.
More often, my work uses post fx as I start to extend the style with new techniques, but I still enjoy and prefer using tilted lenses because of their natural look, and it forces me to focus on the action and composition rather than what I'm going to do back at the studio.
What cameras did you use?
I shoot time-lapse stills on Nikon D3 & D4 Bodies for their durability, low noise capability and RAW buffer which are all important to high speed time-lapse work. For some day to night work I use Canon Bodies in conjunction with 'The Little Bramper' bulb ramping intervalometer.
How long did the film take to shoot/edit?
There were two stages to this project. The first stage, was a slow study of locations and compositions around the country, where I was filming without a specific film in mind, and I also shot the National day parade last year. The second stage was one where the idea for the film started to take shape, and around 80% of the landscapes were shot in the past 4 months, all shot with the transitional post effects I had in mind. The process of collaborating with Michael Adler Milterson on the music and edit was very fast, and done in less than a week mainly because of Michael's talent in this type of musical arrangement.
What kind of reaction have you had to the film? Have people enjoyed the technique, or have they been puzzled by it?
The reaction has been great. The film has been viewed plenty of times, and news / blog sites around the world have shared the film. Generally the film has been better received by people who don't know my previous work, than those that do. I don't fully understand why, but I suspect people like the simplicity of my previous work, and have a reference to compare the new work to. From the photographic community as a whole, the response has been overwhelming and positive as there are some new 'tricks', that warrant a second look at the technique.
Do you think you would have been able to make a film like this ten years ago?
Not within the last 5 years, on my budget. There's a lot of technology involved in both the image capture side, and the post production work that would have been impractical. On the photographic side, the development of digital cameras has allowed for a sped up time-lapse workflow with more quality control due to instant preview. Tools have also become available for high quality light transitions. On the post production side, computer processing power and prosumer software allows artists like me to explore more options, in less time and a lower budget.