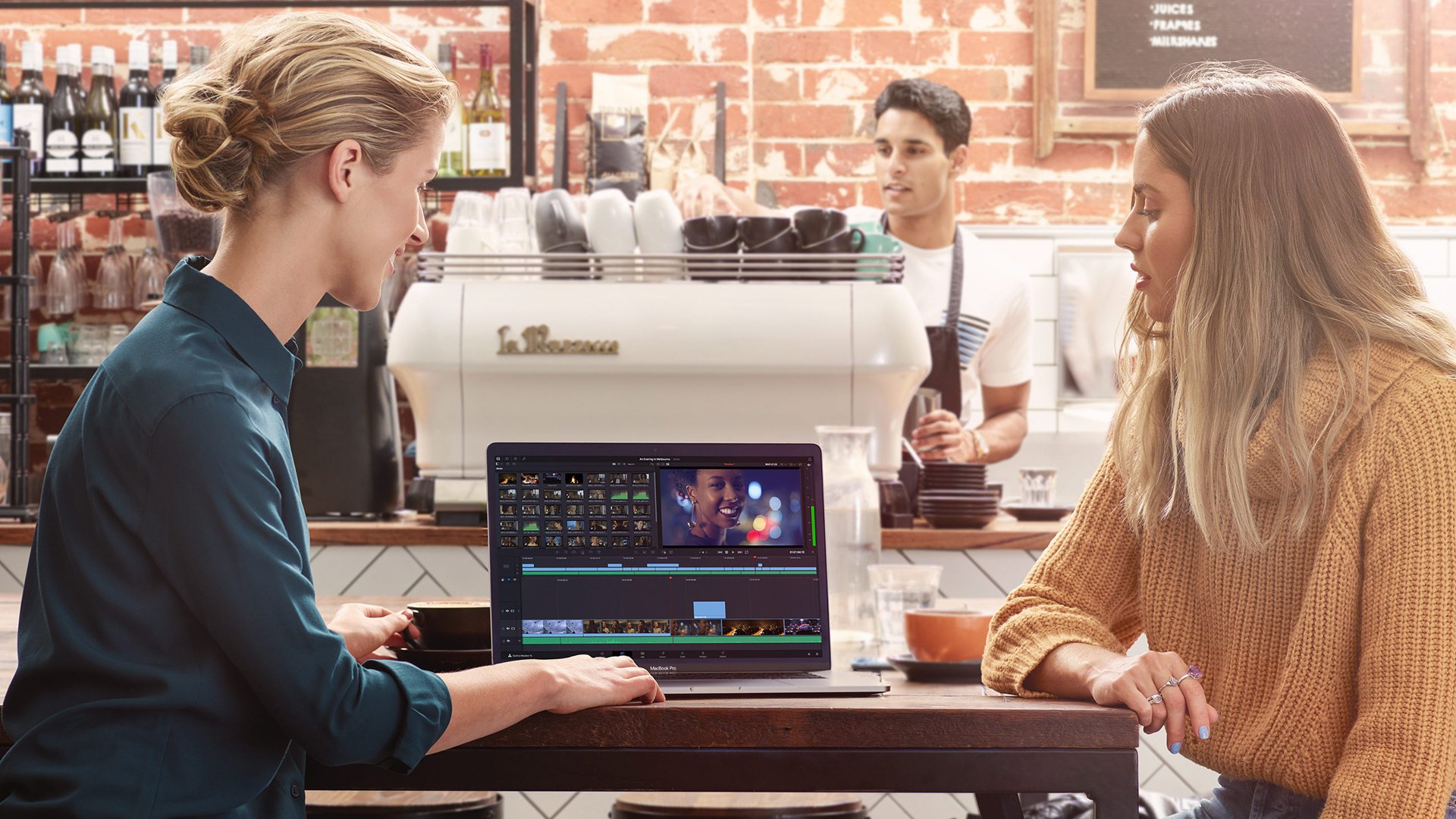 Blackmagic Design DaVinci Resolve 16 is here, and it contains a transformative feature set.
Prior years' history tells us that the first day of NAB sees a new release of DaVinci Resolve. In fact, by late last week, Blackmagic was already teasing Resolve 16 even as the banners were being pasted on the Convention Center's façade.
Blackmagic has long stated that editing plays significantly in their plans for Resolve and with Resolve 16 we see a significant added feature. While Resolve's edit page already incorporated sophisticated editing functions, Blackmagic noted from user feedback and the company's own experience that there is a class of editors who need to work fast and simply. Thus Resolve 16 brings the Cut Page. Cut does not replace the Edit page which continues to be there for users but is designed to provide a faster and more efficient editorial path for users who want a more streamlined approach to editing without anything that gets in the way.
Finding clips is faster and easier. Click on the source tape button and all clips within the respective bin appear as one long "video tape." Select in/out points ande drag to the timeline. Or, we should say the lower timeline. Cut has an upper timeline representing the entire project and a lower timeline just representing the area being worked on. It is a faster workflow than merely zooming. The Cut page allows color matching and some color functions and now most significant, both the Edit and Cut page allow basic exports right from the Cut or Edit window without needing to switch to the Deliver page. Resolve 16 now also has direct export to Frame.io, Vimeo or YouTube.
More under the hood improvement comes from BMD calls the DaVinci Neural Engine. It leverages GPU processing and AI to solve repetitive or more time consuming workflows and facial recognition can automatically sort shots based on people into bins. And the improvement allows faster processing of up-scaling, speed warp motion and other processor and GPU intensive tasks.
Other new features, long desired by users, include adjustment clips and elastic wave alignment in Fairlight. Users will also see new ResolveFX plug ins for vignettes, drop shadow, object removal, pixel fixer and others.
The full feature set is below
DaVinci Neural Engine for AI and deep learning features.
Dual timeline to edit and trim without zooming and scrolling.
Source tape to review all clips as if they were a single tape.
Trim interface to view both sides of an edit and trim.
Intelligent edit modes to auto sync clips and edit.
Timeline review playback speed based on clip length.
Built in tools for retime, stabilization and transform.
Render and upload directly to YouTube and Vimeo.
Direct media import via buttons.
Scalable interface for working on laptop screens.
Create projects with different frame rates and resolutions.
Apply effects to multiple clips at the same time.
DaVinci Neural Engine detects faces and auto creates bins.
Frame rate conversions and motion estimation.
Cut and Edit page image stabilization.
Curve editor ease in and out controls.
Tape style audio scrubbing with pitch correction.
Re-encode only changed files for faster rendering.
Collaborate remotely with Frame.io integration.
Improved GPU performance for Fusion 3D operations.
Cross platform GPU accelerated tools.
Accelerated mask operations including B-Spline and bitmap.
Improved planar and tracker performance.
Faster and user and smart cache.
GPU accelerated scopes with advanced technical monitoring.
Custom and HSL curves now feature histogram overlay.
DaVinci Neural Engine auto color and shot match.
Synchronize SDI output to viewer zoom.
Mix and master immersive 3D audio.
Elastic wave audio alignment and retiming.
Bus tracks with automation on timeline.
Foley sampler, frequency analyzer, dialog processor, FairlightFX.
500 royalty free foley sounds effects.
Share markers and notes in collaboration workflows.
Individual user cache for collaborative projects.
Resolve FX plugins with timeline and keyframes.
But that's not all for Resolve. Blackmagic also has announced and is showing an early demo of the DaVinci Editing Keyboard.
Much as colorists desire a dedicated control panel, the editing keyboard allows virtually mouse-free two handed operation of edit functions. Dedicated keys integrate with functions in the Cut page and an innovative clutch-loaded jog shuttle wheel provides gross or fine control of scrolling, trims and even transition durations. The "clutch" can engage to allow for slower more accurate playhead or trim movements. A key toggles between jog and shuttle. Only early prototypes are being shown in the BMD booth, but Blackmagic promises it will be of aluminum construction with a padded palm rest. It should ship in August at a price of $995.