Red Giant has just announced a major update to its popular Trapcode suite, including a new Dynamic Fluids engine, and the ability to directly import 3D objects into After Effects.
Trapcode is going from strength to strength, and the latest release, Trapcode 15, shows no signs of slowing down. There's quite a lot to see in this latest iteration, so let's take a look at what's on offer.
Trapcode Particular 4
The powerful particle generator within Trapcode gets a very notable boost, the most spectacular being the new Dynamic Fluids engine. This new physics based system allows particle to behave, as the name would suggest, through real fuids, allowing a whole host of animation possibilities, as well as simulations. For a taste of what is possible with the new engine, take a look at the teaser below, which was produced by Territory Studio , the guys responsible for the effects in Blade Runner 2049.
Also new is a redesigned particle designer, which allows you to create adjustable blocks with preset behaviors for style, behaviours and physics, as well as adding customisable particle effects with one click. The suite comes with over 35 new presets that take advantage of the new Dynamic Fluids system to give users a head start.
Trapcode Form 4
Again, Trapcode Form 4 also takes advantage of the new Dynamic Fluids system allowing some pretty impressive new particle grid and object behaviours. The designer here, too, has been updated to make the creation of these effects easier than before, and 20 new presets are now included to show off the updated capabilities of the system.
An example of Trapcode Form 4 transforming a logo into smoke
Trapcode Mir 3
Mir 3 allows the creation of endless flowing surfaces and tunnels, and terrains using 3D objects as the base. While Mir 3 includes over 60 OBJ presets, you can now import your own 3D objects to create fully custom effects. New texture presets also allow users to get a head start when it comes to texturising the surfaces of those objects either for realism or stylistic design.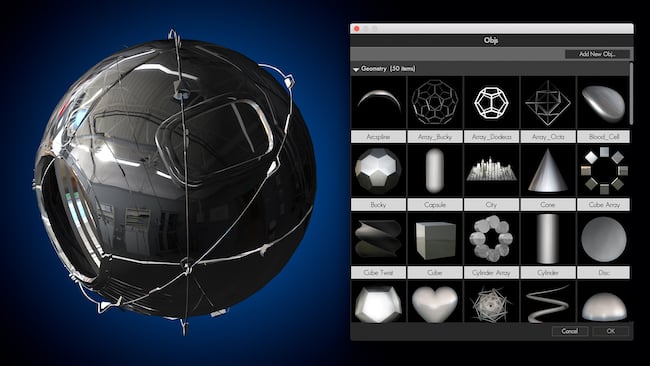 The new Mir 3 includes over 60 preset 3D OBJ files as a starting point
Just like cameras, the sorts of effects animators can now achieve without anything approaching a Hollywood budget is absolutely mind blowing. There has never been a better time to be a creative!
Find out more on the Red Giant website.
Trapcode 15 retails at $999, while an upgrade from a previous version is $199. There is also an academic version for $499.set behaviors and styles for