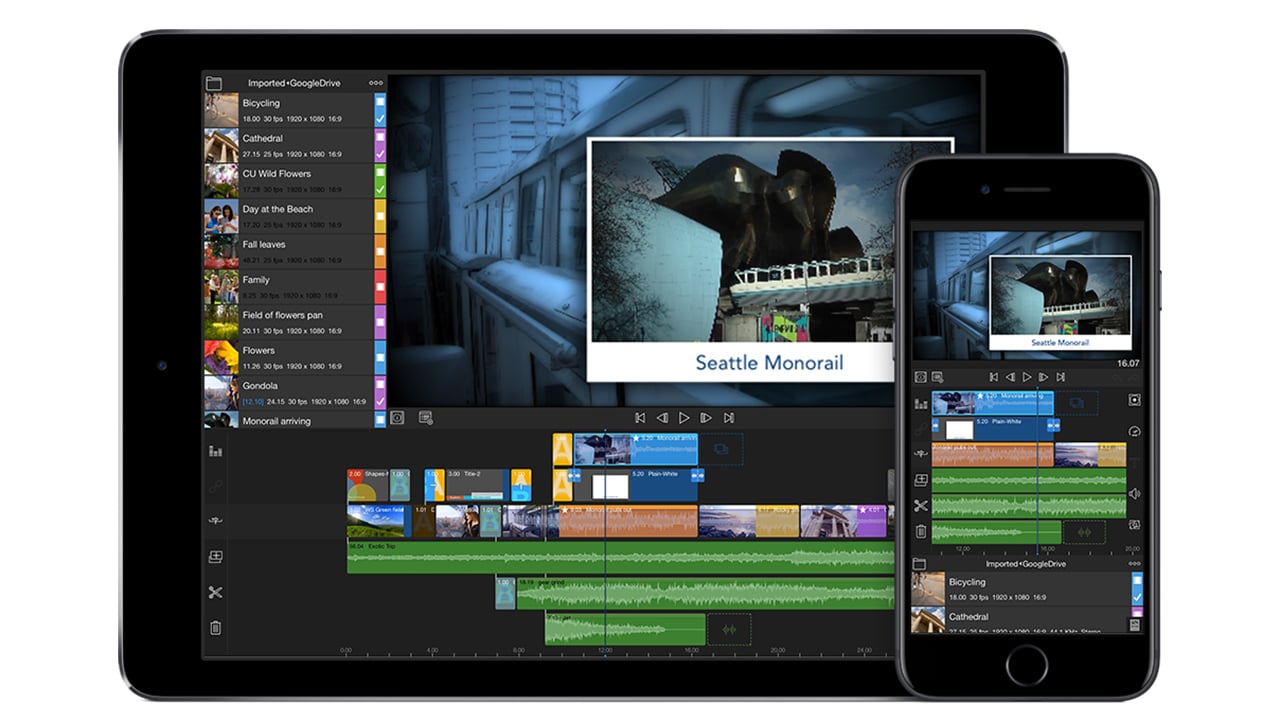 Effective editing on an iPad has been a dream for some people for a long time. Now it looks like it is finally a viable thing.
The iPad has long thought to be a solution in waiting for a new way to edit video. It goes without saying that Apple already includes iMovie with its tablets. But clearly that software isn't going to give the versatility required for professional work.
Until now there have been two things holding the iPad back from having a properly useful NLE. The first is willing on the part of developers, and the second is the lack of external storage for footage. It has been a bit of a chicken and egg situation. But now it looks as if those issues may be a thing of the past with the recent announcement of LumaFusion and GNARBOX compatibility.
LumaFusion is a fully featured iPad and iPhone based NLE made by Luma Touch. The brains behind LumaFusion were also responsible in the past for the Pinnacle NLE systems before they were bought out by AVID. All the usual features found in a traditional NLE are there, including multi-track timelines, colour correction facilities, live audio mixing, titling, effects layering etc. It even supports video resolutions up to 4K. All designed specifically with a touch interface in mind.
Enter GNARBOX
But if you are out in the field somewhere, and you are filming using any sort of normal camera, you still have to find a way to get that footage onto your mobile device so that you can place it on a timeline. With a new announcement from Luma Touch, LumaFusion now integrates with GNARBOX. What's GNARBOX you say?
GNARBOX is a Kickstarter based portable rugged, completely weatherproof and water sealed SSD backup system with built in WiFi. Ordinarily the GNARBOX would be useful for anyone out in the field who wants to back up their footage quickly without needing a laptop. Just plug in your SD card or connect via USB and way you go.
That's all very nice and lovely, but the real story here is that you can now use it as a wireless external storage device for use with LumaFusion. LumaFusion will preview the footage from the GNARBOX, which you can then trim and then add to your timeline.
In short it eliminates the one main hurdle that holds back the iPad from being used as a serious video editing device. It could mean the ability, finally, to have a useful editing system in the field that really does hardly take up any space or weight in your bag.
Who would use it? Journalists reporting from hard to access places would be a good start, as would social media content creators. It's also something that could appeal to schools and colleges in some capacity.
How well does it work? Well we'll tell you very soon in our forthcoming review of the system. Stay tuned.
For more information visit the Luma Touch and GNARBOX websites. LumaFusion is available from the Apple App Store for $19.99.