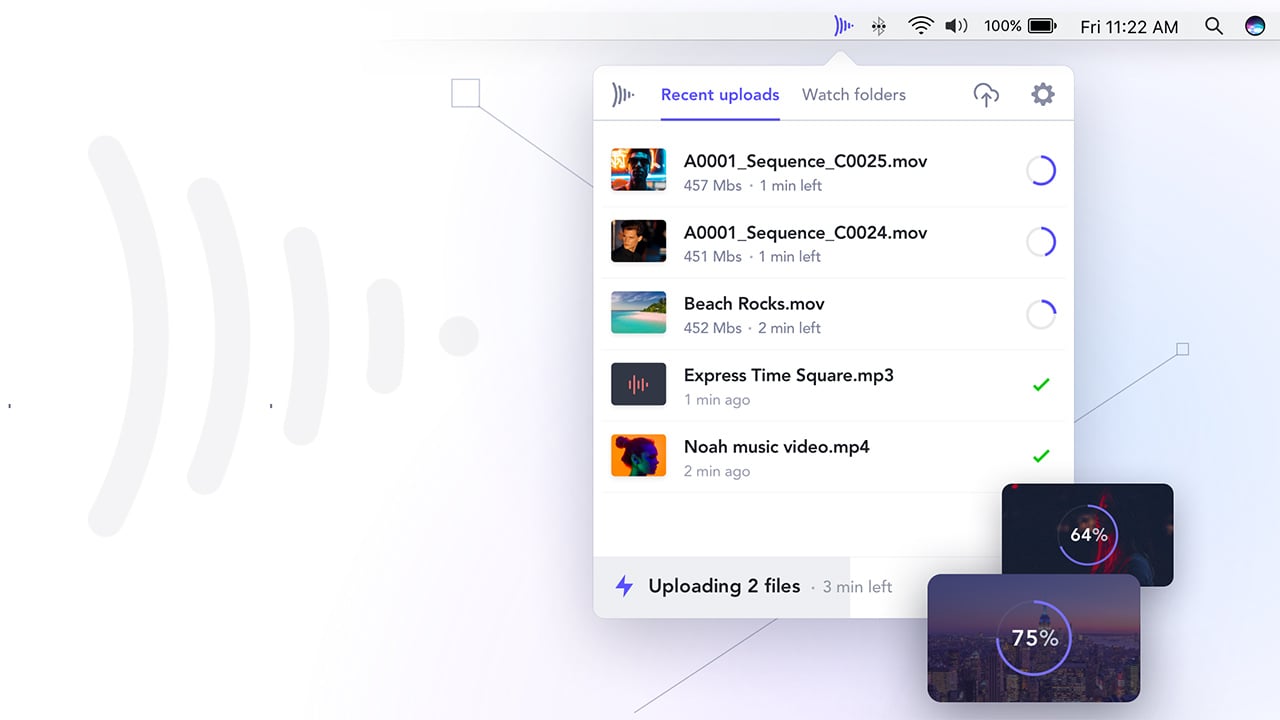 Following on from it's recent upgrade announcement Frame.io has some further surprises for us with new macOS integration.
No sooner has Frame.io announced a major new upgrade than it is announcing further good news in the form of some brand new macOS integrations.
One of the drawbacks of using FCP X is that it's integration with client review services cannot match the flexibility offered by the likes of Premiere Pro. Wouldn't it be great if you could upload assets to a service like Frame.io regardless of the NLE you use right from your desktop? Well that's exactly what Frame.io have done.
The new menubar app allows users to send raw assets, dailies, and edits for feedback all the while retaining the original folder structure. But it doesn't stop there. The company has identified failed uploads as a major issue for users. When large projects are uploaded we can't always rely 100% on our internet connections to do the job. Particularly in places that are not lucky enough to have fibre to the premises.
Frame.io's new 'indestructible Watch Folders' are designed to cope with anything that fate might throw at them. From poor internet connections through to laptop battery failure. If something prevents the upload at any point the files will continue to upload from where they left off once connection is established again.
If this sounds a bit like DropBox, that's because it is. Except that Frame.io claim that their new accelerated upload service speeds are up to five times faster.
One question that might be asked by FCP X users is what advantage this gives them over just going to the Frame.io site and uploading as before? For one thing there's the indestructible folder system, which will absolutely ensure the upload is a success, unlike simply dragging and dropping to the main site. The other is that the new app allows a folder to be paired to the service. This means that you can render out the timeline from any NLE to that folder and it will immediately begin uploading to your Frame.io account. Once done a notification will be sent to project members. Although it is also possible to enable private uploads so that you can check things first.
It looks like 2018 is going to be a good year for Frame.io. Read its press release on the next page.
Frame.io Debuts High-Speed File Transfer App
WATCH FOLDERS FOR MACOS, AN ENTIRELY NEW WAY TO MOVE MEDIA. INDESTRUCTIBLE, ACCELERATED AND SECURE UPLOADING THAT'S UP TO 5X FASTER THAN THE COMPETITION.
New York City, NY – Frame.io, the leading workflow management platform for video, today introduced indestructible uploading with Watch Folders for macOS. This release marks an entirely new way to move media right from your desktop to Frame.io. The new macOS menubar app enables creatives to send raw assets, dailies, and in-progress edits to Frame.io for feedback and approval while preserving folder structure.
"Uploading large video assets is often slow and error prone. We've all uploaded large assets (or a large batch of assets) overnight, only to discover one or more files has failed. If you're not constantly monitoring the progress, you could miss a deadline," explains Emery Wells, CEO of Frame.io. "Frame.io's new indestructible Watch Folders were designed to continuously push the upload forward, so no matter where you are, how bad your internet is, if your battery dies – the moment you reconnect to the internet, the upload resumes. It's built on our accelerated upload technology which has consistently been tested as one of the fastest file transfer solutions on the market."
With the new macOS menu bar app, Frame.io users can pair a local folder with a Frame.io destination folder, then render files right from DaVinci Resolve, Adobe® Premiere® Pro, Adobe® After Effects®, Adobe® Media Encoder, Apple® Final Cut Pro® X, Avid® Media Composer®, On-Set Dailies and Assimilate Scratch. As each file completes rendering, it will automatically upload to Frame.io and send all members of your project a notification. You can even set the files to upload as private so you have a chance to check them before your collaborators do.
Indestructible Uploading: Quickly, securely, reliably.
Frame.io Watch Folders maintain the folder structure – no matter how many layers deep – and ensure assets are securely uploaded. Whether you're uploading overnight, on a flight, at a coffee shop, or on location, the new indestructible upload will give creatives the peace of mind to work under the toughest deadlines and security measures. The new companion app will support multi-gigabit upload speeds, allowing users to upload one-hundred gigabytes of media in as little as 13.3 minutes, folder structure fully intact. Upload any file type. Preview over 150 formats in the all new Frame.io.
Accelerated uploading that blows away the competition.
How fast? We're talking 150GB-file-in-under-an hour, fast.
• Up to 2X faster than Signiant and Aspera
• Up to 2X faster than Vimeo
• Up to 3X faster than Wipster
• Up to 5X faster than Dropbox
Learn more on the Frame.io blog: http://blog.frame.io/2018/04/09/watch-folders/
Check out the other features and updates in the all new in Frame.io: http://blog.frame.io/2018/03/27/all-new-frame-io/
Meet with Frame.io at NAB 2018
The Frame.io team and product demos will be hosted at the Western Digital booth (SL6316) in the South Lower Hall at the Las Vegas Convention Center. To request a private meeting, please contact sales@frame.io.