The new glass is designed to appeal to users of the RED Komodo, and the new Canon R5/R6 and C70 cameras.

The new Laowa 9mm T2.9 mounted on a RED Komodo. Image: Phil Holland.
Venus Optics seems to be releasing a new lens each week at the moment. This time it's the turn of RF mount camera owners to get the wide angle treatment, with the new models already being available in Fuji X, Sony FE, E Mount, EF, and PL depending on which version you choose.
The new Laowa Zero-D lenses consist of three models, a 9mm T2.9, a 15mm T2.1, and a 12mm T2.9. Zero-D stands for "zero distortion" so the lenses should be pretty much free of any fisheye style geometry issues, making them idea for subject matter such as architecture.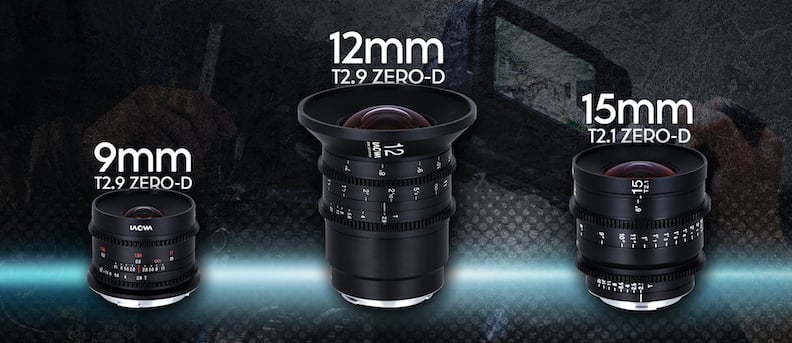 The lenses have been designed for cinema style use, with full manual focus and iris control. They re also light weight, with the heaviest, the 12mm, weighing in at 675g, while the 9mm weighs only 226g. As such they should also find use on drones, gimbals, and other scenarios where kit needs to be kept light weight and compact.
Close focussing also features, which is an important aspect of wide angle composition. The 9mm model can focus at 12cm, the 12mm at 18cm, and the 15mm at 15cm (sensor to subject).
All of the lenses come complete with a hard Pelican case (an actual Pelican case, not a third party model) and they are available to purchase now at the following prices,
9mm T2.9 $599 ex taxes
15mm T2.1 $1199 ex taxes
12mm T2.9 $1499
Find out more on the Venus Optics website.
Tags: Production