Kinefinity has unveiled the MAVO Edge, and 8K camera that can shoot up to 75 fps at 8K wide, includes internal ProRes RAW recording, and a full-frame CMOS sensor at 36 x 24mm (44.7 mp). With all this power, the camera is priced under $12,000 USD, making it competitive with other cameras.
Kinefinity MAVO Edge 8K Key Features
As mentioned above, the new MAVO Edge can film up to 75 fps at 8K wide, and up to 48 fps in 8K 3:2 (8192 x 5456). With internal ProRes RAW recording, 14 stops of dynamic range, dual native ISO, and much more, Kinefinity's new 8K camera may send other camera manufacturers back to the drawing board with their next offerings.
The body styling is carbon fiber, making it strong and lightweight at about 2.6 lbs. (1.2 kg) without a lens and other attachments. There are plenty of physical controls to easily dial in the image and audio while setting up shots and filming. The user interface is clean and streamlined. The camera has a native KineMOUNT lens mount at 15mm FFD, with plenty of adapters for more common camera mounts.
Here are some of the important features:
36x24mm full-frame CMOS sensor at 44.7 megapixels

8K ProRes RAW internal recording
14 stops of dynamic range
Dual Native ISO at 800 (regular base) and 3200 (high base)
ProRes 4444 XQ, ProRes 422 HQ and H.264 proxy
8K at 3:2 (8192 x 5456) recording up to 48 fps
8K wide (8192. 3456) recording up to 75 fps
6K at 100 fps (oversampling)
4K at 160 fps (oversampling)
Dual SSD media slots
Native KineMOUNT lens mount (15mm FFD), with adapters for PL, LPL, and Active
Two independent XLR ports and one 3.5 mm stereo mic input
The Kinefinity MAVO Edge is an important cinema camera addition to the industry, especially with the ProRes RAW recording support. ProRes RAW made waves at the 2018 NAB Show, and support is starting to grow.
Having the ability to shoot 8K in 3:2 format, a monstrous 8192 x 5456, gives filmmakers and video professionals the ability to edit and crop their footage. Other recording formats include DCI and more 'flavors' of ProRes, including 422 HQ and a proxy option.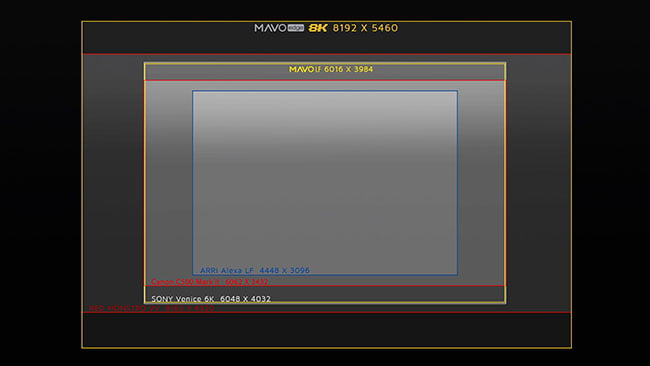 When it comes to editing and storage 8K RAW footage, your systems will need to have a fairly powerful CPU, GPU, plenty of RAM, and storage with enough speed and available space.
While you can edit the Kinefinity MAVO Edge 8K footage in a proxy mode in all major NLE software, when you 'online' the project to full resolution, having a powerful system, whether Mac or Windows, will ensure the final renders happen fast, helping you meet deadlines.
Conclusion
The new Kinefinity MAVO Edge is priced at $11,999 USD, without accessories, making it a more affordable 8K ProRes RAW camera than similar models available now, or in the near future. This is a cinema camera that packs quite a punch at a price point that is more affordable for owners, and also rental houses. Kinefinity has slated the camera to be released in September 2020.