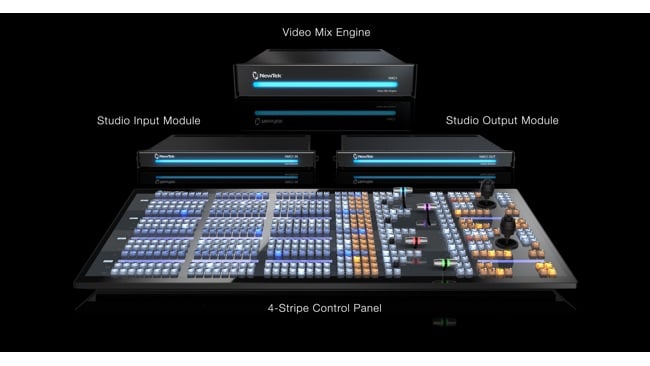 RedShark News talked to NewTek just ahead of NAB for a status report on its Network Device Interface. With the industry rapidly collapsing around an SPMTE standards-based approach to IP, where does NDI fit in? In quite a lot of places it turns out.
While most vendors seem to be rallying behind the SMPTE standards-based approach of AIMS, there is one company which appears an outlier. While claiming interoperability with and backing for SMPTE standards, NewTek continues to promote its Network Device Interface (NDI) as a parallel video over IP path. It's pretty successful too, attracting a significant number of third parties including LiveU, Vizrt, Teradek, AJA, Matrox, Panasonic, Adobe, ChyronHego and Playbox to incorporate NDI support.
It's royalty free and NewTek offers an SDK to vendors wanting to hook their products into it. What really marks NDI out is NewTek's belief that the world is headed toward ubiquitous general purpose computer systems, not customised broadcast specific hardware.
NDI works over the standard GigE networks common in almost every facility, broadcaster or corporate enterprise. Most corporates have networks based on just 1GigE. While NewTek says NDI can take advantage of faster connections with higher bandwidth networks, these are not required for a company to get started in IP workflows using NDI.
NewTek's NDI customers range from small indie producers to schools and churches, YouTube and Facebook streamers and corporates which are all increasingly looking to communicate with live video.
However, it also points to traditional broadcast networks and "very high visibility productions with viewers ranging into the billions" as NDI customers. These include Chinese state caster CCTV using NDI to create shows around the Chinese New Year.
It's worth noting that the BBC too has a dual video over IP strategy where it is equipping major broadcast hubs with SMPTE standardised heavy duty broadcast kit, but is exploring alternative ways to live stream.
"We see NDI as a technology relevant to any video producer that needs to communicate, deliver, and receive 'broadcast' quality video," says Will Waters, director product marketing & sales enablement.
It's that 'broadcast quality' video (in Waters' quotes, not ours) which highlights a major difference between AIMS/SMPTE and NDI.
The firm's boss Andrew Cross has stated that NDI is compressed at "baseband quality", similar to ProRes or DNxHD. NewTek's pragmatic belief is that SDI will be better, at this stage, to transport uncompressed video around. However, a compressed version is good enough for streaming to the internet.
Compression has matured
"Compression is already a major part of broadcasting and video production at every level," says Waters. "The technology around compression has matured significantly. As we move into higher resolution formats and deeper colour depths, compression is a very necessary and valuable tool to move video to be used in live production throughout the infrastructure."
He continues: "Every live production that uses pre-packaged video clips or graphics uses some form of compression. NDI is pretty special in terms of compression as well. NDI is stable across multiple generations. It can be aware that the video frame has already been compressed and therefore there is no need to attempt compressing it again. This goes back to the benefits of using IP networks. Source devices understand how the video stream is used downstream and can respond accordingly. This will not be a concern to most producers. These days, it is more of a factor that compression is useful because the added cost of moving uncompressed video everywhere is just not sustainable."
NewTek views NDI as a complementary technology to the efforts of AIMS and SMPTE. "Some large traditional broadcast operators require specific needs in the IP network such as uncompressed video, dealing with multiple essences and tagging metadata for existing workflows. AIMS and SMPTE are aimed at solving these problems," explains Waters.
The company recently announced the NC1 I/O IP Studio Interface in the NewTek Connect line of products that supports SMPTE 2110.
"In this way, users of NDI do not have to worry about being locked to specific protocols, thus allowing them to always have the ability to pick best-of-breed products for their productions," he asserts.
NewTek says it isn't able to track every company that is using or has announced plans to use NDI in their products or organisations but the NDI SDK has been downloaded more than 2,000 times and 420 companies to date have indicated that they are creating commercial applications based on NDI.
"We often asked about the differences of NDI versus other IP technologies," says Water. "Maybe people think there is a battle underway where one particular winner will prevail in the end. We see the industry in the midst of change being driven by viewer demand. Ultimately, as an industry, we will need to deliver more content in more places. A lot of that content will be tailored for the individual viewer with niche content and areas of interest."
"Video production on IP is the only way that this becomes a reality. There will be many different sources of content. Much of that storytelling will come from producers that are independent or smaller in size or from traditional providers that dedicate resources to niche content for that individual viewing experience. Ultimately, the differences in IP formats will result in using the right tool for the task at hand."
Tags: Production IP Video