What's it like using networks - Newtek's NDI in this case - instead of conventional cabling at a live event?

NewTek's NDI (Network Device Interface) sends moving images over a standard IT network. Any video device (a NewTek TriCaster, for example) can "see" any video source. NDI not only diminishes the need for SDI with low cost network cables, but brings all the routing and distribution talents of a network to live productions, too.
Real, live TV productions are happening now with NDI as the only link between the video sources (cameras, graphics generators, even iPhones!) and the production centre.
We talked to Brett Beanan of Intuitive Technology Solutions, who's already using NDI routinely in high profile live productions.
REDSHARK: Hi Brett. Thanks for answering our questions about NDI. What immediate advantages does NDI bring to live, streamed events?
Beanan: Reduction in failure points... So, normally to get a PowerPoint slide on to screen, it would require: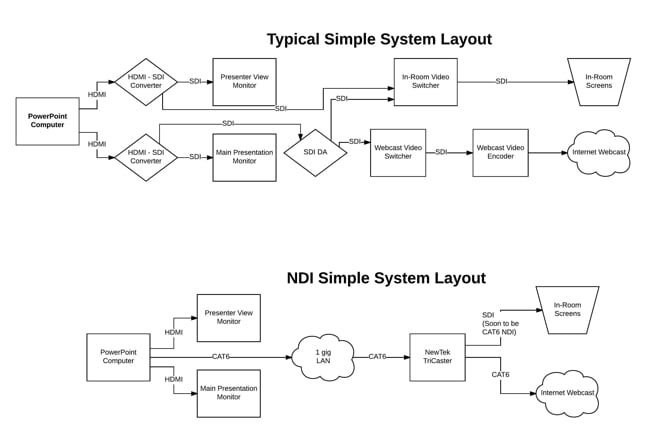 Now with a simple system like this, we are only talking about maybe 20 failure points reduced by using NDI to 10; so a 50% reduction. Without NDI, doing a big show with six computers and multiple cameras can be a mess! NDI also sped up the set-up process. Laying all of the SDI cable and trouble shooting: all of that is replaced by a single cheap CAT6 cable.
REDSHARK: What's it like working with NDI sources?
Beanan: One word: "Ease." So easy, in fact, that after you turn everything on and you select your inputs on your TriCaster, you step back and say, "Is that it? Am I done? There has to be something else!" In most of my shows, I run multiple TriCasters feeding different screens, webcasts and backups... With NDI, I don't have to worry about splitting all of the signals.
REDSHARK: How is planning a live streamed event using NDI different from a "conventional" event?
Beanan: It does take a new skill set. The first show I did, I had to figure out all of the new networking gear and get that working (which took me almost an hour), but once I figured that out, the NDI stuff just worked! I know this does not make for a great answer to your question, but it just worked with no fuss.
REDSHARK: How important do you think NDI is to the future of live production?
Beanan: It will be like going from horse-drawn buggies to cars. I believe that companies who ignore the new opportunities will lose market share. NDI will make setting up video systems much easier and faster, which will allow for more time to create amazing new video elements, and better productions.
REDSHARK: In your opinion, is it ready for serious use in a live situation?
Beanan: Having just used it for a live show and webcast (3,000 people in the live audience and 40,000 watching the live stream), I would say "absolutely."
But I say his with one caveat: it takes an experienced video engineer. I say this because it is new technology with new workflows that have to be taken into consideration so that you do not end up causing yourself a show-stopping mistake.
Click here for more information about making live video productions with NewTek's NDI.
Graphic by Shutterstock