Phil Rhodes takes a good look at the Hollyland Mars 400S Pro, a wireless video link alternative that appears very promising indeed.
There actually was a time when a film set might not actually have provided wireless monitoring, and relied on running coaxial cables everywhere. Now there's often several different kinds of wireless communication going on at once, although not that many boxes combine both wifi and conventional video links in one unit. That's what Hollyland's Mars 400S Pro does, providing for wireless viewing on phones and tablets as well as SDI or HDMI monitors in various configurations.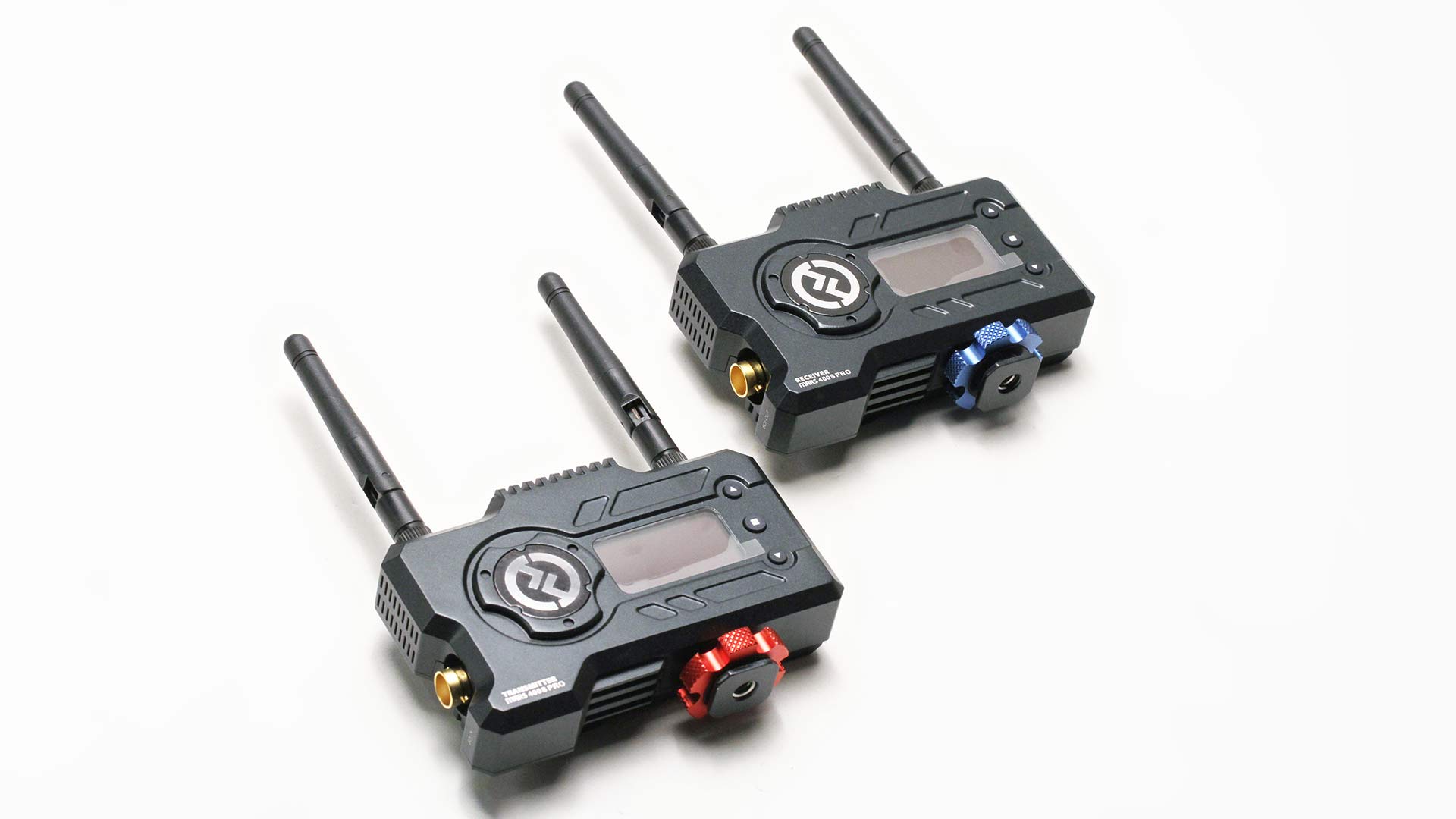 The transmitter and receiver are externally almost identical and look like a MacGuffin from a high-budget sci-fi blockbuster; it's only a matter of time until one of them is pressed into service as a quantum discombobulator and finds itself projecting an elaborate computer-generated particle effect. Compared to the some of its competition, the Mars 400S Pro is built in landscape rather than portrait aspect, making it feel as if it's sitting more comfortably atop a camera than its lankier alternatives.
The cold shoe mount is built into the bottom of the cast metal shell, with controls other than the power switch on the front, and connectors other than the SDI on the back. It's a minor sin to have the SDI poking out in a different direction to other connectors, but it's not a dealbreaker. Transmitter and receiver will run from either Sony NP-F style batteries, or from a very tolerant (and latching) 6 to 16V DC power connector, or from USB-C connector, tolerating 5 to 12V. Power consumption on things like this is rarely tiny, given the amount of processing required for video compression, and the transmitter draws about 11W and the receiver 7. There is a small fan which, on a somewhat overcast British August day, was very quiet – a hiss rather than a whine.

Connectivity is identical on both transmitter and receiver; the blue-anodised nut indicates this is the receiver.
Transmission latency
At this point it'd be traditional to start talking about picture quality and perceptible latency, but there's actually a few different ways to view the pictures transmitted by the Mars 400S Pro. Most straightforwardly, what goes in as HDMI or SDI comes out as HDMI or SDI. The system uses what looks to be H.264 as its on-air codec and there is therefore, necessarily, some brief latency; it's advertised as 0.08 seconds, or a shade less than five frames at 60p, and that's broadly consistent with an eyeball check.
As with a few devices based on a similar overall approach, the latency seems to be a fixed number of frames rather than a fixed real time, so 24-frame video seems laggier than 60. It's difficult to predict the total delay on any piece of equipment, given that many cameras and monitors add delay themselves, but it's not always something we'd want to use to operate. It's good for a director's monitor. It'd possibly be better if the link (or at least the encoder chip) always operated at 60 frames, regardless of the input video timing; maybe that could be done with a firmware change.

There are eight channels and a simple menu system which lets the user change things like the WiFi password.
That's not the only way to look at the pictures, though. Using cellphones as part of critical production infrastructure on all-day single-camera drama shoots, is not actually a brilliant idea, since cellphones really aren't built to be endurance devices if we require they're fully powered-up all the time. For occasional viewing, though, it's a really handy trick, and the Mars 400S Pro can stream video to a phone by creating a wifi network. There's and an app to view the resulting video.
The cellphone app seems to require a reasonably beefy phone, although it does give us histograms, waveform monitors and even 3D LUT capabilities, so we can't complain about a lack of features. Screenshots capture the test and measurement displays but not the UI, which is why there aren't any controls visible in the captured image used here.
Finally, there's the option to plug in a network device such as a laptop, using an adaptor (not supplied) that turns the USB-C port into an RJ45 connector carrying Ethernet, allowing the transmitted video to be accessed as an RTSP stream. That's a trick really intended for live streaming applications, since software such as OBS or even VLC can immediately display and work with the video stream without any further conversion. The network layer inevitably adds a bit more latency, perhaps as much again as the link itself, or slightly more, but it's unlikely to offend people watching on cellphones. Each transmitter can handle two receivers, one receiver and two wifi clients, or four wifi clients simultaneously.

This is the transmitted image with the waveform superimposed; the user interface is not captured in screenshots.
Talking about the reliability or range of any radio communications device is risky, given how dependent it is on what buildings are made from and how much interference is around on any given day. The Mars 400S Pro operates in the 5GHz band, and has eight user-selectable OFDM channels (which can be changed from either end) which are each 20MHz wide. There's an automatic selection routine which looks for dead air. It has, as we'd expect, similar performance to modern wifi, working better over line of sight than it does through walls, and overall has long enough legs to make most people happy most of the time.
Conclusions
Given it's almost exactly the same price as competing things from Accsoon, it's an effective competitor, considering that it puts both the wifi and conventional HDMI or SDI options into the same box. It's solidly built, the user interface is straightforward, and the horizontal layout feels compact and handy. The company even supplies an extra antenna, in case one gets damaged (they're just standard 5GHz wifi antenna, though, so it's not a huge problem to replace them.) As with several similar things in this sort of price range, the penalty we pay for economy is latency, although we seem to have figured out how to control that down to quite acceptable levels for anything other than very critical operating.
The Hollyland Mars 400S Pro sells for about £520 excluding tax in the UK, or $650 in the USA.