The Hasselblad X1D II 50c isn't a new camera, but it is a very interesting one, with a ginormous sensor and Hasselblad's colour science and processing behind it. How does it stack up against today's latest full-frame mirrorless offerings? Nigel Cooper finds out.
I'm a huge fan of medium format cameras, having owned Hasselblad 500cm and Mamiya RZ67 Pro film cameras in the past, so I was thrilled when I was given the opportunity to try out the Hasselblad X1D II 50c with three Hasselblad primes for ten days. Being a keen portrait photographer the 120mm spent most of the time on the X1D II body, and what an incredible combination it proved to be.
Hasselblad X1D II 50c build quality
The build quality of the X1D II and Hasselblad lenses is as good as it gets, just what you'd expect from Hasselblad. The X1D II feels industrially substantial and is milled out of solid aluminium alloy. Being a medium format camera means it's a good size and the chunky grip makes for a good fit, even in the largest of hands. The X1D II appears to be about 30 per cent larger, and heavier, than my Sony A7 III (with grip), which I actually prefer as I have large hands. With the 120mm lens attached it's quite weighty – this is a professional medium format tool and there is a lot of metal and glass in this particular combo.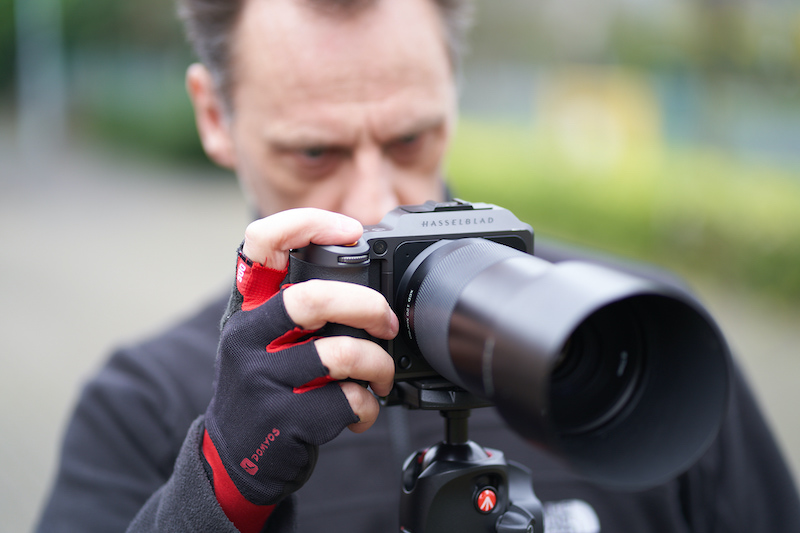 With regard to layout and design the X1D II is by far the cleanest and uncluttered camera I've ever used. There's an aperture wheel at the front of the grip with Hasselblad's distinguished orange shutter button just above it, and on top there are buttons for AF/MF, ISO/WB, a chunky mode dial and the power on button. The back of the camera sports a nice large screen (3.6 inch 2.36 million dot, larger than the original X1D), a shutter speed dial, AE-L and AF-D buttons and five buttons for navigating the menus. There's a dioptre dial too.
I tested the X1D II during an outdoor portrait shoot with a friend and I loved the way it handled and felt in hand. Admittedly, the focusing is somewhat laboured when compared to modern full-frame mirrorless offerings, but given that this camera has a huge 43.8x32.9 50 megapixel medium format CMOS sensor it was never going to be lightning fast in the focusing department. The same applies to the burst rate – the X1D II manages just 2.7 frames-per-second, but this is not a tool for sports photographers or photojournalists looking to establish themselves as Bang Bang Club members.
By today's standards many photographers would argue that the X1D II is more at home in the hands of landscape and portrait photographers or in the studio. Personally I think it has more scope than this and I'd certainly go as far as saying that shooting weddings with the X1D II would be a straightforward affair. Sure, 2.7 frames per second might not be the fastest around, but how fast does a bride walk down the aisle anyway?

The rear screen on the Hasselblad X1D II 50c. Image: Nigel Cooper.
Autofocus and storage
When it comes to auto focus speed, that's also a tad pedestrian when compared to current full-frame cameras, but photographers of yesteryear never had an issues with a 500cm film camera with manual focus Carl Ziess lenses and manual film wind on and no build-in exposure meter whatsoever – compared to them the X1D II is blisteringly fast. Also, I think the slower focusing and FPS will make you a more considered photographer, which can only be a good thing.
The X1D II has two UHS-II SD card slots, thank God, rather than the more expensive CFExpress. For tethering purposes connectivity is via USB 3.0 Type-C. There is also microphone and headphone sockets for video.
The X1D II manages to kick out 2.7K res files at 30p with 4:2:0 8-bit colour if you want to shoot video on it. The X1D II produces beautiful video and you can always upscale it to 4k in post if required, even if it is limited in specification. However the X1D II is really aimed squarely at the stills photography market, so if you do a lot of video you might want to consider buying a dedicated video camera. Then sit back and enjoy shooting glorious medium format still images with the Blad.
The 50-megapixel CMOS sensor produces detail in abundance, much more so than I've ever managed to squeeze out of my full-frame cameras. The Hasselblad has a certain Je ne sais quoi, a smoothness in the tones and colours that you just don't get will smaller sensors. The large 43.8 x 32.9 50-megapixel sensor, which is 1.66x larger than full-frame, yields more dynamic range, smoother more graduated tones and incredibly lifelike colours.

Hasselblad X1D II 50c top controls. Image: Nigel Cooper.
Editing software
Hasselblad offers up various software solutions. Phocus Mobile and Phocus Mobile 2 for iPhone and iPad, the latter offering up remote triggering of the camera, live view, control for ISO, aperture, shutter speed, focus and the ability to store the resulting images either on the SD cards in camera, or to the iPad's SSD drive. I tried Phocus Mobile 2 on both my iPhone and my 5th Gen iPad and they worked great wirelessly. The Phocus software for desktop and laptop computers is Hasselbad's equivalent to Lightroom or Capture One Pro.
Phocus (version 3.5.5 at time of writing) is pretty good for the most part. I'm a Capture One Pro 20 user myself and there are a few features that Phocus lacks which I'm used to with that software. Capture One Pro 20 does not currently work with native RAW Hasselblad .3FR files for various reasons. It's a situation that I fear will not get resolved anytime soon, and it's the poor photographer who ends up suffering.
One workaround, if you're a Capture One Pro user, is to use Phocus as a RAW converter, carrying out just the basic editing for colour temperature and exposure for example, then save the file out as a 16-bit TIFF and edit that in Capture One Pro or Photoshop for more complex edits. A 16-bit TIFF file still has a ton of scope and latitude for postproduction work, not quite as much as a RAW file, but pretty close.
Here's an interesting bit. The X1D II, which cost £5,399, in my opinion actually produces slightly better images than the Hasselblad H6-D 50c single lens reflex camera, which costs £14,000 and uses the same sensor.
So how come the X1D 2 produces slightly better images. It's actually down to the lenses. The H series lenses designed for the H series SLR medium format Hasselblad cameras are different to the X series lenses designed for the X series cameras. The H1 (Hasselblad's first H series digital medium format camera) came out back in 2002 and the H series lenses were designed a little earlier and are about 20 years old in design.
Now don't get me wrong, compared to the Carl Zeiss lenses from the 70s and 80s, the newer H series Hasselblad lenses are far superior, but the X1D mirrorless system and X series lenses only came out in 2016, so they're only 5 years old in design. This difference in optical performance is only small, miniscule in fact, but with certain shots, in certain parts of the image, the improved optical design of the X series lenses can be seen if you have a keen enough eye.

Example unedited image from the X1d II 50c. Image: Nigel Cooper.
100% crop of a segment of the previous image.
Conclusions
Even with the aforementioned gripes about the Phocus desktop and Hasselblad's .3FR files not working natively in Capture One Pro, the X1D II is, at the time of writing, my favourite camera in the world and if I had the money I'd go out and buy one tomorrow. At around £5,399 for the body and another £3,700 for the 135mm F2.8, £2,499 for a 65mm F2.8, I'd consider this camera and these two lenses to be worth every penny, given the incredible files the camera produces.
Nigel has provided us with native raw images taken with the X1D II, and you can download them here to have a play with them. You can also download Hasselblad's Phocus software free of charge here
Tags: Production Review