The HERO9 Black is a major update, offering huge 5K resolution and vastly improved stabilisation. Sit back, because the leaks didn't tell you everything. This is our GoPro HERO9 Black review.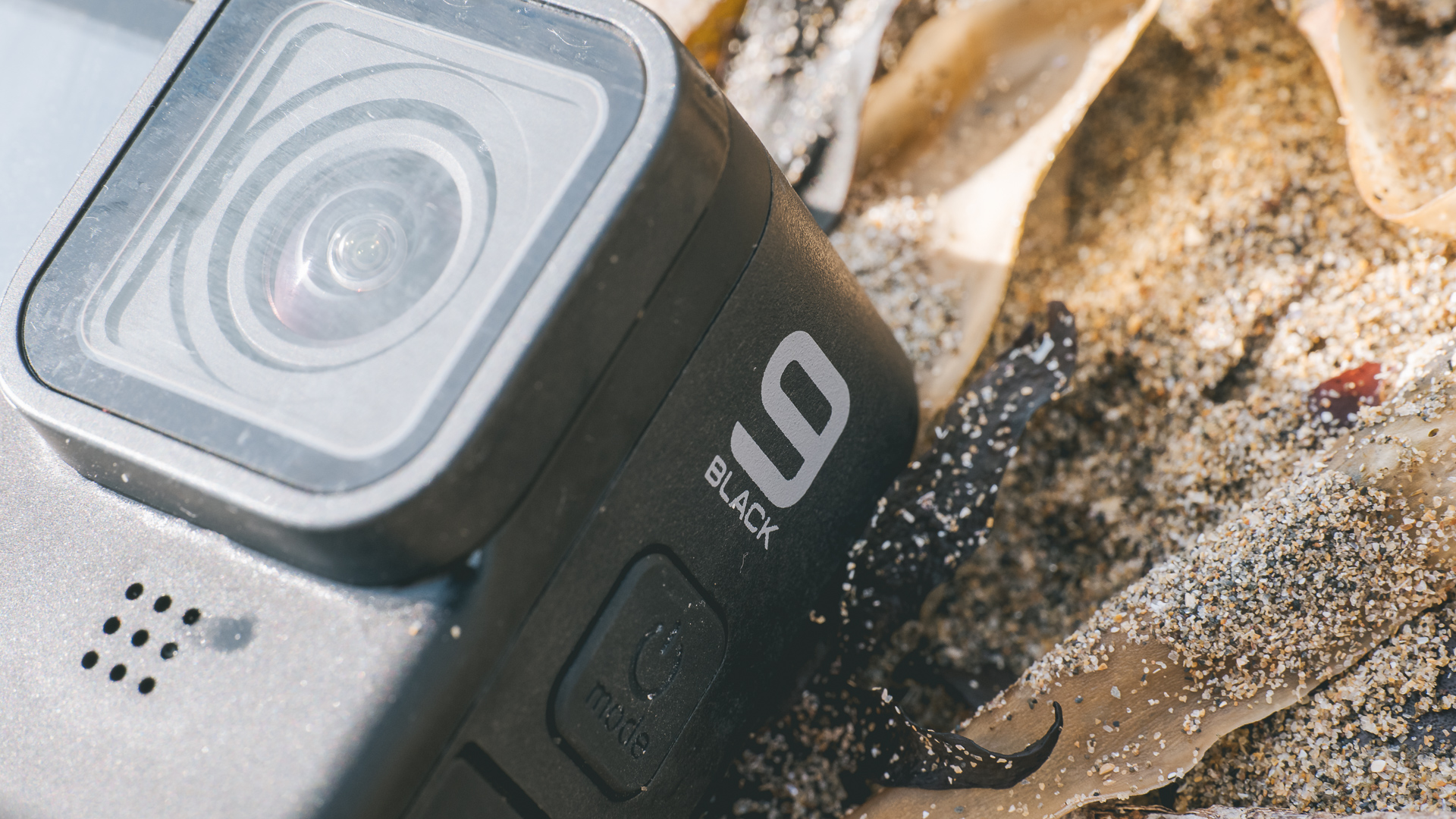 Price: US$449.99 ($348.98 with GoPro PLUS subscription), Adventure bundle US$499.98 (or US$399.98 with GoPro PLUS subscription). Existing PLUS subscribers will be sent a US$100 off voucher.
GoPro HERO9 Black Review contents
GoPro HERO9 Black introduction
As the sole originator of the action camera as we know it, GoPro has had a rocky ride in the last few years. The recent Covid crisis has done nothing to help matters either. But the company has been hard at work, regardless of any hurdles that may have presented themselves, and the result this year is the HERO9 Black.
The most recent iterations of the HERO Black have attracted criticism from some quarters for not being innovative enough. Personally I think such comments are unfair. Regardless of the competition the HERO Black is still ahead of the pack when it comes to picture and audio quality, and the Hypersmooth 2.0 electronic stabilisation system that was in the HERO8 is a triumph of engineering and software development. GoPro's Protune modes also offer a level of picture control not available at all on any of the competition.
But that's not to say that the HERO8 didn't have its drawbacks. The lens cover was no longer user replaceable, much to the chagrin of many, and battery life was still something that users felt could be improved. So has GoPro taken user input on board, and has it made any new innovations with this latest release? Sit back, grab a drink, and settle down, because this is a long read.

GoPro HERO9 showing the new front screen.
First impressions and build quality
The first thing that is apparent with the HERO9's packaging is that it is plastic free. Totally plastic free. This is highly commendable and is something that has been the subject of comment from users previously given the outdoors focus of many GoPro users.
Instead of the old plastic display style box of the old, the new one comes in a reusable zip case. So not only are you getting the camera, you are also getting a useful way of carrying it around from place to place, and to store your accessories and cables.
The camera itself is slightly bigger and heavier than the HERO8. The new camera measures 71mm x 55mm x 33.6mm and 158g compared with 66.3mm x 48.6mm x 28.4mm and 126g. The primary reason for this is due to the new battery, which is now 1720mAh compared to 1220mAh on the HERO8. This makes the battery on the HERO9 even more powerful than the one in the MAX 360 camera, and not only gives it much longer recording times, it also makes duration more resilient in extreme cold temperatures. The bigger body size should also help with thermal dissipation given some of the new processor intensive recording modes.

Size difference between the HERO8 battery (left) and HERO9 battery (right).
The build quality of the new camera appears very good indeed. In fact it has a subtle but noticeably higher quality feel than the HERO8. It might seem like an odd phrase to use in association with an action camera, but it actually looks and feels more 'professional'. There's a subtly textured middle band around the body, while the front and rear consists of a slightly rubberised material, which to my hand feels more grippy than the old model. The recording tally lights on the rear of the camera are similar to the HERO8, but the one on the front, situated just above the front LCD, is now much larger and far easier to see than before.
There's a raised GoPro logo on the front, and the record and power buttons have been increased in size drastically, as well as jutting out from the body more to make tactile operation of the camera much easier than before.
Removable lens protector
The removable lens protector is back. This was one of the main complaints about the HERO8 since it necessitated sending it off to GoPro for repair if it was damaged. This is no longer the case. And despite being made from Corning Gorilla glass and tested to withstand granite being thrown directly at it at 85mph, if you do need to replace it you can now do this in the field in seconds. But the ability to do this also makes the new MAX Lens Mod possible, which is something I'll be looking at once it becomes available. And that's an add-on that turns the concept of an action camera on its head, literally.

The GoPro HERO9 sees the return of the removable lens protector.
The HERO9 keeps the foldable, but incredibly strong and user replaceable mounting fingers that first debuted on the HERO8. I really like these and it makes using the latest GoPro models noticeable easier than rivals due to not needing any sort of frame mounting. GoPro was the first action camera company to do away with the need for a bulky waterproof housing, and it was the first to do away with a frame, something hardly anyone else has caught up with yet.
The three microphones placed around the camera appear to be bigger in size. Something that I found that I could now do was to remove and insert the SD card without needing to remove the battery. Interesting times indeed! It requires a hard press with your thumb, but at least you can now do it! The USB-C, SD card, and battery arrangement is similar to the last camera, with all of them being placed behind a removable door. Just like the old camera you can power the HERO9 through USB should you need to power it for extended periods.
The rear LCD display on the HERO9, thanks to the bigger body, is also much larger than previously, measuring 2.7" diagonal vs the HERO8's 1.95". It's not just the size that has improved. The new screen is very noticeably brighter and sharper, and the difference is quite stark when you put the two cameras side-by-side.

The buttons on the HERO9 give more tactile feedback.
One more thing, the new camera has a front facing screen. This is 1.4" in size and is able to display a full colour preview of your angle. GoPro's implementation of this is extremely good. Not only is the new screen sharp and vibrant it can also be configured easily too. For instance you can opt to fill the screen, or you can display it in the correct aspect ratio, or you can just show the camera status and settings. It's up to you. You can also turn it off to save battery power.
All front screen modes display the camera settings very clearly, and it's worth it for this alone compared with the old display, which couldn't be viewed in the dark, or easily at a distance.

The new front facing screen is a very welcome addition.
Sensor
The sensor on the HERO9 Black is a significant upgrade to the previous model. Although it still remains the same physical size, the sensor on the HERO9 packs in total a pretty impressive 23.6MP. This allows for 20MP stills as well as catering for 5K video with full Hypersmooth 3.0 stabilisation. The extra resolution allows for Hypersmooth Boost to be used in all video modes, and it also means that the new camera has a new mode, Linear + Horizon levelling.
With the HERO8 you could perform horizon levelling using the mobile app. But now the camera does it itself, and as you'll see it performs very well indeed. In fact Hypersmooth 3.0 really does seem to work so well that it makes a gimbal seem totally redundant. What's more, with the new 5K capability you can now pull 14.7MP stills from video. Granted, it won't be raw quality, but it's still a very sizeable and versatile resolution to work with, and it makes it possible to grab the absolute precise moment in an action sequence that you want.
Interestingly the HERO9 uses the same GP1 chip that the company has been using in its cameras ever since the HERO6. It would appear that the chip has been 'over designed' to cater for future developments, although there are some instances in the HERO9 where I think it may now have been pushed to its limits, as I'll come to later.
New tools
The HERO9 now incorporates some very useful new tools. HindSight, which caches footage up to 30 seconds depending on user settings, Scheduled Capture, where the camera can be programmed to turn on and off recording on a specified date and time, Duration Capture, where you can set exactly how long the camera will record for at a time, and LiveBurst, which records what happens 1.5 seconds before and after the shot, allowing you to choose which frame to use as a still, or share the whole sequence as a 3-second 4K video. All of these are useful features and I'll come to their actual use later.
HERO9 Black video modes
The video modes on the HERO9 are wide and varied, and I have provided GoPro's chart below showing them all. The most notable new addition, as I've talked about, is the new 5K capability at up 24p or 30p. 5K can be recorded in Wide view, Linear, Linear + Horizon Levelling, and Narrow. At first glance apart from that they appear similar to the HERO8, except that there are some quite notable differences.
In 4K modes the HERO9 can now additionally record Linear + Horizon Levelling, and also Narrow. 2.7K modes get a major boost with 120fps now being possible in all modes including Linear + Horizon Levelling, Superview, and Narrow. Previously the HERO8 could only do 120fps in 2.7K Wide. This opens up much more possibility for distortion free ultra slow motion on the HERO9.
Likewise the HERO9 adds 120fps recording to 1440p using all digital lens options as well. In 1080p modes the HERO9 can record up to 120fps in Superview as well as up to 240fps in Wide, Linear, Linear + Horizon Levelling, and Narrow. The HERO8 could only do 240fps in Wide mode.
Like the previous model the new camera can record using either the standard Bitrate, around 72Mbps H.264, or up to High bitrate 100mbps in 2.7K, 4K, and 5K modes using HEVC compression. Interestingly there is no Auto Low Light mode on the HERO9 like there was on the previous camera.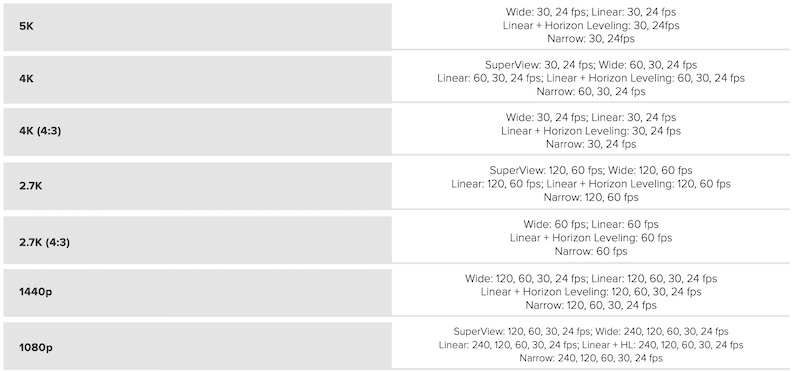 GoPro HERO9 Black video modes.
Photo modes
Still photos can be taken at up to 20MP, which is now greater than some smartphones, and is a vast increase over the older camera's 12MP maximum.
Still photos can be taken in either JPEG or raw formats. In JPEG you can select digital lenses, such as Linear, Wide, and Narrow. There's no horizon levelling option for photos, and in raw modes the camera can only be used in wide mode, for obvious reasons. It's raw.
JPEG modes can be set to Standard, which is the picture using GoPro's colour but no special processing, HDR, which combines exposures and works best with still subjects, and Superphoto, for which the camera applies the best processing it can to the image to make it as vibrant and as impactful as it can.
Below are some example photos taken with the camera showing GPR raw files before and after processing in Lightroom as well as a comparison between an edited raw file and the camera's own Superphoto mode.
Stills quality on the HERO9 is far and away a big improvement over the HERO8 simply because the increased resolution gives you so much more to play with in terms of lens correction etc.

Raw file before.

Raw file after.

Raw before.

Raw after.

Raw file before.

Raw file after.


Superphoto version of the above.
User interface
The UI for the HERO9 is very similar to the previous model, with some minor changes here and there. The settings menus have been made slightly clearer and less cluttered. There are some more options such as for changing the display modes for the front screen.
Responsiveness remains very similar. Generally it is pretty good, although you do still get a fair few false presses, and when you're outside with wet hands things can get frustrating. But this applies to pretty much all touch screen action cameras. I guess it's something to do with the materials needed to withstand abuse compared with what can be used on a mobile phone display.

The rear screen on the HERO9 is much bigger and brighter than the previous HERO8.
Luckily GoPro has catered for these sorts of circumstances to a degree. This applies to other GoPro models as well. If you hold down the power/mode button and press the shutter button the front screen brings up the shooting preset menu. Press the power/mode button to cycle through them, and then press the shutter button to select the preset. This is useful to have, although it doesn't help when you need to adjust your ISO max or lens setting within a preset. But like I said, it is good that it's there.
Everything is clear and easy to find, and the preset modes that were introduced on the HERO8 are here too, making switching modes for different types of filming very quick and easy. Users can store up to ten different presets for different situations, as well as configuring different manual settings for the interface.
For instance you might want the EV compensation accessible from the interface, or the white balance etc. You can customise which controls appear and where they are placed on the screen.
HERO9 Battery life
Of all the questions I get asked about action cameras, one of the first ones is usually regarding battery life. These little cameras are capable of some amazing stuff, but they do get through power like nothing else. It's even been said in the past by some that they'd rather have a slightly bigger camera with a better battery than a smaller device with less runtime.
Well, GoPro has listened. As I mentioned previously the new battery is 1720mAh, which is actually more powerful than the well regarded MAX 360 battery. GoPro's official word is that it gives 30% more recording time. This will depend on the mode you are using and which features you have turned on. However I stress tested it by placing the camera into 5K Linear + Horizon Levelling, which should theoretically use more processing power, and HEVC recording.
The camera actually shutdown due to the heat generated before it ran out of battery. More on that later. But in total, once I had restarted it, the camera had managed 1hr 30mins of recording time. For interest the thermal cutout hit at around 1hr 24mins.
With the HERO8 only managing around an hour, the extra time offered by the HERO9 is highly useful, and it should make the camera more usable in harsh cold conditions as well. One side effect of having the more powerful battery is that they do take much longer to charge.
Picture quality and performance
GoPro has always been at the forefront of action camera picture quality and the HERO9 is no exception. The 100mbps HEVC compression seemed to handle everything I could throw at it without macroblocking, even when there is plenty of moving water and tree detail present. Sure, pixel peeping can always find problems, but believe me, I really did try to find compression issues and in general, couldn't. The quality is helped by the fact that in 4K modes it is downsampling from the full 5K imaging area. Clearly if you pushed a grade you find issues, mainly in the shadows, but that's what you'd expect.
Colour wise you can choose between flat and GoPro colour. For the majority of users I would suggest using GoPro colour. This gives a great look out of the camera, and it is in fact what most of GoPro's own team, including Abe Kislevitz mostly uses. Flat is there to give more options in grading.
This will need grading and is best used in situations where the device is being used to cut in with other cameras. In many of the shots in my example video I used a -EV setting to help protect highlights, but on reflection I think I would trust the camera more in general with a neutral EV setting. But what's a review without some experimentation?
The GoPro colour option works for the majority of situations with only a bit of EV compensation being required depending on the environment. In my test gradings I found more information in the GoPro colour recordings than I would otherwise be aware of. Reducing the contrast a little bit and lifting the shadows often showed up details that I originally thought were clipped. However, setting the camera to Flat colour and Native white balance will give you the ultimate control in post if you need it. Although Native WB mode is a tricky beast to colour correct.

GoPro colour, unadjusted.

GoPro colour adjusted (shadows lifted, saturation adjusted).

A tricky situation. Straight into the midday sun with EV-1.0. A washout with crushed shadows?

Actually there's more info in the shadows than you might think, even when using the hyper saturated default GoPro colour option.
For people who want to set their exposure manually and use ND filters (when they become available from third parties) you can lock the shutter speed to your preferred setting. Bear in mind though that Hypersmooth works best with high shutter speeds. Lower speed shutters risk ghosting and motion blur from the electronic stabilisation system.
I do wonder if it's time that we had a dedicated motion blur chip so that the camera can perform any electronic stabilisation and then apply a user specified shutter speed motion blur that is applied by the camera afterwards.
In past GoPro cameras, including the HERO8 I found that in certain situations in bright sunlight, highly saturated colours like blues and reds could become clipped weirdly. Often bright saturated reds would appear orange. So far on the HERO9 I have noticed that the colour science seems much improved with none of the strange clipping I saw on previous cameras. In the native white balance setting I noticed my red jacket becoming orange, which was difficult to correct out of the image without some deft keying. Somehow the FilmLook plugin manages to restore the red, but I found it hard to correct with a manual grade.
Auto white balance seems to nail things really well, although to avoid colour shifts it is often best to set this to the type of light you are in. But that depends on the situation. In white water kayaking you can be in bright sunlight one moment and in deep shadow the next, so leaving it in auto is often the best way.
I always set my sharpness to Low on my GoPros, and the new camera is no exception. Do this and you are treated to creamy smooth images. Use the camera in Linear + Horizon Levelling and you can make some really great looking slider and gimbal style shots using just your hands!
Power up time for the camera is pretty quick at around 3 seconds.

The HERO9's foldable mounting fingers.
Special tools in action
Cache record has been on full size professional camcorders for years, but now it is finally available on an action camera in the form of HindSight. This can be set to either a 15 or a 30 second cache. When it was initially demoed to me GoPro showed one of its guys trying to bounce a ball into something in a form of trick shot. He left the camera in HindSight mode, trying again and again to make a successful attempt. When he finally managed it, all he had to do was press record and his amazing trick shot was saved for all posterity.
It was a great demonstration of a practical use for the camera. But with action sports it has a similar practicality. A great many people leave their GoPros running for the duration of their activity. The reality is that you only want the exciting bits and not to have to trudge through hours of not much happening. It goes without saying that you don't always get pre warning of when those exciting events will be! So to have this function saves a lot of stress and agro. As long as the camera was pointing at what was happening, you can capture it.
There is one caveat though. Because Hindsight is capturing and compressing footage ready to lay down if the record button is pressed, it still uses battery life. But that's a small price to pay if it means capturing a once in a lifetime happening! I found it particularly useful when surfing, and saved me tons of time searching through the footage for the rare occasions where I stand up on the board!
Scheduled Capture is another really useful tool. You might have seen the footage of a rocket taking off that used this function to great effect, with the cameras being scheduled to begin recording during the countdown to launch. For more down to earth uses it might be that you want to capture a sunrise during the summer without having to get out of bed at 4am. Just set the camera up to start the timelapse or video recording at the due time and enjoy your time in bed! Of course you might want to be sure that you are in a tent next to the filming location or hide your camera very well indeed to avoid it being stolen, but it's easy to see the practical uses for this.
Low light performance
A camera like this is never going to be a low light monster, especially when the sensor has increased pixel density. That said, it is still passable if you need it. A sensor like the 1-inch Edition ONE R is naturally going to perform better in lower light conditions. However it depends on what you term to be low light. For example a sunrise or sunset is full of colour and brightness in specific areas of the picture.
In a truly dingy environment, such as a very shaded forest, or a dark room, the camera does start to throw up some noise as you'd expect, and it is in these sorts of environments where the image stabilisation system begins to struggle. This is because with electronic stablisation the camera is effectively panning across the sensor with a windowing area. In lower light the camera needs to switch to a slower shutter speed, which in turn produces more motion blur. So while Hypersmooth 3.0 is an incredible system, it does require light and a fast shutter in order to be truly effective.
Slow motion
Slow motion is always a great feature to have, and the ability to use it in more modes than before gives you even more flexibility now. Putting the camera into 240fps 1080p mode still does require a good amount of light, such a bright sunny day, to work most effectively. However when it is used in the right conditions it does a pretty darn good job. Just like with previous cameras there is a loss of resolution using this mode, particularly if you switch to Linear or Narrow modes. However, get up close to a subject, and if it's an interesting enough piece of action nobody is going to care about a bit of aliasing. It's a camera that fits into your pocket, not a Phantom 4K Flex!
120fps in 2.7K produces a really nice result, particularly in wide and Linear + Horizon Levelling modes. Again, once I started to push things with Hypersmooth Boost and Narrow mode aliasing starts to appear. However it's a surprisingly good camera for slow motion, particularly if you ensure that there's enough light to be shooting at ISO100 while retaining a high shutter speed.
If you are coming from a HERO8 the takeaway here is that slow motion can be used much more flexibly and in a lot more picture modes. In particular 120fps in 2.7K Linear lets you take shots right out of the camera that do not have that cliched fish eye action camera look, whereas previously you'd have to do the lens correction in post with an image that has been taken from a lower resolution sensor.
Audio
Audio is another area in which GoPro's tend to excel. The company has been striving to improve things with each model. The HERO9 still features a three mic arrangement. The camera, as previously, can be set to record audio with auto wind processing, wind processing on permanently, or all processing off. Raw audio recording can also be set with various degrees of processing applied. Zero processing gives you three audio Wav files from the different mics, which will then need manual processing in your editing software.
External mics can be used by way of the Pro 3.5mm mic adaptor. Hopefully a new side door will be released to make the USB-C port on the camera accessible without having to entirely remove the door like you need to currently.
A new and improved Media mod system will be released for the camera soon, incorporating its own mic system and modifications made based upon feedback from the HERO8's own Media Mod system.
Generally I found that the GoPro's built in mics did a really good job. The system has a new design that apparently self drains the mics when they become inundated with water. The HERO8 previously gave a kind of whistling noise when used in heavy water environments. The HERO9 doesn't do this, although I did find that the sound becomes somewhat muffled if it is repeatedly submerged and doesn't have time to drain out fully.
TimeWarp 3.0
TimeWarp is effectively a hyperlapse feature. It lets you take hyperlapse sequences with fully Hypersmooth stabilisation. Press a button on the LCD display and you can instantly switch the camera into realtime motion for specific events during the sequence. With Timewarp 3.0 you can now also go to half speed slow motion at key points as well.
Now I have to admit that I'm not a big TimeWarp user. I've always found it to be one of those features that is supercool, but i just don't have the inclination to use it. After all, when I visit somewhere I want to be enjoying the experience as much as I can in person rather than through the camera. While TimeWarp sequences can be made on the hoof, the best ones are usually always planned out.
That said, there are lots of people out there who have created some pretty awesome looking TimeWarp sequences, and the new half speed feature gives even more creative potential. The system itself is extremely easy to use. Just switch it on select the lens you want, press record and away you go. Simply tap the screen for realtime speed or half speed slow motion when you want it. It couldn't get simpler.
The results, if you've got some interesting locations and things happening can be extremely engaging.
Webcam
Earlier this year GoPro released another public beta firmware for the HERO8 that enabled its use as a webcam. This feature is also included in the HERO9, but it is more flexible with regard to the digital lens that you use. It's most obvious use is for online instruction. Not only does the GoPro provide better quality than normal webcams, it can also provide a much wider angle of view. Ideal for doing live online tutorials for activities such as yoga or martial arts. All you have to do is install GoPro's webcam app to your computer and you can then select the camera as a webcam in Zoom, Google hangouts etc. I was unable to test this out with the HERO9 however because at the time of testing the webcam hadn't been updated for this camera.
If you are a subscriber to GoPro PLUS, with the HERO9 the service will also now seamlessly take care of handling your live streams to YouTube, Instagram etc. Usually such subscriptions are overpriced, but GoPro's Plus does seem to give good value for the money. For £4.17 per month you'll be getting unlimited original resolution cloud footage storage, 50% off mounts and accessories in the GoPro store, a no questions asked camera replacement policy, and now you get all your live streaming technicals taken care of as well, all for just bit more than the price of a beer.
Issues encountered
I did encounter a couple of things when using the camera. I must stress that some of these will not apply in most real world use due to the way I was testing some aspects of the camera's performance. However in some instances they might be something to be aware of.
The first thing was a couple of apparent freezes while I was using the Hindsight option. This seemed to happen when I was using it for a long time. I am sure that this will be fixed in a future firmware update.
If you ever do have a GoPro freeze on you, it's worth knowing that if you hold down the power/mode and shutter button together for a few seconds the camera will reset.
The second was auto shutdown due to overheating during my battery test. Most people will never run the camera for that long on a continuous basis, and if you are doing a sport like kayaking or on a bike, the wind and the water will be constantly cooling it down anyway. For general non sports filming, again you are unlikely to ever be recording like this continuously for that amount of time. But aside from that, the thermal shutdown was actually very close to the battery life limit anyway.
However the most obvious question this might prompt you to ask about this is in relation to Timelapse sequences. However in my tests it would appear that the heat generated from constantly recording video does not apply to recording Timelapse sequences, either in direct to video format or as individual stills. The camera did not become anywhere near as hot when performing Timelapse.
Regarding the touch screen, I found that in the surf sometimes modes would become changed as water hit the screen. The solution to this was to put the touch screen into Lock mode to prevent any unwanted changes.
Lastly, the front screen. This is a great addition, but I did notice that when you press record the framerate drops on it quite considerably. Now I'm not sure if this is something to do with the camera having an early firmware, or whether it is because the GP1 chip is being pushed to its limits. It could be either. It's not something that affects the practicality of the display, since it functions as an easy way to frame things. But it is noticeable. I wouldn't be surprised if this gets solved with a firmware update.
Conclusions
Should you upgrade from the HERO8 the HERO9? That's a really tough question because GoPro are keeping both the HERO8 and the HERO7 as current products, but at different price tiers. So it really depends on what you want out of a camera.
In my opinion the HERO9 Black is a step up from the HERO8. It's the biggest redesign of a GoPro for a long time. Remember, the series has been using pretty much the same sensor since the HERO6, and the introduction of a brand new sensor providing 5K resolution has not only improved the video mode options across the board, but it has also improved colour rendition and accuracy. With drastically increased battery life along with even better stabilisation, it's clear to see that this is a next generation of action camera. In fact battery life alone is worth the upgrade consideration.
When the MAX Lens Mod becomes available in October the HERO9 will well and truly provide the best image stabilisation of any camera outside of a 360 model.
You might ask why RedShark has dedicated so much space to an action camera, and indeed action cameras in general. After all, they are not something that are used as a primary cameras on professional shoots. However, GoPros and similar are used on a lot of shoots. From timelapses to crash cams, to mounting in places where normal cameras simply cannot go, the GoPro is a camera that a lot of professionals will have in their bags because it can be employed into so many different circumstances. Not to mention the camera's sheer popularity as a device in general. In fact it's possibly the most ubiquitous camera currently in world circulation.
From my perspective it's about creative options. Mini action cameras like this are a fascination for me, because as a camera op I actually love the idea of taking such an apparently simple to use camera to make high quality imagery with. It forces you to think, to be creative. It makes you think about compositions in new ways. The very fact that this level of image quality is available in such a tiny device continues to amaze me each time a new camera is released. GoPro has just upped the ante yet again.
HERO9 showreel
Below is a collection of shots taken in various situations with the HERO9. These were taken in a variety of modes. Some may not like how I have pushed the shadows in some cases, but I wanted you to see how much can be pulled out from areas that on first inspection seem overly dark due to my -EV setting. Below the video I have put up some raw files straight from the camera as well for you to download.
HERO9 Black raw files for download
I have provided some raw files, straight out of the camera with no editing or recompression in a couple of different circumstances below. These give a good indication of picture quality and audio in various settings. I think it's important to show the camera in less than ideal circumstances, since that is sort of situation the majority of users will be using the camera in. They were taken with the GoPro default colour, in high bitrate HEVC. The wind wasn't really blowing in these downloadable files, but it serves as a demo that leaving the wind filter on doesn't really affect voice quality.
Tags: Production Editor