GoPro's new Hero9 Black addresses user requests as well as appearing to set a new benchmark for action camera quality, with 5K video, Hypersmooth 3.0, and a new MAX lens mod featuring.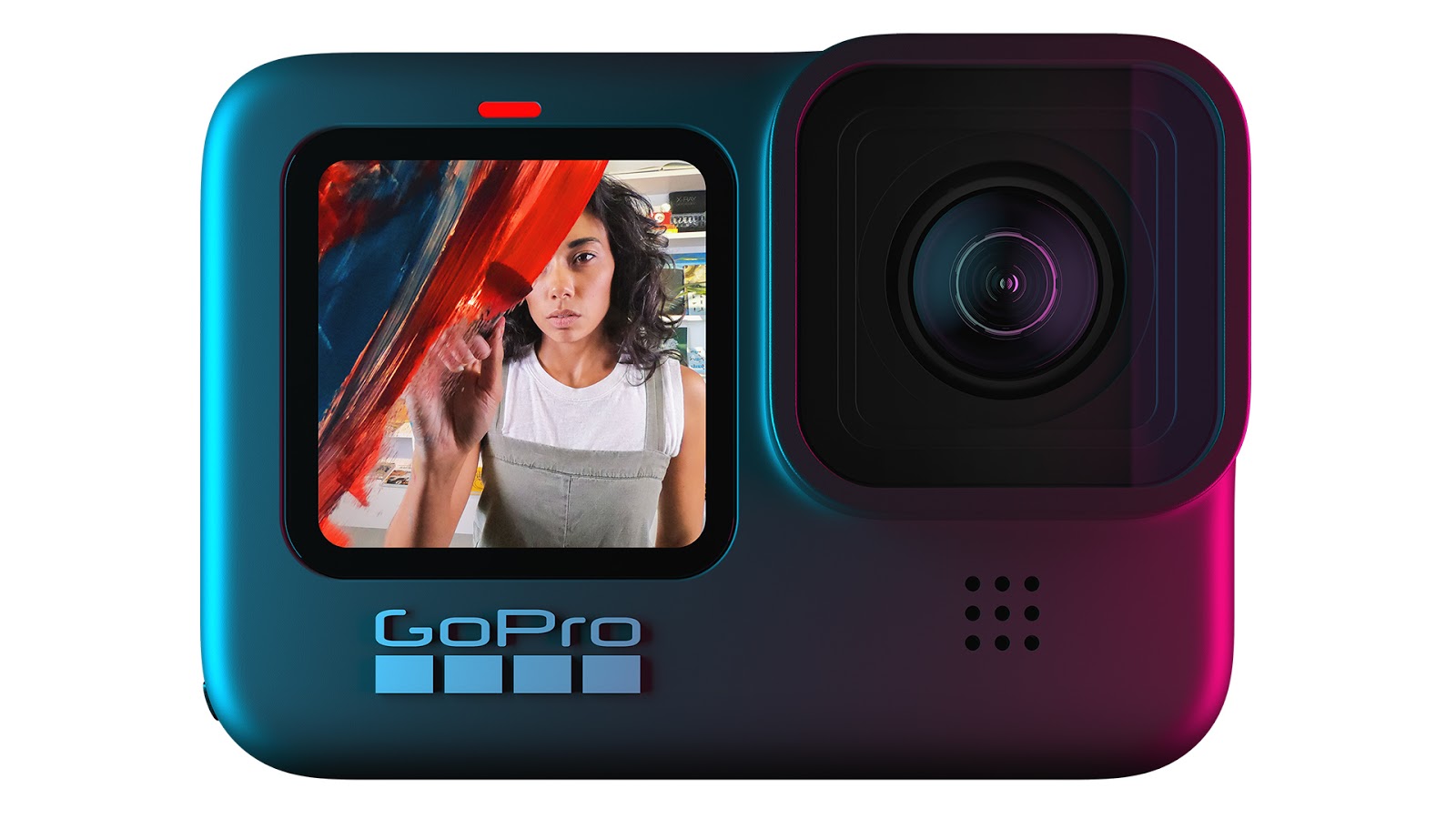 The GoPro HERO9 Black has been announced. Image: GoPro.
It's fair to say that the action camera market is pretty cutthroat right now. Recently Insta360's ONE R has been getting all the attention, and rightly so. The ONE R is a highly innovative take on the action camera genre and the company has been extremely active in its involvement with the creative community.
But GoPro has not been resting on its laurels. The Hero8, it mustn't be forgotten, is also an awesome little device, with extremely good picture quality and class leading stabilisation, and is correctly looked upon as the current benchmark by which all others are judged. I love the creamy smooth look it gives when the Protune mode is set up decently, and GoPro's audio has always been a cut above the competition.
Now the newly announced Hero9 Black takes things further. Quite a lot further actually. Let's take a look through the new features. There's a lot to get through here.
GoPro Hero9 Black features
It's difficult to know where to begin with the Hero9 Black's new features. But let's start with two things that users have universally been demanding.
Better battery life and removable lens protector
First off is battery life. The Hero9 Black is slightly larger than the Hero8, but it accommodates a larger battery that GoPro claims gives 30% better battery life. This also translates very well into cold weather performance.
From the Hero6 the battery has been 1220mAh, but the new Hero9 battery is 1720mAh. The batteries are not cross compatible because the new battery is physically larger than the previous one. In a demonstration we were given the new camera lasted 40 minutes longer than the Hero8 Black in 1080p mode.
The second feature that users have been demanding the return of is the removable lens cover. Users lamented the loss of this because it meant that should the lens cover crack or be damaged it necessitated sending the device off to GoPro for repair rather than just clipping on a new spare. The Hero9 Black sees the return of the replaceable lens protector, enabling easier use of after market NDs, as well as a brand new feature I'll come to in a moment.


The Hero9 Black is much more than just an iterative update to the series. Image: GoPro.
5K video
The main headline feature of the Hero9 Black is that it can now record 5K video using a brand new 23.6MP sensor at up to 30p. With the 5.3K capabilities of the ONE R snapping at GoPro's heels, this was bound to happen, and it makes a heap load of other things possible.
For starters it means that the camera can now take 20MP stills. This is a huge increase over the Hero8, which was 12MP. A lot of users are using the GoPro for its stills abilities, and so this gives even more capability into the mix.
The new 5K mode also makes it possible to grab 14MP stills from video, and this is something the company is keen to emphasise. GoPro's adjust exposure with the shutter speed, so in daylight video is crisp and sharp. It goes against most traditional video shutter settings, but it is what it is, and it makes sharp high resolution stills grabs like this possible.
I've been using stills from GoPro video since the Hero6, because in good light the 4K images make great social media and web stills. But now, although the images are compressed, 14MP stills from video makes it possible to get the exact moment you want from within the action. Okay, with the video compression factored in you might not be blowing the image up to A0 size for a wall picture, but they can certainly be put to use in many ways, and you'll get images that you simply wouldn't achieve any other way.
But the 5K capability of the Hero9 also opens up the potential of oversampled 4K video, as well as boding well for lens correction and the different digital lenses (wide, linear, narrow etc). A higher resolution sensor means that these modes should theoretically offer a noticeable improvement over previous Hero models.
Bitrates? For 2.7K, 4K, and 5K GoPro lists them as 100Mbps HEVC. That the bitrate hasn't increased for the 5K mode is interesting, but it is as well to remember that when it comes to compression, some compressors are much better than others even at the same bitrate. So it may be that GoPro has improved efficiency in the compression process and deemed a bitrate increase as being unnecessary.
Previous GoPro cameras generally use the full 100mbps container with fast SD cards, which with HEVC is very similar in result to 200mbps H.264, all things being a perfect. Regardless of the minutiae, HEVC is far better than H.264. It will also be very interesting to see what effect the higher resolution sensor has on the quality of the extreme slow motion at 240fps in 1080p and 120fps in 2.7K modes.
What's great is that 120fps 2.7K is possible in the new Linear+Horizon levelling mode. 120fps in 2.7K on the Hero8 could produce some amazing results in good light, but it was limited to Wide mode only. On the Hero9 you can use 2.7K 120fps in all modes, from Superview all the way through to Narrow.
The full gamut of video modes is shown below.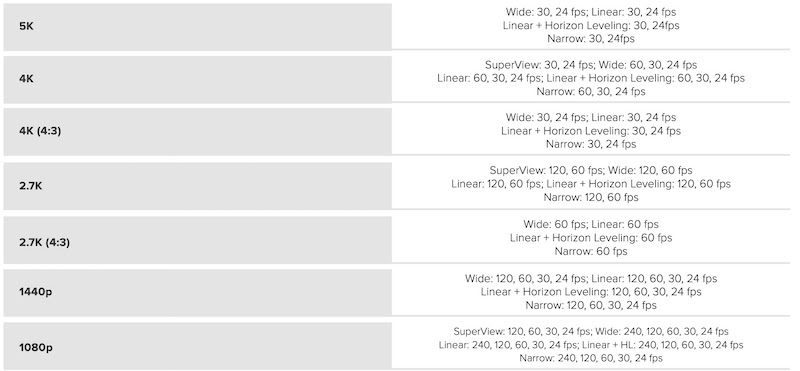 Hypersmooth 3.0
A higher resolution sensor means better stabilisation potential, and the Hero9 takes the much praised, and extremely effective Hypersmooth system a step further. Not only has it been improved overall, but Hypersmooth Boost can now be used in all video modes and with all virtual lenses. Not only that but there's a new horizon levelling mode for Linear lens modes. This does exactly as it says, and makes corrections to ensure that the horizon is level, making handheld cinematic looking shots more possible than ever.
The new horizon levelling feature will only go so far. For example it won't correct for a camera going all the way to a portrait orientation from landscape. Except that in October it can be made to do just this very thing, because…
Hero9 Black MAX Lens Mod


The new Max Lens Mod for the GoPro Hero9 Black gives unprecedented digital stabilisation.
Remember the return of the removable lens cover? Well the feature has been put to an additional use with the optional MAX Lens Mod (US$99). One of the coolest features of GoPro's MAX 360 camera is the MAX Hypersmooth mode. This can be used in that camera's Hero mode, which takes more traditional action camera footage. MAX Hypersmooth keeps the horizon totally level no matter what the camera is doing. You could rotate the camera 360 degrees on its Z axis and everything stays perfectly level.
With the new MAX Lens Mod, this incredible stabilisation is now possible on the Hero9. Not only that, but it brings with it MAX Superview as well. This means that you get absolute rock steady gimbal quality stabilisation with a 155 degree FOV and no distortion. The caveat? Recording resolution is restricted to 2.7K at up to 60p, but that's a small price to pay for such amazing stabilisation. 2.7K modes have always worked well on the Hero series, and it usually upconverts very well to 4K.
The Max Lens Mod will be available in October for US$99.
Front facing screen
Users have demanded it, and it's here. The Hero9 now features a 1.4" front facing screen to make selfie framings much easier. Additionally the rear screen is 16% bigger than the one on the Hero8.
The operation buttons on the camera have been increased in size to improve tactile feel when you can't actually see the camera, such as on a helmet etc.
TimeWarp 3.0
TimeWarp has now been improved with fully stabilised Hypersmooth 3.0 hyperlapse capabilities. Just as with the previous version you can hit a button to ramp everything down to realtime speed at key moments, but with TimeWarp 3.0 the audio is now recorded when this is done as well. In addition users can also make the ramp down go to slow motion as well for added creativity.
Hero9 Power Tools
One of the drawbacks of using an action camera is that quite often you need to keep it running for long periods of time to ensure that you actually capture the interesting parts of what you are doing. This takes its toll on battery life, and your sanity as you search through hours of footage for the one bit that you like.
With this in mind GoPro has added three new abilities, which it is calling Power Tools. These incorporate one other feature that was available previously. In fact some of these new features can be used on the Hero8 with the QR code firmware installed.
HindSight


The GoPro Hero9's new HindSight feature (enabled with the bottom right icon). Image: GoPro.
Hindsight is one of the most useful additions here, and does exactly as you'd expect. Switch it on and the camera captures a pre-record cache continuously, ready for you to hit the record button. Once pressed, the camera, depending on how you have set it up, will lay down either 15 or 30 seconds of footage previous to the record button being hit.
This is no doubt going to be incredibly useful, as long as you remember to hit record immediately after the event! The camera will then continue to record until you stop it.
Scheduled Capture

Scheduled Capture on the GoPro Hero9 Black. Image: GoPro.
Another useful feature, and one that has been available on the Hero8 QR code public beta firmware. This lets you set the camera up to power on and start recording at a set time and date. The usefulness of this was illustrated recently when someone set up their Hero8 cameras with the QR firmware to record a rocket launch. They weren't allowed near the launch site beyond a certain time, so they set up all the cameras to start recording at the scheduled launch time. It worked perfectly.
This feature will also be useful for things like timelapses. For example instead of you needing to get out of bed at 4am in the summer to timelapse or film the sunrise, you can just set up the shot and tell the camera to switch on and record it at the right time. My kind of camera!
Duration Capture
Related to the above is Duration Capture. This lets you tell the camera to record for a set period of time, or if you want, indefinitely. It's up to you.
LiveBurst
LiveBurst has been on other Hero cameras. However on the Hero9 you can take a burst of images at 30, with the camera recording 1.5 seconds previous to and after you pressed the shutter button. You can then choose the exact image you want or share the burst to social media as a short 4K movie.
Capture Presets
Capture Presets are still here, one of the most useful parts of the Hero8. Capture presets mean that you can quickly go to the setup you need for the type of footage or image you want to capture instead of delving into setup menus each time. Helpfully GoPro has included four of its most recommended setups, but users can program up to 10 of their own.
GoPro Webcam
Webcam abilities for the GoPro were enabled on the Hero8 with a recent public beta firmware, and it works very well. This is now fully part of the Hero9, giving fully stabilised 1080p webcam capabilities. Ideal for online tuition classes for instance.
But it goes further. The Hero9 can livestream to any of the main social media services such as Facebook, Instagram, Twitch etc if you have a GoPro Plus subscription. As well as the other benefits such as a no questions asked camera replacement policy and 50% discounts on mounts, you can also now use the service to handle all the technicals of live streaming for you.
Users don't have to undertake complicated setups themselves to stream to the different social media platforms because the GoPro system will handle it for you. Additionally subscribing gives you unlimited footage cloud backup facilities.
Media Mods

The Hero9 Black updates the Media Mods. Image:

GoPro

.
The Media Mods were one of the more curious addons to the Hero8. They allowed the camera to be turned into a Vlogging machine, although release delays and a couple of other issues meant that they perhaps didn't get the traction as much as they could have.
Now the Media Mods have been enhanced for the Hero9 Black. Similar options apply here such as the Light Mod, the Vlog flippable LCD screen, dedicated directional mic. The latter apparently able to deal with winds up to 20mph with the included windshield. There's also a 3.5mm mic in port so wireless mics like the RØDE Wireless GO can be used.
All the Media Mods are now fully weather resistant, but note not waterproof in terms of full submersion.
Eco friendly


Commendably GoPro has removed all plastic from its packaging for the Hero9 Black. Image: GoPro.
Finally GoPro has moved to remove all plastic from its packaging, shipping the camera instead inside a reusable case. This is much more than just a temporary case, featuring as it does a zip and the ability to carry different mounts inside as well.
GoPro Hero9 Black announcement summary
The Hero9 would appear to be a pretty major upgrade from the Hero8. The Hero8, Hero7 and MAX will still all be available at reduced prices, meaning that the GoPro range offers highly capable action cameras to all budgets.
The addition of 5K will likely draw folks to talk about the numbers game again, but as we have seen, this higher resolution makes better stabilisation possible, as well as improving the quality of the Hero9's digital lenses, which work by cropping in on the sensor.
Aspects such as the HindSight feature and Scheduled Capture are highly useful in a camera like this, and the MAX Lens Mod gives previously unheard of digital stabilisation to the device in an extremely easy to add on widget. The return of the removable lens cover will undoubtedly go down very well in the action camera community.
Interestingly the Hero9 still uses the GoPro/Socionext developed GP1 chip that debuted in the Hero6. It's clearly a powerful system. Some of the abilities of the Hero8 over the Hero7 were made possible with increased RAM. This is very likely the case with the Hero9, with the 5K mode necessitating a RAM upgrade by default to deal with the extra resolution, as well as the larger body making thermal dissipation more efficient.
And that relates to something I've been banging on about for a while, in the face of arguments against higher resolutions. If a camera has higher resolution its processing systems have to be able to cope with it, which translates into better features on the camera overall.
And for those of you who will still mention that there's no quarter-inch screw thread, I'll repeat what I said in my review of the ONE R. Such a feature isn't useful, and is in fact counter-useful for the primary intended use of an action camera. You can buy a tripod adaptor for less than the price of a beer.
To conclude, from what I can see GoPro has upped the game again. One thing that action cameras give to users is the ability to think creatively. A very simple camera like this really lets you focus on doing cool stuff. It has been difficult for me to see or predict what more can be done with the genre as it stands, but it would appear that there's quite a lot.
The GoPro Hero9 Black will retail for US$449.99 or $349.98 if you buy a subscription to GoPro, which gives the benefits I mentioned earlier. Additionally if you are already a subscriber to GoPro's online service you will be sent a voucher to get $100 off the purchase price of the new camera.
There's also a bundle available that includes the camera, a newly designed floaty grip, a clip on swivel mount, a spare battery, and an SD card for US$499.99 or US$399.98 with a GoPro subscription. The camera is available to order from today.
We've been using the GoPro Hero9 for a few weeks now, so look out for our review of the Hero9 Black dropping later in the week to see how it performs in the real world.
Tags: Production