It's here, and we've been putting it through its paces to see what's changed, what's been improved, and whether it's worth the upgrade in our GH5 II review.
It's fair to say that the original GH5 is a modern classic. Following on from that other modern classic, the GH4, the GH5 has become an almost defacto standard bit of kit for mirrorless video shooters.
The original GH5 is an already well specced out device. With an optional paid for firmware update it offers 10-bit 4K log capture to an intraframe codec for instance. Currently, although there are cameras that will do higher resolutions, 4K is more than enough right now for the majority of purposes. But time does still move on, and newer cameras have appeared with higher frame rates and raw output over HDMI. When the LUMIX DC-S1 was released, along with it's sibling the S1H, there were a fair few GH5 owners who moved over to the larger pastures of full-frame.
But that might not be an option for many who have built up extensive lens systems based upon the Micro Four Thirds standard, or for people who prefer the smaller sensor. Panasonic does of course have the GH6, which is slated to appear later this year, but that will more than likely be an entirely different beast to the GH5, as well as likely being placed at a far higher price point.
So the release of the GH5 II, or GH5M2 to give it its official designation, is a timely one, giving new users the ability to experience an improved feature set, or to give existing GH5 owners something to upgrade to or even add to their arsenal. To begin with let's take a look at the specification.
GH5 II specs and first impressions
When you first take the GH5 II out of the box you'd be forgiven for thinking that it was the original GH5. The only immediate giveaways that this is a new camera are the red flashes on dials and a red record button, all taking cues from the S1H. Build quality too is very similar to the original camera, with full weather sealing giving it extra robustness. As you'd expect it is very compact and lightweight compared to its full-frame alternatives.
A glancing at the GH5 II's specs and you'd be forgiven for wondering what all the fuss is about. There's no 8K or 120fps 4K, and it won't cook your dinner for you or take the trash out. So what's changed? As it happens, quite a bit more than you'd think. Internally it uses the same 20.3MP Live MOS sensor as the first camera, however it is been equipped with an additional anti-reflection coating. Despite the video focus there's no OLP filter, however the in body stabilisation has been improved to give shake compensation of up to 6.5-stops.
The internal processing has been hugely improved with the latest Venus Engine, and this has opened up some of the GH5 II's most important new abilities. Some of them are subtle, but they make the camera more flexible. For a start the GH5 II can now record 4K internally in 10-bit colour with 4:2:0 colour resolution while simultaneously outputting a 4K 4:2:2 to an external recorder. The original camera could do one or the other, but not both at the same time. It will also now record 4K in 10-bit 4:2:0 internally at up to 60 frames per second. True, this isn't a headline grabbing 120fps or higher, but it is still a useful improvement over the original's 60fps 8-bit option.
Remember that bit about there being no 8K mode? Well, Panasonic hasn't let things go completely in the resolution department, and it has included a 6K anamorphic mode, which records in LongGOP at 200Mbps. In fact anamorphic modes feature quite a lot on the GH5 II with a 4K 4:2:2 3328x1496 4:3 All-Intra mode also being available amongst others, although this 6K mode was also made available on the GH5. To top it all off there's raw output over HDMI to the Atomos Ninja V coming with a firmware update due around the time of publishing.
Potential owners can rejoice in the fact that the new camera comes with V-log L and All-Intra recording modes as standard, with no need for a paid upgrade anymore. An upgraded battery and power system allows fast charging via USB-C, while the focus system has been upgraded with head, body, and animal detection from the S5. Although it remains Panasonic's DFD (Depth From Defocus) system.
Live streaming is a new addition to the device, allowing live broadcasts to your favourite social media accounts. A future firmware upgrade will let you perform this via a smartphone tether as well. But what's the camera like to use?
Using the GH5 II
People familiar with the previous GH5 can expect a very similar experience, but since the world doesn't exist in a bubble there are plenty of people who haven't used one before, so read on. Sticking with Micro Four Thirds makes the GH5 II a great camera to handle. It's lightweight, nimble, and easy to transport. It also means that if you want to use anamorphic lenses you can do so without needing a new mortgage and a Mitchell head tripod.
The controls on the GH5 II are solid and easy to read.
Power on times for the camera are fast at only a couple of seconds, and all the main buttons and controls are very clearly labelled and easy to access with.a solid feel to all of them. There's no top LCD like the S1 series, so you'll have to check settings on the LCD display or the viewfinder. For video this isn't an issue, but for stills it's sometimes nice to have that extra display to glance at. You can switch the main display to an Arri style OSD, which shows you all the settings very clearly, including VU meters, although you'll need to use an external monitor to make the most of this so you can still see what you are filming.
Using the camera shows up a few other small additions such as the Luminance Spot Meter, which in V-log L mode shows you how many stops above or below 18% grey you are at the spot point. The menu system, too, has been aligned with the S series, making operation between them almost identical, save for specific features.
GH5 II autofocus
The GH5 II has inherited the autofocus improvements from the S series, including the improved human, eye, head, and animal detection abilities. I still haven't been won over completely by any autofocus system for video, whether its phase detect or contrast based. I just don't use it that much, so I'm often quite perplexed as to why there is so much fraught discussion over it.
Having said that, my experience of the system currently on Panasonic's cameras is pretty good. It might not be quite as good as the fastest phase detect systems out there, but it is still very usable in the right circumstances. Animals tend to be the trickiest thing for it to pick up, but generally it identifies and locks onto people and faces pretty quickly. Apparently the new processing system in the camera allows the autofocus to run at 48Hz when the camera is running at 24fps in its cinema mode, which helps things somewhat with video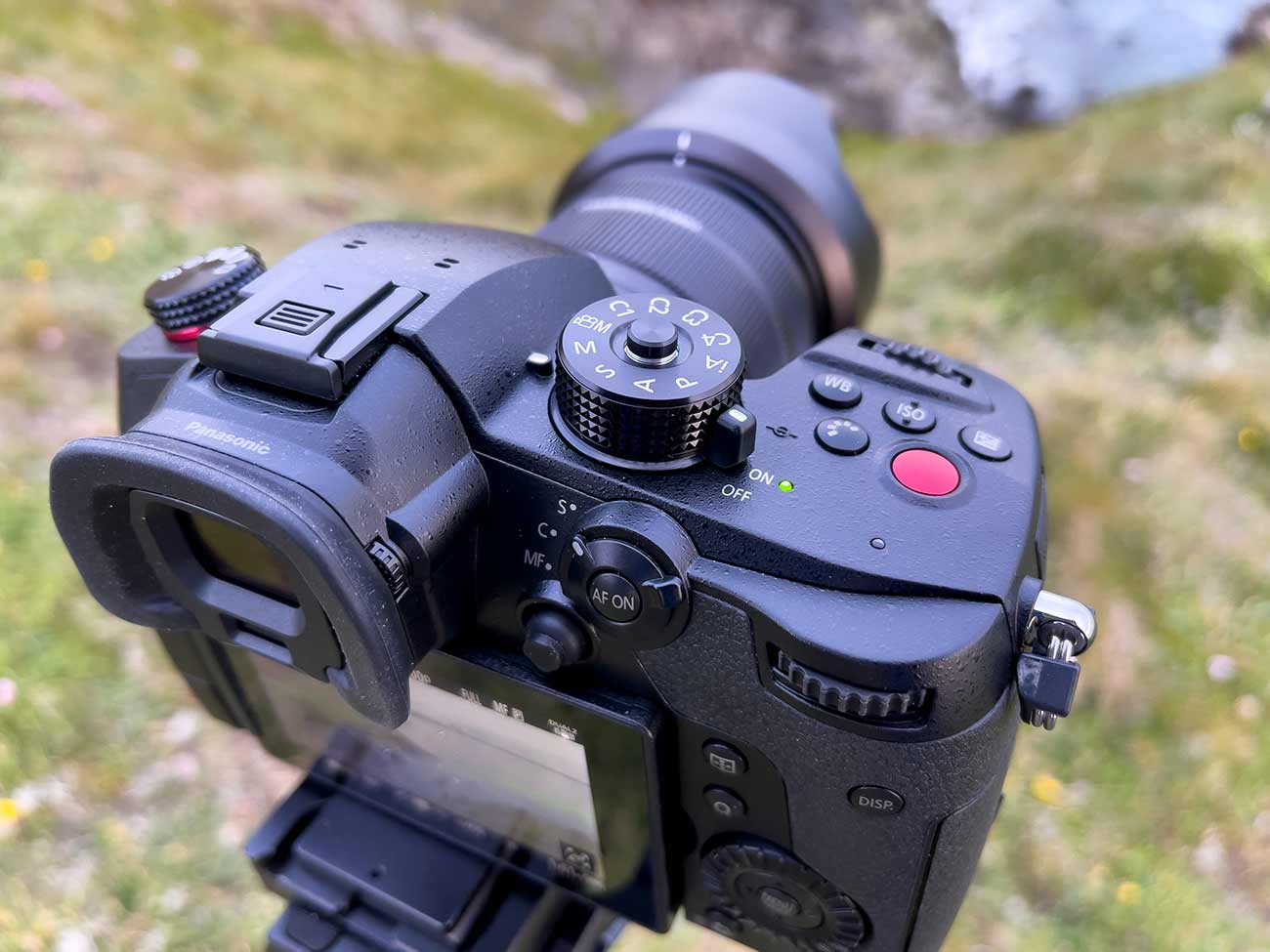 The flip out monitor is slightly smaller than the GH5 at 3" rather than 3.2", but it is brighter and has a slightly higher resolution. Of course shooting in bright sunshine and you'll likely want something with a shade on it, or larger monitor mounted on top of the body, but it is generally very bright and clear. Be careful if you have plugged in headphones or an HDMI cable though, because the monitor overlaps the sockets when it is tilted at certain angles.
The EVF can now be run at 120Hz, which as anyone who has used the S1 or S5 will tell you is a really good thing. It's far superior to any optical viewfinder and is a joy to use for stills. So good in fact that you completely forget that it is an electronic viewfinder.
Image quality
Overall image quality is very similar to the GH5, as you'd expect. Newer cameras often use sensors that are a few years old because quite often it's the processing that makes the real difference.
One thing Panasonic has really nailed is its colour science. I'm struck by this each time I look at video I've taken with the S1, it's simply lovely to look at and it grades really easily. Viewing the footage from the GH5 II on the ASUS ProArt PA32UCG and the smaller sensor is slightly noisier in the shadows than its full-frame brethren, and dynamic range is less at 11-stops vs a claimed 14+ stops for the S1. You'd expect this with the smaller sensor, so there's no surprises here. But what you do get is that wonderful Panasonic colour, and again the footage from the GH5 II is easy to work with in post. Because of the way Panasonic has tuned the V-log for each camera you should be able to mix and match footage across the camera ranges from the company very easily.

Great colours out of the box. Video screen grabs taken with the camera in the Natural picture profile, no adjustments.
Slow motion on the camera, such as the 1080p 120fps mode, is quite usable. It's a drop in resolution, but the quality is such that it does in fact make for a good up convert to 4K using an app like Topaz Video Enhance AI.
The results of the image stabilisation system are very good. Simply using the optical system combined with the IBIS meant I could walk around and still keep a smooth image even when I wasn't being particularly careful about keeping the device steady. This is certainly a very commendable aspect of the camera.
Conclusions
The question a lot of people will be asking is whether they should upgrade to the GH5 II from the original camera. The GH5 is still a very good camera, even four years or so after its first release. It's a testament to how good it is that it still stands up today even as newer cameras come to market. The GH5 II retails for £1499 for the body, or £1699 with a 12-60mm f/3.5-5.6 lens, which is less than the original camera's launch price, so it represents very good value for the money. The GH5 II probably doesn't have enough new capabilities to warrant a sudden upgrade, unless you need to add an extra camera or you really do need something specific like the GH5 II's streaming capabilities.
But it's not really existing GH5 owners who need to be looking at the GH5 II. Instead we need to be looking at how it sits in the broader market vs the competition. If we look beyond pure specification numbers, and instead look at the more subtle things the GH5 II offers, we can get a much clearer picture of things. For example you won't find another brand new mirrorless camera at this price that can have a full XLR mic module attached to the hot shoe. There's also two levels of audio gain input, Standard, and Low, giving users more flexibility over more visually focussed rivals.
And that's the important thing to consider here. While the GH5 II might not have any earth shattering upgrades over the GH5, what it has gained are useful additions that keep the camera competitive. To put this into perspective the GH5 II is currently the least expensive mirrorless camera on the market that can record 10-bit 4K at 4:2:2 colour resolution with a 400Mbps Intraframe codec, allows simultaneous internal recording while outputting to an external recorder, and has a fully integrated XLR audio module available for it, as well as synchro scan modes.
The synchro scan mode inclusion is notable because along with the broadcast safe recording mode it shows the true video production heritage that the camera has evolved from, and it is a feature rarely included on competitors. Yet it is an important one if you've ever had to film an interview in front of a monitor screen! It's features like this that make the GH5 II stand out from the competition if you are serious about using a camera for video work. You can have all the 4K and frame rate modes you like, but for real camera users, and by that I mean people who use cameras for work rather than for their own gratification on YouTube, it's features like this that make a difference.
Can I recommend the GH5 II? Of course, without any hesitation. If your budget can't stretch to a full-frame camera, a Micro Four Thirds system like the GH5 II gives you an affordable route in in a package that is extremely light weight, highly adaptable and weather resistant. That it is an incremental upgrade to the GH5 is a moot point, almost to irrelevance. The GH5 II is for people in the market for a new camera rather than serial upgraders. With that in mind it is an excellent camera system that more than holds its own.
Tags: Production Featured Review