With new rules for drones making it easier to do work with lighter models, the new DJI Air 2S could be a dream come true for some.
We covered the new European wide drone rules earlier this year, and it's safe to say that they are an improvement over what existed before. If you use a lightweight drone there's no more filling in endless forms and having to write operations manuals, or to renew permissions each year. There's now no distinction between commercial and private operation, and in some cases you can even fly near to people, assuming you aren't harassing them or breaking privacy laws.
But there's a drawback. Most of the new flexibility comes from using a lightweight drone, and to that end the quality offered by them is okay, but could do better. Until now.
Enter the DJI Air 2S
DJI has announced the Air 2S, a mini-sized drone that has a very unique feature, a 1-inch 20MP sensor that records 10-bit 5.4K video at up to 30fps, with 4K up to 60fps. A pixel density of 2.4μm means that it has better light gathering ability than the original Mavic Air 2.
A digital zoom features, cropping in on the sensor at the expense of resolution. For example you can zoom in 8x with a final resolution of 1080p at 30fps. There's 8GB of internal storage, although your main storage will be a microSD card, with capacities of up to 256GB supported.
Video can be recorded in either H.264 or H.265 at up to 150Mbps, which should make for some incredibly respectable footage quality. The fact that the recording is 10-bit as well makes the D-log mode usable for post grading, as well as for the built in HLG modes.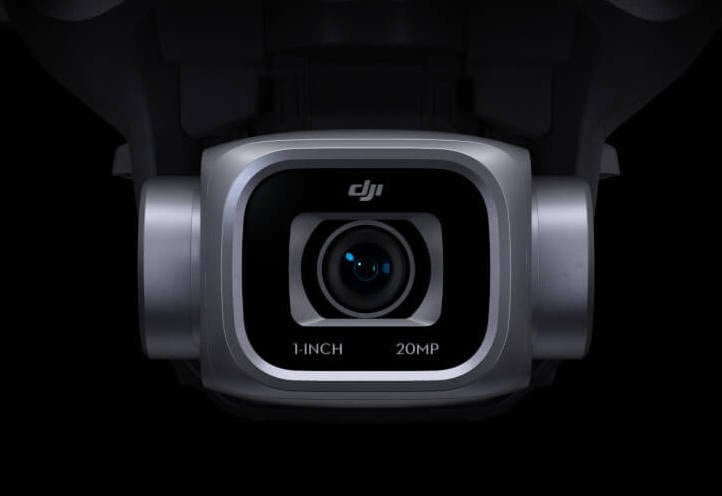 Battery life and safety

features

The aircraft has a maximum flight time of around 31 minutes, and it features DJI's APAS 4.0 autonomous flight system, which uses the directional sensors to manoeuvre it around obstacles such as trees. Different autopilot modes can be enabled for creative shots, such as Spotlight 2.0, ActiveTrack 4.0 and Point of Interest 3.0.

Additionally it can be set to fly a preprogrammed flight path to employ its MasterShots function, and you can even produce aerial hyperlapses amongst other things.

The latest version of DJI's OcuSync transmission system makes for a reliable HD video feed at a distance of up to 12km even if there are a high number of other signals nearby. The collision avoidance sensors have been upgraded to include binocular zooming to help identify hazards further away at faster speeds. The Air 2S has AirSense, which warns the user about any nearby aircraft that are transmitting ADS-B signals, so that avoidance action can be taken.

The DJI Air 2S is available now for US$999, which includes the drone, remote controller, and a single battery. A Fly More Combo is also available for US$1299, which adds an extra two batteries, ND filters, a charging hub, and a shoulder bag.
Tags: Production News Drones