Frame.io and Audio Design Desk have been brought together for seamless audio design and editing round tripping in the cloud.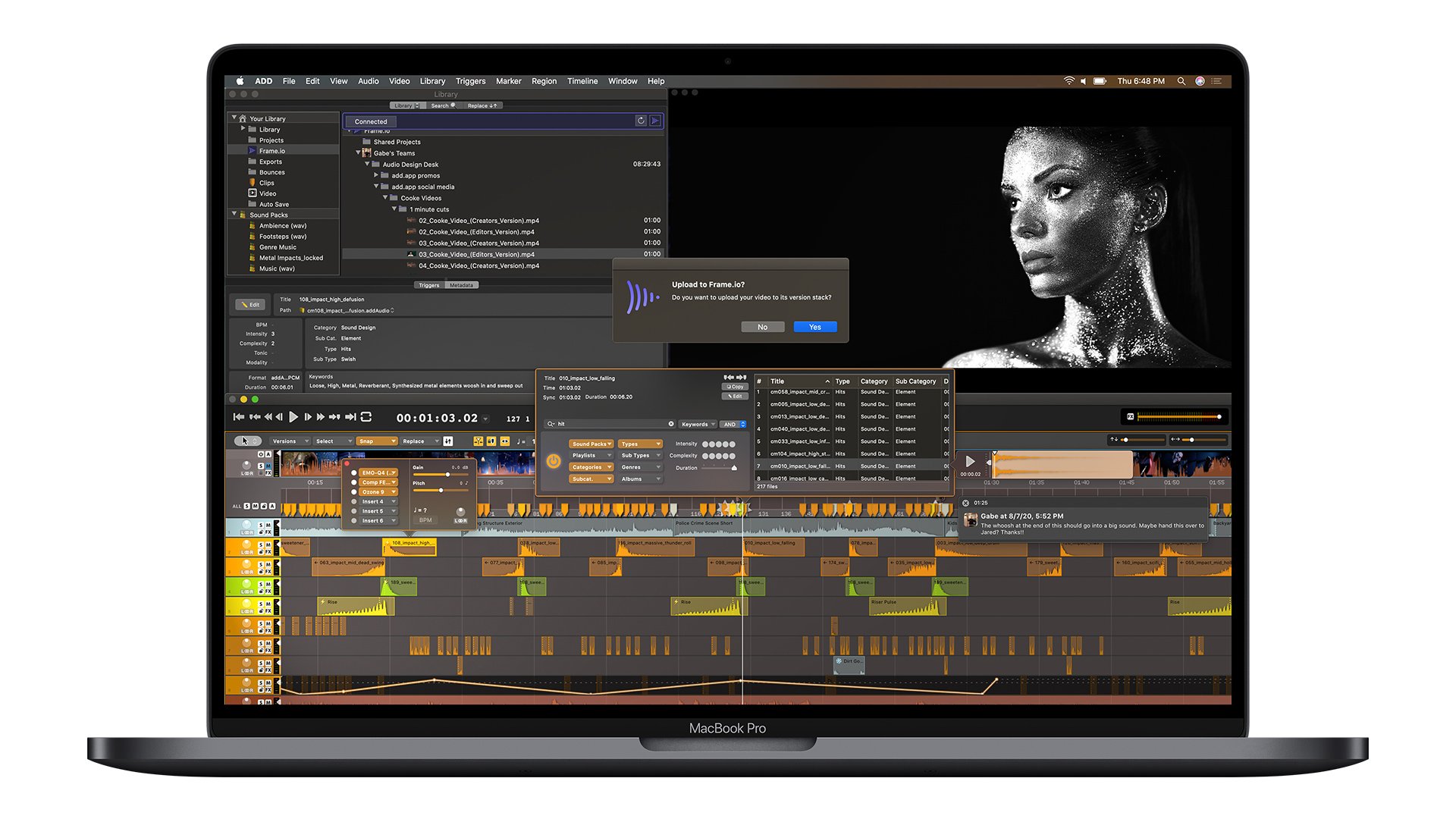 Audio Design Desk now integrates with Frame.io. Image: Frame.io.
Audio Design Desk and Frame.io have teamed up to create an integration between the two services and apps, bringing together add.app's audio, music, and foley design tools with Frame.io's cloud platform for collaboration and review. This helps give editors, sound designers / mixers, and film and video professionals and YouTubers the tools needed to finish their projects faster, thanks to a fast and seamless roundtrip between the respective apps.
As productions move to the cloud, and editors, directors, sound designers, etc., are working in remote places, Frame. io becomes a powerful tool to collaborate and review film and video projects. And with the integration between Audio Design Desk (add.app) and Frame.io, filmmakers now have an easy way to roundtrip their projects for sound design and mixing, while offering new ideas that can quickly be changed.
Editors and sound designers/mixers can import video clips, which are frame accurate, into Audio Design Desk to do their work. The award-winning software has a complete toolset to create and mix music, sound, and foley for film and video projects. It's easy to add and adjust elements with over 25,000 elements for a paid account (2,500 free), search the timeline, increase or decrease intensity and complexity, and much more. Sounds and music can also be imported for projects.
Once the sound design and mix are finished, it can be exported from add.app, and uploaded to Frame.io. The Version Stacks feature gives directors and producers different options on which sound design they prefer, during their review in Frame.io. This makes it much easier to get the final approval.
Using Sonic Intelligence, the sound design can be further edited or elements can be switched with other options, while maintaining a seamless integration. Add.app makes it very easy to swap or tweak one audio element, or an entire section of sound design. Again, without losing the integration between the two apps. Audio Design Desk promises this can be done with just a simple click.
The seamless and deep integration between Audio Design Desk and Frame.sio is important as remote, collaborative film and video production continues to gain popularity. Every vendor wants to get the final approval as fast as possible, and this integration will help with that.
Audio Design Desk Collaborate offers a perpetual license for $399, plus AI assistance with importing, and a promised increase in performance of up to 70%. Visit https://www.add.app to learn more about the software, and here for details on the Frame.io collaboration.
Tags: Post & VFX Production