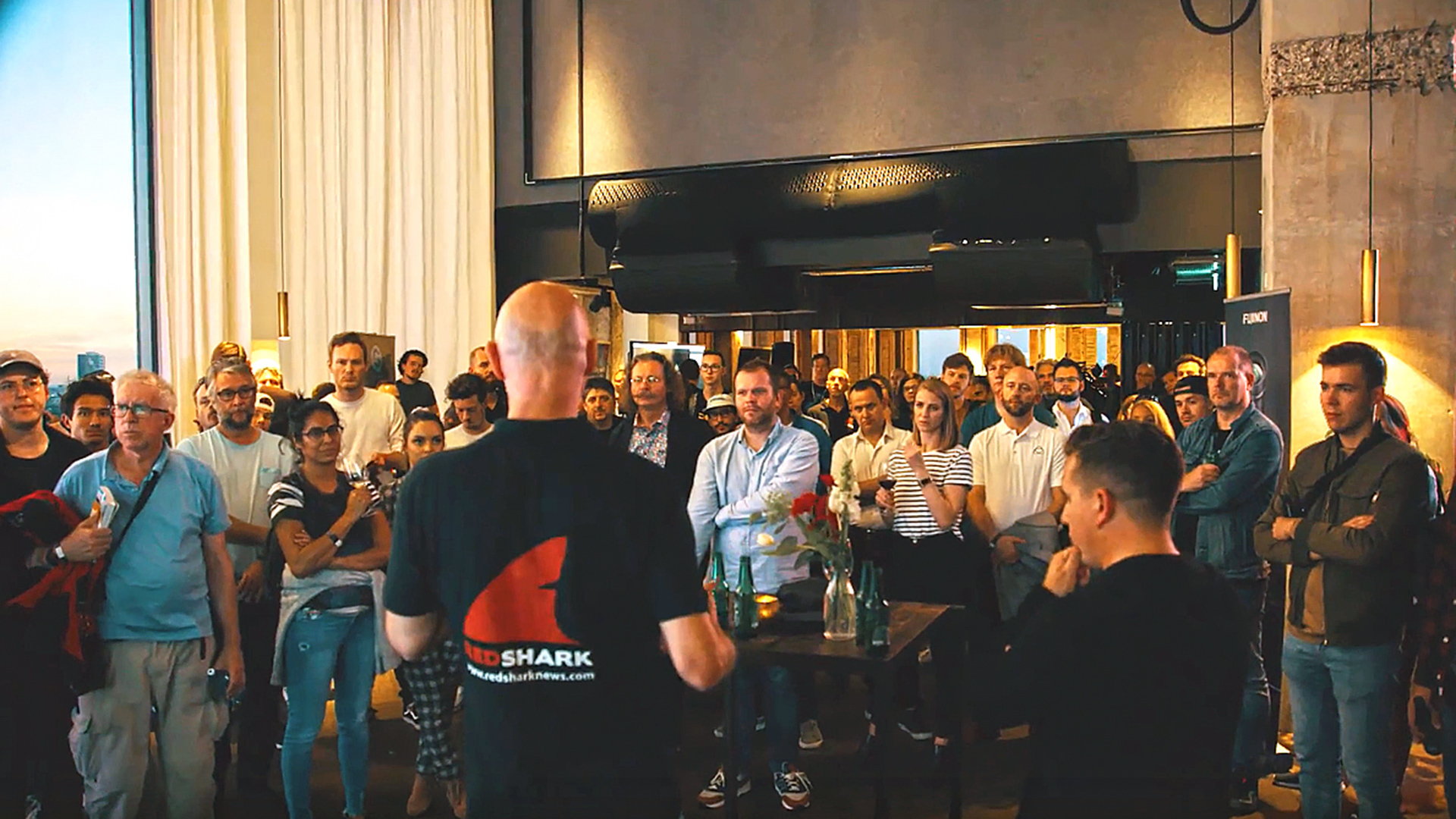 Don't miss the chance to join us this week on Wed 11th Dec along with a panel of some of the most forward-thinking filmmakers and technologists and manufacturers at RedShark Connect, Burbank, LA.
Quicklink: Register here or go to the end of the article.
This week's RedShark Connect event will be hosted at Creative Solutions LA in Burbank. Registering for the event is free and is your chance to get up close and personal with some of the most influential people in the industry on some of the most important challenges that face us as content producers.
We'll be joined by our partners Sony, Zeiss, Western Digital, Adobe, SmallHD, and Teradek. This is a rare chance to be able to speak to the manufacturers directly to discuss your mobile workflow ideas.
Our panel of professional filmmakers
We'll be hosting a panel of some of the most forward-thinking and influential filmmakers and technologists to discuss remote filmmaking, and what you need to know, moderated by RedShark's Editor in Chief, Dave Shapton. Our panellists include:-
Jody Eldred, Filmmaker
Jody Eldred is an Emmy-winning and Directors Guild of America award-nominated Director, Cinematographer, Writer, Producer, and Editor. With 45 years in TV news and docs (mostly for the networks), working on feature films, TV dramas such as CBS' "J.A.G.", "NCIS", "NCIS: Los Angeles", The Tonight Show, Oprah, Good Morning America, World News Tonight, 20/20, Nightline, 48 Hours, Dateline, PBS' acclaimed "Frontline", "Gunny-Time! with R. Lee Ermey", and covering the Iraq War with Peter Jennings and Diane Sawyer, there's very little he hasn't seen and done. Wars, riots, floods, fires, celebrity interviews, presidents and royalty, underwater, skydiving, jungle, desert, run-and-gun or elaborately-lit interviews for demanding talent like Cher and Sharon Stone-- and challenging subjects like Charles Manson... been there, done that.
Sandra Valde
Named as one of the 2014 "Generation Next" cinematographers in ICG magazine, Valde-Hansen holds an MFA from the prestigious American Film Institute. As well as lensing political and socially conscious documentaries for Al Jazeera America (Daisy and Max), PBS (Tales of Masked Men) and Showtime (Burn, Motherfucker, Burn!), Valde-Hansen has over fifteen independent feature credits, including Jewtopia, directed by Academy Award Winner, Bryan Fogel, Shotgun directed by Hannah Marks and Joey Power, which was just released in Fall 2018 and Social Animals, directed by Theresa Bennett, released by Paramount Pictures.
Collaborating with indie darling director Gregg Araki, Valde-Hansen lensed Kaboom, which was an official selection at the Cannes Film Festival and Sundance Film Festival, released by IFC Films. She then re-teamed with Araki on White Bird in a Blizzard, starring Shailene Woodley and Eva Green that also premiered at Sundance in 2014 and released by Magnolia Pictures. She completed shooting Araki's television series, executive produced by Stephen Soderbergh, NOW APOCALYPSE that premiered at Sundance 2019 and will be released on Starz! in March 2019.
Valde-Hansen worked her way up through the camera department and was mentored by luminaries such as Steve Poster ASC, Stephen Lighthill ASC, and Nancy Schreiber ASC. Born in Miami, Florida, to a medical family of first-generation Filipino immigrants, she received a BFA in film from Florida State University. Valde-Hansen's acute focus is on working on both narrative and documentary visual storytelling that allows the audience to immerse themselves in the worlds she helps create. She resides in Los Angeles and when she is not shooting, teaches in the cinematography department at AFI and is constantly taking photos of her 4 year old daughter, Mazzy.
Barry Goch
Barry is currently the Finishing Artist on Black-ish, Grown-ish, and Mixed-ish. He also teaches a class in Post-Production at UCLA Extension. Additionally, he writes for PostPerspective.com. His finishing credits include Spider-Man: Homecoming and Game of Thrones. He recently cut the short film "Stucco" featuring Janina Gavankar.
Christine Steele
Christine Steele- working editor, editing instructor, documentary director, editor, producer, and an EMMY winner!
She's a great fit for the panel as she's done a documentary with a remote workflow Take Me Home Huey,

Emmy Award Winning Director, Producer and Lead Editor at Steele Pictures, Christine Steele actively provides production and post-production services, consultation and training for colleagues and clients all over the world. Christine has worked for ABC, Disney, Pixar, Fox, Paramount, Warner, Showtime, Frontline, Electronic Arts, VH1, BBC and PBS. She supervises a team of equally talented content creators and trainers. A popular speaker and Adobe Certified Master Instructor, Christine enjoys collaborating with other filmmakers and shares her experiences through teaching. Check out upcoming speaking events HERE and download her online editing courses at Lynda.com.
Michael Rizzi, Cinematographer
Michael Rizzi grew up in the San Francisco bay area where at a young age his love for filmmaking began when his parents bought a Sony a Hi-8 video camera and he began experimenting with the moving picture. Video production classes in high school furthered his interest and lead to film school at San Diego State University. Graduating in 2003 with a degree in Television, Film and New Media he was honored with the Billy Wilder Excellence in Cinematography Award upon commencement.
Michael has since worked steadily as a cinematographer shooting features, television, documentaries, and numerous commercials, promos and music videos both domestically and internationally. His most recent feature which wrapped in November, Trees of Peace, was shot on the Sony Venice.
Michael lives in Los Angeles with his amazing wife and their two young boys.
Why come?
RedShark Connect is not just an amazing opportunity to meet some of the most influential people in the industry, but you will learn new techniques and discover new kit and technology, and it is also a wonderful opportunity to network and even plan new projects together.
Food, soft drinks, wine, and beer are all on hand to keep your energy levels up, and it's all completely free! Valet parking is available onsite with full details sent to you once you RSVP.
Tags: Business