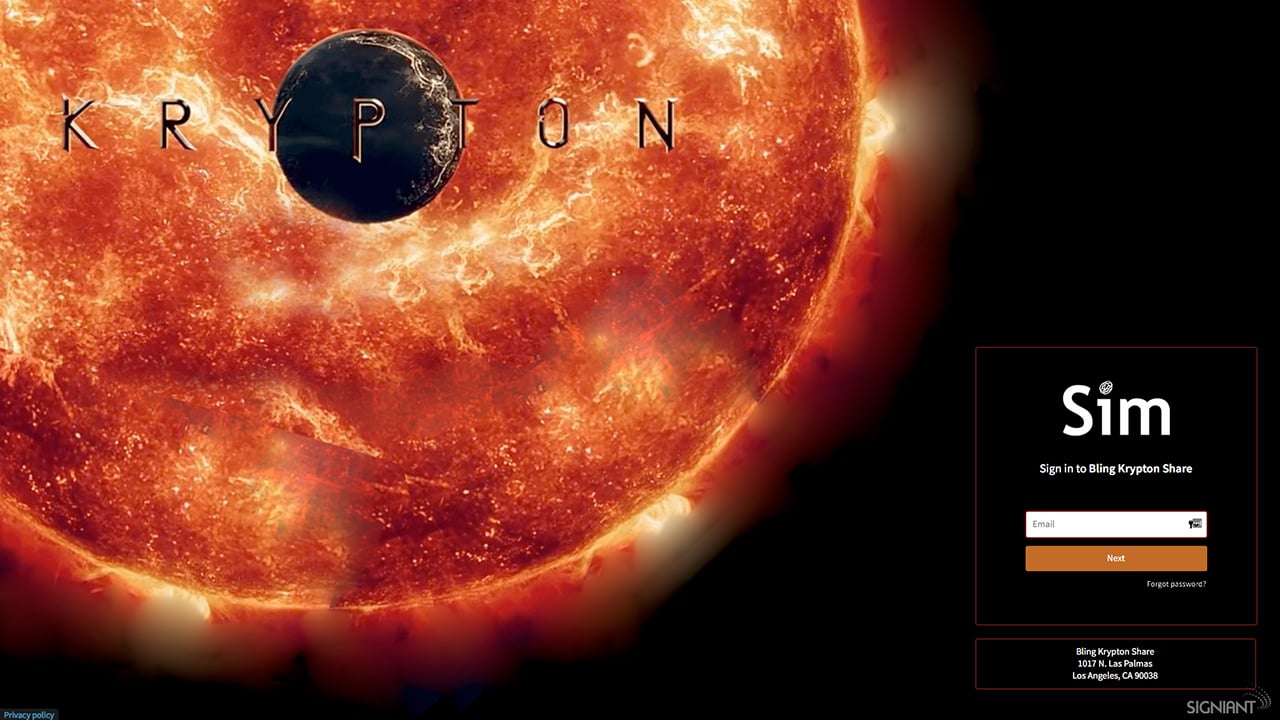 Where can we look to get a sense of the future of workflow production for scripted episodic programming? The designs and projects of Jesse Korosi, Director of Workflow Services at SIM Digital International, and his team of producers, supervisors, technicians and developers have become trusted models for many in the industry.
About the Sim Workflow Services team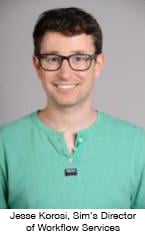 With a portfolio that includes hit series like "Fargo," "Mr. Robot," "Star Trek Discovery" and "Narcos," the Sim workflow department is typically working on 30 active projects across their facilities in Toronto, Vancouver, Los Angeles, New York and Atlanta, as well as remote locations around the world. Providing services that include dailies, online and offline editing, final color/DI, visual effects and sound editorial and mixing, they also have the advantage of a complete camera rental facility integrated into the post division of Sim. Within the Sim Hollywood location, their clients experience a rare full-fledged camera-through-post service.
"For anyone that's stuck in their post-production environment and can't interreact regularly with cameras," says Korosi, "it's hard to keep up with the constantly changing camera and acquisition formats and maintain a complete picture of the whole process."
This combination of in-depth skills, collaboration and broad insight across the entire production and post-production process provides the Sim Workflow Services team with a unique vantage point and the ability to see workflow design opportunities that other teams miss. So much so that they have become known for their bigger-picture workflow consultations.
As their director, Korosi's primary role is to design and roll out end-to-end workflows, including any technology involved, companywide. He also oversees a team of developers, managing research and development on various internal, as well as client-facing, software applications.
Discovering Signiant Media Shuttle
In 2014, while searching file sharing technology he could use with clients, Korosi discovered Signiant Media Shuttle, a first-of-its-kind SaaS solution for sending and sharing large files. His department had been using a file hosting and sync service for sharing things like DMG files, install files for applications, documentation, and disk images for computer setups. However, as business grew, they needed a solution that could work for these internal files, but also allow them to quickly and securely turn over large files directly to clients.
"After testing Media Shuttle and comparing it to Signiant's competitors, it made a lot of sense for us in regard to speed, flexibility and professional yet easy UI," says Korosi. "Security was also buttoned down, so we knew we could pass any security audits from studios we work with." However, a few key aspects of Media Shuttle really fit Korosi's vision for building out new workflows and improving client services.
On-premises or cloud storage deployment: Media Shuttle portals can be deployed using on-premises storage or with AWS or Azure cloud storage. "The fact that we can have a Media Shuttle share portal in our own physically secure environment," says Korosi, "and then we can offer files up securely to anyone outside was really appealing."
Unlimited, easy-to-setup portals: Any Media Shuttle subscription allows for an unlimited number of portals, each with a separate URL, easily accessible via web browser. Companies with multiple locations like Sim can have a dedicated portal for each location as well as a dedicated portal for specific teams and clients. "We started with one share portal for dailies, then created one for New York and LA finishing and it really spread across the teams. Now we also have dedicated portals for each of our brick and mortar locations and for specific clients," says Korosi. "For something that's so simple to set up, it's amazing the amount of services we're able to offer through it."
Your-eyes-only folder access: It's easy to set up folders and folder permissions in Media Shuttle so that employees, freelancers or clients can only access the folders they need, while admin maintains oversight of all folders and file transfer activity. "The ability to have clients see only within their folders," says Korosi, "allows us to keep things organized, highly collaborative and catered to their needs in a way we couldn't accomplish before."
Branded, white glove treatment for clients: Each Media Shuttle portal can be custom branded with a logo and high-resolution back ground image, giving each portal a unique feel that lets clients know they are in the right place and being taken care of. "It is a white glove treatment for clients that need extra attention to their job, rather than sending them to Sim branded portals that everybody uses," says Korosi. "But even for regular clients, they have come to expect this kind of service and Signiant checks off all of the boxes that we need."
Remote locations: The Sim team regularly works in remote locations including Bogota, Prague, Dublin, Marrakesh, Belgrade, Malta, Barcelona, Spain, Cape Town, Tokyo, Melbourne, Halifax, Calgary, and throughout the United States. Media Shuttle's patented acceleration technology improves on standard IP transfers up to 200-fold and is particularly impactful for large file, long-distance transfers. Media Shuttle portals can also be set up with specific languages for international collaboration and each user can set their preferred language which travels with them across all the portals they use.
Huge files, faster turnaround: "More studios are requesting that camera acquisitions are back at a centralized place within 48 or even 24 hours, while more and more jobs are shooting 5, 6 and even 8K," says Korosi. "2- 4TB of Camera master a day is now considered normal, but we often get jobs that are much larger. Media Shuttle really sets my mind at ease since all I really need to find is an Internet connection."
Producing the first season of Syfy's Krypton
A recent project that highlights both the innovation and efficiency of the Sim team is their work on the popular first season of Syfy series "Krypton," a Superman origin story set on the Man of Steel's home planet two generations before his birth. According to Variety, it was the most-watched season of any scripted series on the network since "Defiance" in 2015.
Throughout the first season, the Sim team used a dedicated, "Krypton" branded Media Shuttle share portal. They were able to not only efficiently collaborate with the Syfy production, VFX and post production teams, but impress them with a professional service like they'd never experienced before.
"The custom branding is awesome for Syfy," says Korosi. "They log in to what feels like their own service. It's branded for their job with a giant 'Krypton' logo."
A complicated workflow by even today's standards for scripted episodic programming, Krypton's pilot was shot in Serbia with the remainder of the season shot in Belfast, Northern Ireland. The Sim dailies team was on location, while editorial and finishing was done in LA. Some action the "Krypton" share portal saw included, "EXR pulls for VFX vendors, completed VFX shots delivered back to editorial from VFX vendors, files for the Online Editor from various VFX vendors, any stock footage that needed to be given to our finishing team from editorial, turn overs from editorial to our finishing team for the conform," says Korosi. "Essentially any I/O for post."
When asked about their experience using the Media Shuttle portal, the Syfy post producer said, "The system was great. It felt like a white glove experience versus the experience we've had with Sim competitors who use solutions that don't have the custom branding and interactiveness of Media Shuttle." The VFX producer particularly appreciated the "compartmentalized folders" and the ability to send files directly to the Sim facility, which meant they didn't have to upload files that Sim then had to download — saving a lot of time on finishing.
"Krypton" was such a success that the Sim workflow services department plans to use dedicated Media Shuttle portals for more shows and movies, as well as offer it as an additional service for their offline editorial clients. On the whole, Media Shuttle has become a trusted hub for all Sim post-production I/O, improving workflows across internal teams and with vendors. "It used to be like the wild west of file transfer, when every vendor had their own FTP-like service," says Korosi. "Media Shuttle has become a centralized place that we trust and know is secure, fast and reliable, so we are continuing to invest in it."
About Sim
Sim is a leading supplier of production equipment, workflow/dailies and post-production solutions, and has expanded to include stages and production offices in Vancouver. With offices spanning North America, Sim's team and services supported features such as "Deadpool" and Oscar-winning documentary, "OJ: Made in America," and hit series "Game of Thrones," "Mr. Robot," "Stranger Things" and "Handmaid's Tale." All of their geographic locations provide an array of services from dailies, online and offline editing to final color/DI, visual effects and sound editorial and mixing. Sim Hollywood is located in the former historic Eastman Kodak building and provides the only camera-through-post services offering. www.siminternational.com
About Signiant
Signiant is changing the way businesses move large, high-value digital assets around the world and into cloud services. Their on-premises software products were originally adopted by Media & Entertainment enterprises, pioneers in the electronic transport of large files. Over the last decade, Signiant has embraced cloud technology to create next-generation SaaS file transfer and cloud upload solutions with scalable, reliable, cost-effective, and easy-to-deploy capabilities. Today, Signiant's technologies work for every size company to provide: accelerated file delivery up to 200 times faster than standard internet transfers; enterprise-class security along with full visibility and control of transfers and storage; and simple user-friendly tools. Find out more at www.signiant.com.
Tags: Business