The RedShark team takes a look at all the stories about new products, new launches, and what other exciting things are going to be happening out in Amsterdam once IBC2016 starts in earnest.
IBC Update - 26 August
There is always a lull in tradeshow news that starts about six weeks before the event. The print magazines have closed their preview issues and, when it comes to IBC in particular, people head off on their summer holidays and reason they might as well release their news either at the show or just ahead of it.
So, it' s been a quiet month in terms of major IBC updates, but that is already starting to change. So, to clear the decks ahead of next week, here's a round up of the summer announcements.
Ikegami (12.A31) has chosen IBC2016 as the launch venue for its HDL-F3000 multi-format ultra-low-light camera, which is essentially a rival to Canon's ME20F-SH. The camera head measures 100 x 123 x 80 mm and weighs only 1kg, making it a good fit for a wide range of ground-based or airborne gyro-mounted applications. Minimum illumination level in standard operating mode is 0.0068 lux delivering 64 dB signal to noise ratio or higher, while with frame accumulation switched on the sensitivity can be increased to 0.000057 lux.
Matthews Studio Equipment (12.G71) will be exhibiting the Matthews WEDGE. This is billed as a portable, low POV camera-mounting device that ensures fast, stable camera positioning in a variety of situations. A wide range of film, video or DSLR cameras can be mounted to it via a Ball Head, Flat Plate Mount, Fluid Head and 100mm Ball Fluid Head, while it also features three adjustable legs with floating/self-leveling feet to ensure fast positioning.
SGL (7.J15) will be launching its entry-level archive solution FlashNet Lite, while also demoing the latest version of its FlashNet archive. SGL now supports reading and restoring from SMPTE's Archive eXchange Format (AXF), while it also now features support for Ci, Sony's cloud-based service, as well as Amazon S3 via Aspera and ExpeDat Gateway.
Audio, meanwhile, has provided the first merger story of real interest, with Clear-Com swooping in to buy Trilogy Communications, partly to enable it to expand into Trilogy's Defense and Industrial markets.
Calrec meanwhile will be rocking up to Amsterdam with four new networking interfaces in tow: an AES67/Ravenna interface, an AVB interface, a modular I/O Dante card that also has AES67 compatibility, and a SMPTE 2022-6 video interface. For those that want to get their hands on some actual hardware, it will also have its new Brio control surface on show — only 892mm wide but managing to cram in a dual-layer 36-fader surface into that space. It's RP1 remote production unit also makes its IBC debut.
IP is going to be one of the meta-stories of the show, and Media Links' series of 4K IP Quick Start Packages illustrate well quite a lot of different vendor's thinking. The packages enable customers to take advantage of direct fibre or existing ethernet networks by using Media Links' technology to compress 4K, HD or SD signals into a MPEG2 transport stream for visually lossless video and audio with minimal latency between source and destination. (1.C31)
Former virtual studio stalwart Vizrt (7.A20) is also blazing the IP trail with a complete IP production and playout solution featuring the latest version of its video server and real-time media compositor, Viz Engine. It's also showing its new Viz Story tool, which allows journalists to create stories using state-of-the-art 3D graphics and branded maps on video timelines and publish directly to Facebook or other online and social media targets. Subscription-based, it will be interesting to see if anyone outside the target newsroom environment picks up on its capabilities.
IBC Update - 24 July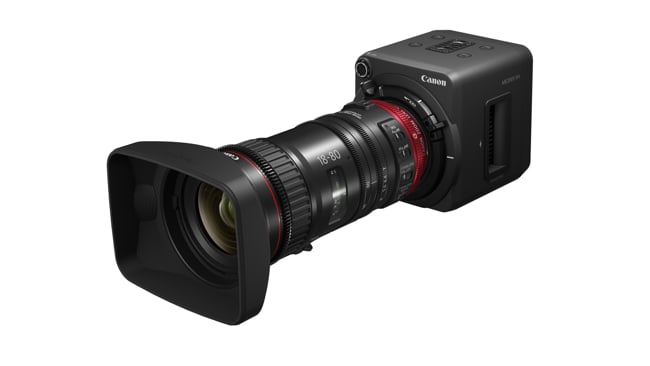 Canon's plans for IBC2014 remain the most popular article ever written on RedShark, with over one million views now and counting. The company's 2016 edition is perhaps slightly less compelling, being a bit short to date on specific detail, but over on 12.D60 you will still be able to see a range that encompasses professional cameras, broadcast live streaming, reference displays and in excess of 100 lenses. It's also agreeably hands-on, the company promising that visitors can touch and try a range of kit (including the ME200S-SH and CN18-80mm combo for the first time in Europe) as well as witness what it says are 'innovative' low-light and long distance live shooting demos.
4K HDR is the watchword, according to the press release the company issued last week, so perhaps it's not unreasonable to expect some juicer news closer to the start of the show.
Also highlighting 4K, this time on the post side of the equation, is Omnitek (10.A24) whose Ultra XR 'True' 4K waveform monitor starts shipping at the show. Designed for colour grading, post production and programme QC in the 4K/UHD domain, it provides all the traditional test and measurement tools you'd expect — picture monitor, true 4K waveform monitor, vectorscope, histograms, BT.709 / BT.2020 CIE gamut charts, sample/pixel monitor, video timing, audio meters and video / audio / ANC status instruments — plus support for 12-bit 4:4:4 SDI input formats in YCbCr, RGB, and XYZ, Wide Color Gamut RGB - ITU-R BT.2020, and in the HDR space both and ST2084 / PQ and Hybrid Log Gamma.
Sonnet (7.G02) will be debuting its new Fusion Thunderbolt 3 PCIe Flash Drive, a compact 512GB drive boating data transfer speeds of above 2100MB/s, and the first entry in its new series of SF3 Thunderbolt 3 pro media readers, the SF3 Series — CFast 2.0 Card Reader. Featuring a 40Gbps Thunderbolt 3 interface and dual CFast 2.0 card slots, the company says it can ingest from both cards simultaneously at concurrent data transfer speeds up to 1100MB/s.
Just next door, Marquis Broadcast (7.G05) is launching its range of Avid storage management products, Parking V5. Project Parking archives, moves and restores Avid projects and analyses and manages media to optimise edit storage utilisation, and does it well enough that it handles over 30 PetaBytes of both ISIS and NEXIS storage worldwide. New functionality in Parking V5 includes the addition of Avid workspace synchronisation: think of it like Dropbox but for all your editing jobs.
Lastly, for this update, Cooke Optics (12.D10) will be demoing its new 35-140mm zoom, alongside a variety of Anamorphic/i, 5/i, S4/i and miniS4/i lenses. The new glass is a true, front anamorphic with oval bokeh throughout zoom and focus with patented optical zoom, and allows shooting from very wide angle to telephoto with a 4x zoom ratio and 2x Anamorphic squeeze.
Oh, and finally finally, the early bird deal for free tickets to the IBC Exhibition mentioned over the page has been extended to 19 August.
IBC Update - 14 July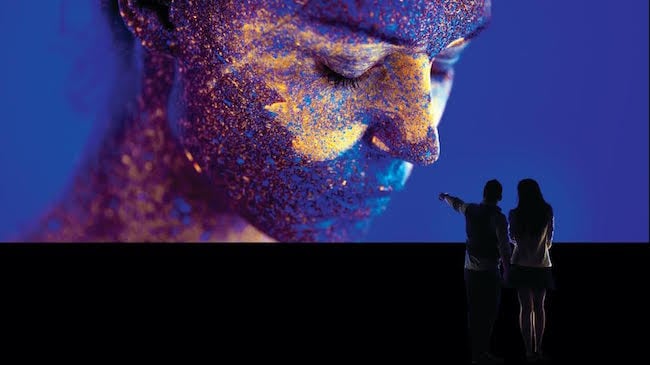 Sony's IBC preview might be short on detail, but there's usually some visual feast to see in Hall 13
IBC starts in 55 days, which may seem like a long time to many of the people reading his, but to all the companies planning on exhibiting at the show will seem an uncomfortably short period of time in which to get far too much work done and dusted.
The show's main headline of the week is that noted film director Ang Lee has been unveiled as its latest keynote. He will be talking about his latest work, 'Billy Lynn's Long Halftime Walk' (2016) and unlocking the secrets of what IBC says is "the revolutionary new cinematographic technique utilised not only unlocks a new level of story-telling power and emotional connection with the on-screen characters but offers greater control over preserving artistic integrity over the increasing range of delivery formats both within cinema and to the wider electronic entertainment market."
All of which sounds rather interesting. Meanwhile, in terms of what people planning to visit the show need to know, the main thing is that tomorrow, July 15th, is the last official date to get free entry to the Exhibition. Prices after then rise to €58, and while historically that deadline has always been extended into August, you never really know. http://www.ibc.org/visit-ibc-explore-learn-and-network/ibc-pass-types-and-registration for details.
On with the Exhibitor news!
Photon Beard (12.G38) will be showing its Highlight LED range for the first time in Europe, which have been picking up good notices in trade shows elsewhere. The lights have no moving parts and are passively cooled, and are available in 90, 180, 270 and 360W variants (which relate directly to 2,4,6, and 8 tube fluorescents. Photon Beard says that they "deliver far more 'punch' and none of the unnatural spinning tones that typical LED fixtures tend to produce."
Broadcast Wireless Systems (1.A78) is planing on unveiling plans for a new H.265/4K video codec platform, which will help camera operators in the live field in the leap up to producing 4K. The idea is to enable wireless camera users to upgrade to 4K (and 2K) operation without replacing their existing systems, and with a two-frame and a low 10W power consumption, they might be on to something.
Cinegy, meanwhile, will be talking 8K with its DANIEL2 GPU video codec, which it says can decode up to 1100 frames per second in 8K using an off the shelf, sub €1000 PC. The company is entertainingly bullish about the future of high resolutions too. "The debate on the respective veracity of multiple-K resolutions is almost irrelevant," says Cinegy CTO and Co-founder Jan Weigner. "In an IP, software-defined, GPU-centric environment, the upper limit of what you can usefully process in real time is difficult to define. We think our 8K demo will be impressive enough for IBC 2016. As for 2017 and beyond? Well, how high do you want to go?" (7.A30 and 7.A41)
Hitachi's (12.F38) Live Production OB-Box is not new, but it's clever enough to be talked about again a year after its introduction, and can now kitted out with the company's new 4MOS sensor technology 4K production camera; 3MOS 1080p sensor SK-HD1300 series cameras; and 3CCD sensor SK-HD1200 production camera with the company's new 7.4 inch OLED viewfinder. Essentially, the rest of it is a fully featured modular OB facility which is first delivered to the customer and then mounted onto a suitable vehicle's chassis using a proprietary fixing kit. It's neat and it's a fast way of getting a new OB truck on the road.
Over on the audio side of things, Jünger Audio (10.A49) is still blazing the automation trail with more on its Smart Audio concept. "Auto-Level, Auto-Upmix, Auto-EQ, Auto-MIX, Auto-Loudness, Codec System Metadata Management – the intelligent combination of all these Jünger Audio adaptive algorithms will create the solution that delivers Smart Audio," says CEO, Peter Poers.
NUGEN Audio's AMB (Audio Management Batch) processor, meanwhile, is being billed as a powerful new product built on the concept of the company's Loudness Management Batch (LMB) processor. New features such as threaded algorithm processing and multiple processing threads that are addressable for simultaneous parallel handling of files and queues, means that NUGEN reckons AMB will enable post facilities to speed workflows significantly. (8.D56)
LiveU (3.B62) will rock up to the show with its LiveU Solo, plug-and-play live streaming bonded system for the online media market in tow, but most attention will probably be focussed on what it promises to be a major product announcement. We'll keep tabs on that and report back if it's as major as the company promises.
IP production will be one of the big undercurrents buying up several manufacturers at the show, and EVS (8.B90) is promising to make its stand act as an IP-enabled hub showcasing live media flows that connect live sports venues, broadcast centre control rooms and the viewers sitting at home on their sofas. Products on show will include the new XT4K server with its advanced configurations for multiformat 4K/UHD and HDR, and there will probably be many veiled references to their kit being used in One of The Summer's Biggest Sporting Events (said sporting events getting mightily shirty very quickly if their name is used in vain).
Sony (13.A10) too will "unveil advances in image, IP and media workflow" but beyond that is being frustratingly vague regarding its plane. Given that it tends to take over almost the entire Elicium Hall at the RAI to showcase its latest wares, though, it has plenty of space for further announcements as the run up to the show gets into high gear.
Lastly, one of the IBC events that's worth highlighting is its Rising Stars programme, which is a free one designed to help people trying to break into the industry do just that. It has a definite fast track into the show and the exhibition if nothing else, meaning all that attendees have to do is get themselves to Amsterdam the weekend of the show and find somewhere to stay. We've heard good things about it in the past — Professor Brain Cox was star turn a could of years ago — and this year's event is going to be moderated by Oisin Lunny. http://www.ibc.org/ibc-rising-stars-your-introduction-to-the-world-of-electronic-media--entertainment for more details.