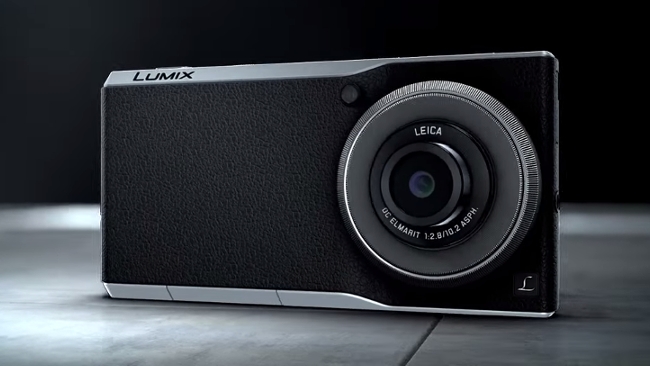 Panasonic drops yet another device that features 4K video recording, but this one is a head-scratcher: basically, it's a phone.
Following the release of its 4K point-and-shoot camera, the Lumix LX100, Panasonic had an adjoining announcement for another device that will bear the Lumix name, and yes, 4K shooter (of sorts), with an important distinction. The Lumix CM1 is a smartphone.
Of course, these days, there are at least a handful of smartphones that feature some variant of 4K video recording. The Lumix CM1 distances itself from the competition by packing a 1-inch sensor that produces 20 megapixel photos and 4K recording (more on this in a second). The camera/smartphone sports a Leica DC Elmarit 10.2mm (28mm full-frame equivalent) f/2.8 aspherical lens and manual controls for aperture/shutter, which immediately makes it a more convenient 'camera'.
About that 4K recording...it's at 15fps, which is a bit surprising, as the Samsung flagship Galaxy S5 and upcoming Note 4, As well as the Sony Xperia Z2, currently features 4K UHD recording at 30fps. The Sony Z2 phone also has a comparably-sized sensor (20.3 MP), although it misses the manual controls and point-and-shoot camera stylings.
So, where does that leave the Panasonic Lumix CM1? We don't know how well this device functions as either a camera or phone, but based on specs, it's a hard sell, whether you're a video shooter or photog. Let's ignore the 4K recording fps for a moment, and pretend, that this device will indeed produce higher image quality than its competitors (who are more established smartphone brands). The images and video/still features of other well-known high end smartphones are still good enough for most consumers. Even discerning pixel-peepers who strongly prefer the Lumix CM1's capabilities would probably feed their image capturing addictions by buying dedicated cameras with superior specs instead.
The Panasonic Lumix CM1 may be significant not for what it is now, but what it may become. If the company is committed to this sort-of marriage between high end smartphone and high-end consumer photographic and video features, then the next version of this camera/smartphone could be quite good. That is, if the CM1 does just well-enough to justify a second version. Currently, the combination camera and Android smartphone is targeted for only Germany and France, so its up to customers in those countries to decide the fate of the Panasonic Lumix CM1.