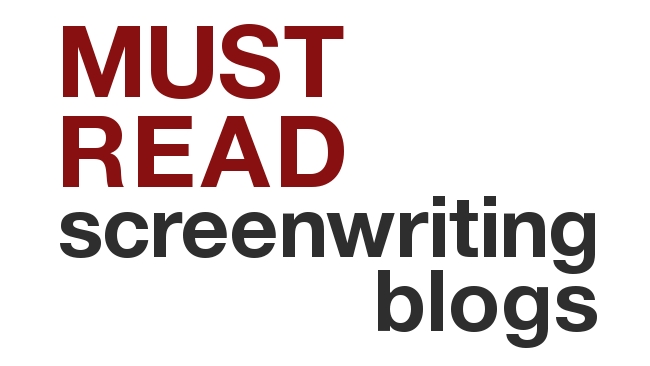 Concluding our three part series on must read blogs for film professionals, we profile seven blogs that furnish screenwriters with tips and advice on craft and business.
Previously, we've profiled blogs that cater generally to filmmakers and others published for film tech professionals, such as cinematographers, editors, and animators. Now, we turn our focus to blogs that aim to assist the professional and beginning scribes of the industry - the people who, through some alchemy of structure, character, and story, create the narrative blueprints of our productions.
We understand there are plenty of great screenwriting publications and resources, such as Script Mag, the Script Lab, Scott Meyer's Go Into The Story (the official blog of the Blacklist), and the Done Deal Professional message board, where it's possible to get your business questions answered by agents and lawyers that frequent the forums. But we're shouting out the personal blogs of working screenwriters and industry professionals that write for the writer, from script readers to executives. So let's get started!
[Disclaimer: Some of these blogs offer script coverage and consultancy services for a fee. RedShark News cannot testify to the quality or value of these paid services.]
Screenwriting From Iowa...and Other Unlikely Places reads as a travelogue to the vast world of screenwriting beyond the borders of Los Angeles. Although never stated in so many words, the blog progresses two inter-related messages: learning and practicing the craft of screenwriting is not dependent on geographic proximity to major industry towns (like LA); and your own environs, no matter where you are, can be an enormous source for inspiration and discovery. Advice comes in the form of 'Tips' that weave blurbs from more well-known writers with personal stories, such as this one about 'Complex Stories / Simple Characters' that recalls a video shoot with former two-sport star Deion Sanders. From Iowa also features its share of ruminations on the current state of professional screenwriting and filmmaking, such as this article that illustrates the roller coaster of working in the industry. Sprinkle in some cross-disciplinary jewels ('Harold Pinter's Nobel Prize Lecture' and 'Screenwriter as Poet / Journalist / Director'), mix-in some pop culture fun ('The Lebron James Redemption'), and the result is a thoroughly satisfying and illuminating tour to the far-flung heart of screenwriting.
The person behind Screenwriting From Iowa is Scott W. Smith, a twenty year veteran filmmaker, producer and writer. The industry has taken notice of Smith's efforts, as his From Iowa blog won a regional Emmy back in 2008 to go along with the awards Smith has snagged for his film projects. He stays busy; along with a full production slate, which is frequently chronicled, he produces a new blog post daily (or very close to it). Smith's high output of dispatches from the geographic and creative margins makes From Iowa an important destination on your professional roadmap.
While Screenwriting From Iowa takes its cues from life outside of media epicenters, it's also beneficial to get advice from a working writer who calls Hollywood home. Some of you may have such a writer on speed dial, but for everyone else, a visit to My Blank Page might be the next best thing. The blog is written by Scriptcat, the blogging persona of Mark Sanderson. He hails from the sketch comedy world and has made the successful transition to professional screenwriter, with an assortment of television movies to his credit, and much more uncredited assignment work.
Sanderson's blog is the rare insider's perspective of a profession that may seem impenetrable to some, with scores of fledgling writers on the outside looking in. Sanderson debunks the 'romanticized life of a working screenwriter' with anecdotes and wisdom gained from first-hand industry experience. You'll find plenty of practical career advice, like 'the importance of finding a screenwriting mentor' and how to approach your treatments with an eye to building a "roadmap to a successful first draft." Sanderson typically publishes only a few blog posts a month, but it's well worth sifting through older posts, as nearly all of it is still relevant, especially to those who want know what life is really like for a working Hollywood writer.
Sometimes, you just have to leave it to the writer to describe himself:
I've been reading scripts in Hollywood for over seven years. In that time I've read for Oscar-winning production companies, and one of the "Big Five" agencies, among others. I'm here to share what I've learned.... mostly because I'm sick of reading bad scripts.
I'm that guy you need to get past at the agencies and production companies; the first one in the office to read the script. I am... the Gatekeeper.
... but you can call me Zuul, or just "The Bitter Script Reader."
And one other thing: don't ask him to read your script. But that's alright, because the blog is chock full of advice for getting your script past agencies' and studios' first line of defense: the script reader. Really, the site is much more than that, as it hits upon development processes to determining screen credit with an WGA arbiter to readers' letters to an audit of James Franco's screenwriting class. The Bitter Script Reader publishes a couple of blog posts a week, which is commendable, considering he's probably staring at a stack of screenplays right now.
It's refreshing when a blog's title tells you exactly who it's for and what to expect. Such is the case with The Aspiring TV Writer & Screenwriter Blog. Since 2007, professional screenwriter and script reader Amanda Pendolino has been lending a helpful hand to beginning screenwriters with a wealth of information. The blog does a great job of communicating to young writers without coming across as condescending. There's no need to feel bad if you don't know what a tracking board is; Pendolino can tell you. Some of the advice may be sobering ('When to give up on the entertainment industry'), but it's important to recognize hard truths, and at least the blog maintains a positive attitude even when doling out the medicine.
As Pendalino puts it:
Lots of great blogs talk about the craft of screenwriting - but how do you get an internship or assistant job? How do you make connections in Hollywood? What is a script reader? How do you get an agent or manager? Check out our tales from the trenches.
Of course, as a screenwriting blog, Aspiring has the requisite posts on craft, so you can better understand the difference between an average script and a great one. Pendolino also casts her net out to the larger world of writing bloggers, reeling in batches of screenwriting links, curated specifically for her readership. Due to Pendolino's efforts (and high output of posts), The Aspiring TV Writer & Screenwriter Blog continues to assist writers in building that bridge between college and their careers.
Most screenwriters didn't start out as screenwriters; more than likely, their first attempts at narrative storytelling was in prose, way back in grade school. And other screenwriters regularly split time between writing for the screen and novel and short story writing. No matter what type of writing you prefer, or are presently working on, the blog Bang2Write has you covered. The blog is definitely shaded a little more to the cinema side, with posts like this one on avoiding the 20 'killer' errors in your scenes, but also touches on aspects of writing that are universal, such as how exposition works.
Bang2Write is run by Lucy V Hay, "a writer, script editor, blogger and trained teacher who helps writers." She is also an organizer of the London Screenwriters' Festival, so she's vetted when it comes to evaluating writing and guiding writers, through her knowledge of story, craft, and what writers must do to network and market themselves.
The blog's titular Gideon is none other than J. Gideon Sarantinos, Vice President of the Scriptwriters Network, a not-for-profit dedicated to educating screenwriters on all facets of craft and business and increasing industry access for those trying to break in. Sarantinos' personal blog echoes the mission of the Scriptwriters Network. On Gideon's, you'll find a variety of articles that range from screenwriting nuts and bolts ('Why antagonists are more important to your story than protagonists') to specific advice for television writing (as in these 'Ten Key Rules...' and 'What TV Execs are looking for') to advice for those just starting out.
Sarantinos excels at taking heady topics and big questions and delivering very clear points of view, wrapping his ideas and advice in enough common sense that its hard to argue with his summations. He's definitely not an everyday blogger, as a new blog post appears a few times a month, but each new post is a must read for anyone interested in screenwriting at the professional level.
Last, but certainly not least, in our lineup of Must Read Screenwriting Blogs is something of a cheat. It's not a screenwriting blog, per se, but it regularly hits on issues pertinent to professional survival of writers...and just about everyone else in the film industry. To be honest, I'm including this blog because I think it's a fitting way top end this entire Must Read Blogs for Film Professionals series.
Hope for Film is the personal blog of one of the seminal figures in indie filmmaking, producer Ted Hope. If you don't know Hope by name, you've definitely heard of his movies, as his filmography reads like a list of the best independent films of the last 20 years: some early and recent Hal Hartley films, as well as Eat Drink Man Woman, Safe, The Brothers McMullen, Waling and Talking, The Ice Storm, Happiness, The Tao of Steve, In the Bedroom, and 21 Grams, among others. Hope has been in the news recently as, at the beginning of this year, he took over as CEO of online streaming cinema company Fandor, which distributes quality films from around the world that would have a hard time reaching audiences through more traditional channels. Fandor entices the makers of content with a 50% split of revenue. Its catalog of 5000 films is growing and even adding more-well-known filmmakers; Fandor inked a deal in July to acquire the streaming rights to 16 Werner Herzog films as it looks to branch out and appeal to a wider audience.
Okay, that's Fandor, but what about the blog? Hope For Film is a great site for screenwriters and anyone else interested in the development and business end of filmmaking. Hope frequently invites guest authors to post, like the latest installment of the blog's Inside the Writers' Room series. But most of the posts come from Hope himself, revealing invaluable information like what he learned producing Ang Lee's first breakout hit. Hope is often critical of the way that the film industry conducts business, but through educating people via his blog, and through his work at Fandor, Hope isn't complaining about the state of things; he's making a real difference.
And that's it! In case you missed them the first time, check out the other two parts of the 'Must Read Blogs for Film Professionals', 'Three Must Read Filmmaking Blogs Blogs' and 'Five Must Read Film Tech Blogs'.
Tags: Business