Most Americans have never heard of the Chinese electronics manufacturing giant TCL. But thanks to a decade of savvy business dealings and its next generation of budget-friendly UHD televisions arriving soon, that may be about to change. In the first of a two-part series, we explore the company's origins, and how it ascended to the edge of global market dominance.
As a reader of RedShark News, you may already be familiar with the Chinese multi-national corporation TCL, or at least its televisions. We recently reviewed one of TCL's first efforts at a UHD television, a 50-inch model which featured stunning picture quality (especially for the shockingly low price of $599), but suffered from a lack of HDMI 2.0 ports, capping its UHD refresh rate over HDMI 1.4 at 30Hz.
Two weeks later, TCL announced its upcoming slate of UHD televisions: five in total, three premium 'smart' models (55" for $799; 65" for $1299; 85" for $7999), and two budget models (40" for $499; 49" for $599), all sporting HDMI 2.0 inputs. This is significant news; many of those that might consider purchasing the current crop of budget UHD televisions are holding off, due to reports of eye-strain and dizziness while viewing fast motion UHD video at 30Hz.
TCL is a major worldwide player that already has a foothold in the United States...
According to an October 2013 interview with China Daily, Michelle Mao, President of the TCL North American Business Center, is so bullish on her company's future that she forecasts TCL becoming the next Samsung in three to five years. It's telling that the idea of shooting for Samsung originated from one of TCL's corporate partners, Walmart.
Once sold exclusively through Amazon, TCL has expanded its retail distribution of televisions to other outlets, even penetrating the official online channels of America's big box stores, including Best Buy, Target, and yes, Wal-Mart. It's only a matter of time before you'll find these TCL UHD sets at big box brick and mortar stores, offering similar features as the competition, while drastically undercutting them on price.
We at RedShark have also covered the low cost UHD televisions from the Chinese-owned television manufacturer Seiki. Both TCL and Seiki are currently saddled in the United States with the tier three 'off-brand' label, so it's almost natural to regard them as plucky little upstarts trying to scrap their ways into the American market. That description fits Seiki, which is a relatively new brand that isn't even sold in mainland China. TCL, on the other hand, is a different beast altogether.
It will probably surprise most of our readers to learn that TCL is currently ranked number three in LCD television global market share, behind Samsung and LG, which are both tier one television brands in the United States. And TCL doesn't sell televisions exclusively; the company's popular Alcatel One-Touch series of smartphones is available from T-Mobile, AT&T and pre-paid carrier Metro PCS, online retailers carry assorted portable electronics bearing the TCL name, and its Chinese operations produce electronics and home appliances for its local market. TCL's list of strategic deals and corporate partnerships is dotted with brands familiar to American consumers: RCA (if you purchased an RCA television between 2005 and 2010, its was a re-branded TCL), IKEA, Toshiba, Marvel Entertainment, IMAX, Roku, Technicolor, and even Samsung, which formed a joint venture with TCL to supply displays for some Samsung-branded products. TCL has more than 60,000 employees and 40 sales offices around the globe. In short, TCL is a major worldwide player that already has a foothold in the United States, and is currently staring at the summit, at Samsung, Sony and LG, thinking "that's not that far of a hike."
Back in 2005, Businessweek interviewed the then-CFO of TCL Multimedia, the subsidiary responsible for selling televisions outside of China. CFO Vincent Yan remarked, "Samsung [Electronics] offers cutting-edge technology. We don't. Everyone at the company would like to do that, but it's a matter of feasibility, and I don't see that happening now." Now, TCL appears to be more confident in its position as an industry leader and the Chinese company that has the best shot of capturing a meaningful slice of the United States television and electronics market.
We have only begun to scratch the surface of this fascinating company. Over this two-part series, we will profile TCL (its origins and former designation as a Chinese state-owned company), discover how it was able to expand globally over the period of 2003 to 2013, and explore its chances of winning over American consumers.
From State to Stock
When profiling any Chinese company, the question of state ownership inevitably arises. In the case of TCL, its 33 year history was woven through China's period of rapid industrialization and economic reforms that led to the country's emergence as an economic superpower. The company that would eventually become TCL was founded in 1981 as TTK Household Electronic Company by a group of Hong Kong investors in a joint venture with the Chinese city of Huizhou, which owned the majority of the resulting company. The early 1980s saw China relax its restrictions on foreign investments in Chinese businesses, which paved the way for TTK. At a time when Sony was rising to prominence via its globally-popular Walkman portable cassette players, TTK was just starting out as a manufacturer of blank cassettes for the mainland market. In what has become a familiar refrain for TCL, the newly-formed company built manufacturing facilities to locally-produce products priced to undercut its competition, in this case, imported cassettes.
The company formally incorporated as TCL Communication Equipment in 1985, as it expanded from manufacturing audio cassettes to electronics parts and devices, particularly television components and telephones. TCL was born when China was opening up and actively luring manufacturers there with the enticement of cheap labor (16 cents an hour on average, as opposed to $2.50 in Mexico and $16 in the U.S.). Of course, what those foreign companies taking advantage of China's labor market couldn't have realized was the extent to which manufacturing and production intelligence was being transferred to Chinese producers and workers. Here's a breakdown from a 1995 report Electronics Manufacturing in the Pacific Rim that details the technologies "transferred" from Japan to China: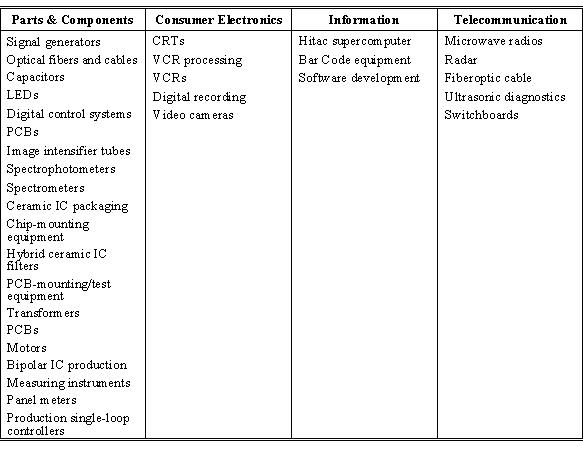 The Chinese government took an active role in supporting the home-grown electronics industry, with the expressed goal of decreasing dependence on electronic imports and ramping up domestic production capacities. The government didn't provide any tax relief or direct strategic assistance, but poured money into both its own research and development budgets and into the R&D of select Chinese companies, controlled the flow of parts and component imports, and offered subsidized loans.
The construction of a more widespread Chinese telecommunications infrastructure over the 1980s, aided by AT&T and Motorola, further increased the production capabilities, and also expanded the mainland market for telephones. According to the company site, "TCL's founders believed that telephones would enter every Chinese household as the economy grew and [would become] a huge market."
Four years later, TCL owned 60% of the Chinese domestic market for telephones. By 1995, TCL had cemented its place as the country's premier telephone manufacturer, receiving the title "China Telephone King" by a state agency. While TCL continued its phone dominance, its televisions began to eat up significant local market share, as told by one-time-CFO of TCL Multimedia, Vincent Yan: "We started making large-screen TVs in '93 or '94 at a price that no one else was offering. The only [ones] available were Sony and Panasonic imports. We reduced costs by offering fewer features. By 1997 we were nationwide."
1997 was also the year the TCL participated in China's program of "Authorized Operation and Growth-Based Incentive Stock Options," allowing the company's management to gain stock in proportion to profits. While the rest of the world waited with baited breath for the ramifications of the U.K.'s handover of Hong Kong back to China in July, China was quietly pushing incremental reforms to make its businesses even more competitive. The idea behind the stock program was to help achieve "three development goals: national interest, enterprise growth and employee benefits, and considerably inspired the responsibility and ambition of the employees of these enterprises. This brought significant opportunities for TCL Corporation. During the authorized operation period from 1997 to 2001, TCL Corporation's sales revenue increased by 3 times, profit increased 2 times and brand value grew by 4 times, which enabled TCL to take a historic leap from a small local company to a consumer electronic leader in China. By the end of the authorized operation period in 2001, TCL Corporation's state-owned asset value increased by 261.73%, and 532.79% by the year 2004."
Buoyed by the overwhelming success of participation in the state's stock incentive program, TCL took a big step towards its current incarnation of a large multi-national corporation. On January 1, 2004, TCL reduced the government-owned stock of its mainland holding company from 100% to 25.22%, allowing it to become a publicly listed and traded company on the local Shenzhen Stock exchange. The effect of this tactic was two-fold; the company received a large influx of cash from the stock sale and improved its capacity to strike strategic partnerships with foreign companies, which would become key to TCL's efforts beyond the Chinese border.
Dealing Dragons
In 2003, TCL Corporation's then-and-current CEO, Li Dongsheng, announced a plan to enter worldwide markets. Dubbed the Dragon and Tiger Plan by Li, it outlined the company's designs to separate its efforts among Tigers, TCL's businesses for the mainland consumer, and Dragons, companies focused on foreign markets. These dragons would eventually take the form of two publicly-listed subsidiaries: TCL Communication and TCL Multimedia Technology Holdings, whose primary products were mobile phones and televisions, respectively (both have since broadened their portfolios to include a constellation of products).
It didn't take long for TCL to set its dragons loose. The company formed two strategic alliances that would become the cornerstones of its foreign ambitions. First, TCL followed its 2002 acquisition of bankrupt German television-maker Schneider Electronics AG with an even more substantial deal in 2003: a joint venture between TCL Multimedia and the French company Thomson SA to produce televisions and DVD players for all markets. TCL owned 67% of the newly formed TCL-Thomson Electronics (TTE), which would manufacture, market and distribute products under the TCL brand in Asia, the Thomson brand in Europe, and the RCA brand in North America. This deal gave both Thomson and TCL access to previously untapped markets and a partner to shoulder some of the burden.
TCL Communication joined the deal-making fun with a similar venture. In 2004, TCL formed a partnership with Alcatel for 55% of the French company's mobile phone business and technology. The venture proved unprofitable initially, so TCL bought out the remaining 45% the next year in a stock swap, with Alcatel receiving TCL Communication stock, receiving back only 19% value of its initial investment. This means that for around $75 million dollars plus any outstanding operating expenses for that year, TCL bought entrance into the global mobile phone game and the Alcatel brand for its devices, increased manufacturing capabilities and worldwide distribution/sales channels, and acquired patents to core 3G technology. TCL's size, manufacturing strength, geographic and product diversification, and dedication to its plan allowed the company to ride out those rough early days in mobile, and slowly assert itself as a mobile phone player. Today, TCL/Alcatel is a top five vendor of mobile phones worldwide, and that's with just an emerging presence in the U.S.
"If we stumble, we will be gone forever."
TCL's exploits in selling televisions to foreign markets traced a similar trajectory as its global mobile phone division, yet the Thomson deal was so troubled that it threatened the Chinese company's very existence. Initially, the joint venture between TCL and Thomson was met with optimism, as it seemed a synergistic pairing; TCL and Thomson would open markets for one another and partner in all phases of television development and production. Right off the bat, the company's respective management styles, highlighted by cross-cultural differences, made effective communication and operation difficult. But of greater importance (and consequence) was TTE's focus on production of tube-style televisions, just as the industry was experiencing a sea change to LCD.
It's easy to play 'Monday Morning Quarterback' and call the TCL-Thomson joint venture a disaster. Even TCL CEO Li described overemphasis on cathode-ray-tube (CRT) display manufacturing "[TTE's] big mistake...the market share of traditional CRT sets in Europe shrank from 80 to 20 percent, a sudden change no one could foresee." Aaron Wong, a senior manager at TCL in 2006, put the stakes simply, "If we stumble, we will be gone forever."
Yet, TCL lives. These first forays into foreign acquisitions and new markets, as bumpy as they were, tempered TCL's resolve. TCL righted its television course by first slashing costs and inefficiencies, declaring portions of its European operations insolvent, then entering into a stop-gap partnership with LG in 2006, so it could sell re-badged LG LCD sets as Thomson units in Europe and RCA in the U.S. Surprisingly, it wasn't until December 22, 2008 that the first TCL LCD display came off an assembly line. The following year, TCL completed the 'Integrated LCD TV Factory' project, giving it world-class manufacturing facilities and marking the dawn of a new era for Chinese electronics companies: the birth of multi-national, vertically integrated Chinese companies that rivaled foreign companies in organizational and operational sophistication, and surpassed them on manufacturing productivity per cost. Between 2008 and 2013, TCL went from a company with zero LCD production capacity to being the number one manufacturer of LCDs in China and number three worldwide, by offering an appealing compromise between price and value for the Chinese mainland consumer (which helped offset overseas losses), then using that special relationship to flip LCDs into cash when its manufacturing capabilities caught up with its ambitions.
Now (actually, for some time), TCL has aimed its efforts squarely at penetrating the U.S. market. But it will take more than low prices to convert Americans into fans of the TCL brand. To that end, TCL has doubled down on innovation, partnering with like-minded companies to investigate the near-future of consumer electronics. TCL has also begun to play the culture game, linking its company to entertainment properties and pop icons, while tying its brand to ideals of youth and spectacle.
In the upcoming 'Part 2', we will explore TCL's more recent history and weigh its chances of making a spash in the American market THIS YEAR.