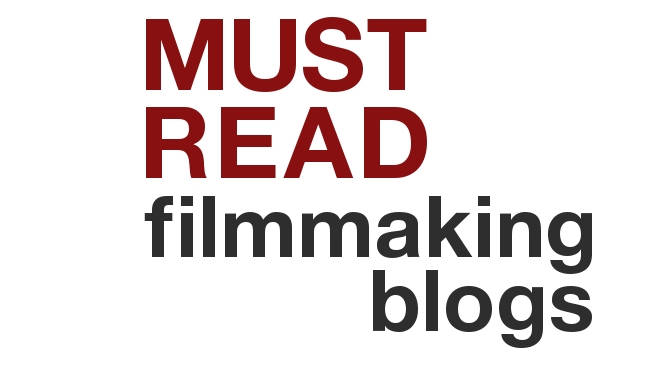 In the first of a series that profiles our favorite blogs for moving picture professionals, we're giving a shout-out to three that focus on the art, craft, and business of filmmaking.
RedShark News strives to provide high quality content for our readership of industry professionals and budding filmmakers. Generally, that means breaking news, product reviews, workflows, noteworthy videos, and opinion pieces. Through this editorial focus, we touch on and explore the topics we think are the most important and vital for the film community at large. Yet, as we mature as a publication, we're realizing that there is one very important section of our community that we've neglected.
I'm speaking of the dedicated film bloggers, many of them industry professionals, who freely share the fruits of their experience with the world, one post at a time. It's time to give credit where credit is due.
This is the first in a multi-part series on our favorite film blogs. In the coming weeks, we'll share our picks for film tech and screenwriting blogs, but we're kicking off the series by taking a look at three bloggers that each cover a wide scope of filmmaker-related topics, touching on directing, writing, tech, film business, and the occasional oddity.
Mentorless
The first blog up in our line-up comes courtesy of Nathalie Sejean, a French-born writer and filmmaker who emigrated to Los Angeles to devote herself full-time to filmmaking. After gaining her Directing and Film Entertainment Certificates from UCLA Extension, and garnering awards and acclaim along the way, she launched mentorless.com in 2010, a wonderful resource chock full of filmmaking tips and entertaining posts. She has since returned to Europe, but still operates the blog, which is a big win for filmmakers everywhere.
Mentorless draws heavily from the lessons learned by well-known filmmakers, but it always delivers a unique take on its subjects. To be blunt, the art of blogging has become an exercise in curation, but as the well of readily-available content out there continues to swell, seemingly exponentially, curation becomes an increasingly valuable skill. Sejean has expertly tapped into that well, such as juxtaposing a post on the behind the scenes of Blade Runner with another on an art series by Jeff Hong placing Disney characters in present-day context.
It seems the overarching lesson of Mentorless is that all this wisdom and wonder from disparate sources are simply building blocks as we construct our own filmmaking careers. This idea is most evident in a tremendous eBook by Sejean, How Did They Write It? (FREE download for subcribers of the Mentorless Weekly Newletter). This is an incredible resource; it takes over 400 screenplay situations, like phone calls, overlapping conversations, chase scenes, and breaking the fourth wall, and pulls actual script excerpts from 25 well-known movies, so readers can see how professional screenwriters dealt with these situations and how they spaced the page.
If it were just for How Did They Write It?, Sejean would be someone to follow. But her steady and stellar work on Mentorless makes it a blog that you need to check out.
VashiVisuals
If a blog can be regarded as indicative of the blogger's personality, then editor Vashi Nedomansky's blog on VashiVisuals, his promotional site, reveals intelligence tempered with a quirky sensibility. (His site is also an excellent example of how to promote yourself.) An experienced editor of "hundreds of Broadcast Ads, Short Films, Documentaries, Web Content, Reels and eight Feature Films," his blog is a fascinating mix of forgotten nuggets from movie lore, insights into present-day Hollywood productions, and a showcase of his work, often giving readers the lowdown on how it's done.
Nedomansky is equally adept at taking readers on a photographic and video tour through the FOX Studios Lot as he is revealing the complete post-production workflow of his passion project, The Grind, a crime thriller starring the late James Avery (TV's Uncle Phil of Fresh Prince of Bel-Air). This step-through is especially helpful for anyone migrating from Final Cut Pro to Adobe, but a great read for anyone interested in a clear, detailed explanation of the post process, from ingest to final delivery.
Nedomansky publishes new blog posts in spurts, so you may get a week or two without new content. But when he shares his perspective on filmmaking, it's likely to brighten your day and enrich your workflow.
Film Strategy
Similar to Nedomansky, Danny Jiminian's blog Film Strategy won't overwhelm you with the sheer volume of posts, but what's shared is enormously valuable to filmmakers. A director, producer, and entertainment attorney based out of New York City, Jiminian delivers solid advice and a wealth of resources, much of it focused on producing and the business of filmmaking. The blog's Filmmaker Toolkit is a massive list of document links covering all phases and aspects of production, everything you'll need to build your production, form by form. Jiminian rounds out the blog with Script to Screen, chronicling the journey from the page to finished, distributed features, Production Journals, Production Tips, and Case Studies, i.e. lessons learned from the industry.
It would be great if Jiminian posted more often, but sometimes things like family and career get in the way of blogging. But what's already available on Film Strategy represents a great deal of information and advice, much of it you are unlikely to find anywhere else.
So, there you have it. Three excellent filmmaking blogs. Check back in the coming weeks for more of our favorites.