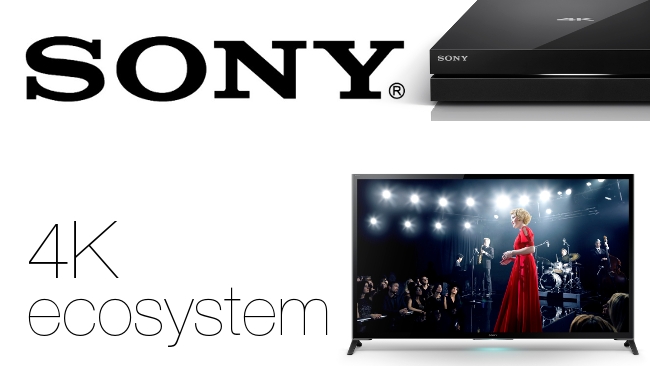 Nearly lost in the bustle of NAB 2014, Sony announced pricing for its new BRAVIA 4K UHD televisions, and a clearer picture of its designs to transform your living room.
During the veritable onslaught of surprise camera announcements and new gear debuting at NAB 2014, Sony snuck in a press release that solidifies its consumer 4K agenda..
The electronics giant unveiled pricing of its upcoming line of BRAVIA 4K UHD televisions, revealing options at various price points. The BRAVIA 4K line-up can be broken into three series, an upper tier (XBR-X950B), a middle tier (XBR-X900B), and an entry-level tier ( XBR-X850B), ranging from $24,999 for the 85-inch top-of-the-line model, to $2099 for the 49-inch 'budget' offering. All units will feature HDMI 2.0 connectivity and ClearAudio+ digital signal processing for an improved, full-range of audio. The top-tier units will also feature Sony's 4K Reality™ PRO picture engine, for upscaling lower res content, a TRILUMINOS™ wide color spectrum display, and Sony's X-tended Dynamic Range PRO technology for a brighter, more contrasty picture (deeper blacks). These picture enhancements trickle down to the lower tiers, with the middle tier receiving a less robust version of the Sony's X-tended Dynamic Range tech, and a similar drop-off for the entry-level models.
Of course, a 4K television needs 4K video content to really shine. Sony's primary solution comes in the form of the 4K Ultra HD Media Player (FMP-X10), sporting a 1 TB drive, Netflix 4K streaming, and access to Sony's Video Unlimited 4K service, a mix of "fan favorite and new release titles" from Sony Pictures. The set-top box currently boasts 200 available 4K movie and television titles (50 of which are free). While the pickings seem slim, Sony's commitment to the 4K UHD standard means we should expect the catalog to swell throughout 2014 and beyond.
Perhaps the biggest advancement comes in the form of One Flick Entertainment, Sony's new way to manage and view content on it BRAVIA 4K sets. It's an intuitive method to cycle through available content across multiple platforms, whether it be cable, Netflix, YouTube, or your own video and images from your local drive (FMP-X10), unifying options through an over-the-top menu system and allowing easy browsing without having to leave what you're watching.
Consumers wishing to upgrade to a new BRAVIA 4K set will have to wait until June, but you can ensure your place in line by pre-ordering one now.
While it remains to be seen if Sony nailed the right price points for consumers looking to upgrade from HD models, the entry-level $2099 49-inch and $2999 55-inch offerings may be better values than the Seiki 4K televisions of last year. Although the $1499 Seiki 4K units have plummetted in price (now available for under $1000 at several online retailers), Sony's reputation, proprietary technology, and the inclusion of HDMI 2.0 ports mean higher quality televisions that are more future-proof and reliable, attached to a clear 4K content strategy and a more refined overall entertainment experience.
Full Sony press release after the break

Sony Electronics Offer a Full 4K Ultra HD Home Entertainment Experience with New BRAVIA® 4K TV Line-Up, Media Player and Content Options
by Communications 04/15/2014
SAN DIEGO, April 15, 2014 – Sony Electronics continues to expand its robust 4K ecosystem by announcing today pricing and availability for its new BRAVIA 4K Ultra HD TV Line-up, a new 4K media player and new 4K content options. The new line-up of 4K Ultra HD TVs offer a 4K option for virtually any consumer, and are all optimized to support 4K content from Video Unlimited™ 4K, Netflix® and more. The new content and hardware offer consumers more 4K choices than ever before.
"We continue to be the only company that offers a complete line-up of consumer 4K products, including TVs, front projectors, cameras and camcorders, while also leading the industry in providing 4K content. Sony's new 4K Ultra HD TVs, 4K media player and new 4K content offerings continue to strengthen our growing ecosystem," said Mike Fasulo, president at Sony Electronics. "We strongly believe 4K is the future for entertainment and we remain committed to leading the 4K movement, from lens to living room, in a way that only a company like Sony can."
About BRAVIA 4K Ultra HD TVs
First launched at CES, Sony's three new series and total of nine models of its 4K Ultra HD TV line-up are available now for pre-sale and will be in market in June. The XBR-X950B series will retail for a suggested price of $7,999 for the 65-inch class and $24,999 for the 85-inch class. The XBR-X900B will retail for a suggested price of $3,999, $4,999 and $8,999 for the 55" class, 65" class and 79-inch class models. Lastly, the XBR-X850B series, which will be available in 49", 55" and 65"and 70-inch class screen sizes for $2,099 (49" class), $2,999 (55"class), $3,999 (65"class) and $5,499 (70"class).
The new line-up of 4K Ultra HD TVs give consumers more 4K Ultra HD TV options than ever before. Using a combination of unique Sony technologies, these models offer a superior picture quality than standard 4K resolution. Sony's 4K X Reality™ PRO picture engine can upscale a variety of content regardless of source to beautiful 4K resolution; while TRILUMINOS™ Display's wide color spectrum works in unison to reproduce lifelike color, a heightened
sense of depth and accurate shading to ensure the highest quality picture. Sony's X-tended Dynamic Range PRO technology provides a screen with higher peak brightness and deeper blacks to deliver a truly brilliant picture quality.
In addition, each new 4K Ultra HD TV incorporates Sony's ClearAudio+ digital signal processing for improved high-quality audio. ClearAudio+™ combines a variety of Sony technologies to create an immersive experience with clear vocals and a wide range of sound. An optional wireless subwoofer (model SWF-BR100) is available to create a richer audio experience, delivering powerful bass from the TV for a simple and stylish home theater experience.
Gamers can bring the immersive world of PlayStation® directly to the TV with PlayStation™ Now. Users can discover and play PlayStation®3 games, all streamed directly to the TV and played by connecting a DUALSHOCK®3 controller to the TV.
All new models support HDMI® 2.0 standard, giving them the ability to display 4K/60p content, and incorporate a decoder to support the latest HEVC codec decoding and can playback 4K/60p content and Internet streaming services. The TVs are also compatible with MHL 3.0 which supports 4K output from smartphones and tablets.
The flagship XBR-X950B series comes in 85" and 65-inch class screen sizes and incorporates all the best of Sony's technologies for an unparalleled picture quality. This model uses X-tended Dynamic Range PRO technology, driven by direct LED arrays which are arranged in the backside of the panel, to achieve a much wider dynamic range of brightness, with higher peaks and deeper blacks, using a unique backlighting algorithm to further enhance picture quality.
The XBR-X900B series comes in 79", 65" and 55-inch class screen sizes and implements X-tended Dynamic Range technology driven by Edge LED arrays arranged along the side of the panel, as well as an innovative structural design with a new, iconic Wedge form factor. The new innovative structural design, with its iconic Wedge shape, increases capacity to incorporate larger speakers, which provide a deeper, more powerful sound, unprecedented for a flat-screen TV. It also maintains a slim profile that works with traditional wall mounts, and the slim, adjustable TV stand accommodates large or small tables.
This year Sony is also launching an entry-level 4K Ultra HD TV, the XBR-X850B series.
About 4K Ultra HD Media Player
The largest collection of 4K feature films and TV episodes for the home is now available on the new 4K Ultra HD Media Player (FMP-X10). The 4K Ultra HD Media Player gives consumers the ability to download, stream and store the latest 4K content in one future-ready box. Users can download hundreds of titles from Video Unlimited™ 4K, stream 4K content from Netflix® and playback everything on their Sony 4K Ultra HD TV. The Media Player offers 1 TB of built-in storage and also supports TRILUMINOS™ Color for rich and deep color. The Media Player is compatible with any Sony 4K Ultra HD TV, and is ideal for customers looking to upgrade their current 4K TVs to support the latest in 4K technologies. The 4K Media Player with Video Unlimited 4K will be available for purchase this summer.
More 4K Content than Ever Before
Video Unlimited 4K, the world's largest library of 4K content for the home, now offers over 200 titles.
The Video Unlimited 4K service offers a wide variety of fan favorite and new release titles in full 4K resolution from Sony Pictures. This lineup includes recent box office successes such as American Hustle and The Monuments Men, as well as future titles like The Amazing Spider-Man 2 and Annie (2014)–which are planned to be available on the service following their upcoming theatrical releases. In addition to the latest theatrical titles, Video Unlimited 4K also features ongoing episodes of the hit TV series The Blacklist in full 4K. Over 50 titles are available to consumers at no charge.
Sony's new 4K Ultra HDTVs will also be able to easily access new 4K content from Netflix, the world's leading internet television network with over 40 million members in more than 40 countries worldwide. 4K content available from Netflix will begin with Netflix original "House of Cards" season 2.
Sony and FIFA are collaborating on a range of 4K initiatives at the 2014 FIFA World Cup™ including producing three full matches in 4K. Sony and FIFA will jointly produce the Official 2014 FIIFA World Cup Film in 4K, which will include a selection of games, including the final match. US viewers will be able to enjoy the 4K/60p promotional trailers for the Official 4K Film on Sony's 4K Ultra HD TVs at Sony stores and retailers nationwide.
The new TVs also have access to PlayMemories Online™ and 500px. Photos uploaded to PlayMemories from your smart phone, tablet, and PC are automatically organized so that you will be able to access them easily and enjoy them in clear and beautiful 4K quality. With 500px, a premier photo community, customers can access and enjoy high-quality 4K photos from around the world easily, through their TV.
Sony's is also enhancing the new 4K Ultra HDTVs' user experience with "One-Flick Entertainment" a new way to view content. With the number of shows and movies customers can view on TV consistently increasing, "One-Flick Entertainment" offers a new style of viewing which allows anyone to quickly select and enjoy content, including TV shows, movies, network content and personal photos.
Pre-sales for the new 4K Ultra HDTVs begins today.here.