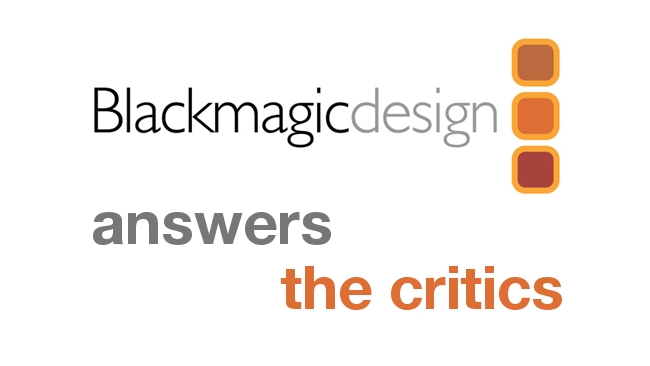 While Blackmagic Design nearly stole NAB 2014 with the announcements of the URSA and Studio cameras, not everyone is happy with the news. Some customers are still waiting for promised improvements and bug fixes for their current cameras. Here's Blackmagic's response.
The dust has begun to settle on what has been an action-packed NAB 2014, with surprising announcements from the likes of AJA, Digital Bolex, Sony, Atomos and Grass Valley. Perhaps the biggest news came from Blackmagic Design, who rocked the conference floor with 3 new cameras, the 4K URSA and two Studio cameras. There's definitely a lot to be said about these new cams, but many users have expressed concern about what the new products mean for the amount of support that will still be given to older ones.
If you own a Blackmagic camera product, or if you're just really into film tech, there's good news - in the form of a statement from the company adressing many of the concerns. While you are no doubt familiar with some ongoing issues concerning the cams, we've gleaned from a recent Blackmagic forum post from the company that some fixes and announced upgrades are imminent and will occur in the next round of firmware updates. These improvements include audio level metering, histogram display, media formatting and remaining time indicators. But there is at least one "bug" (the Black Sun issue on the BMCC) will require more time to correct. You may remember that the Black Sun / White Orb issue was fixed in the Pocket Cinema Camera by a previous firmware update. However, the problem persists in the BMCC due to differences in the circuitry between the two sensors, which calls for a different solution.
Future transparency
Amidst the criticism (some of it valid), I'm still a fan of what Blackmagic is trying to accomplish with its products. I believe that Blackmagic, perhams more some other makers, is responsible for accelerating the march to the next generation of affordable cameras. And I believe the company is earnest in its wish to improve its current cameras while developing innovative new products. Sure, a lot of these issues may be frustrating, even critical, but we all knew there would be hiccups when dealing with a new camera maker, even one with years of industry experience. Part of crafting a good customer experience is getting the tech right; another is providing timely and appropriate communication when necessary. To that end, Blackmagic is making the effort, which is hopefully emblematic of future transparency in regards to technical issues and customer concerns.
With the enormous impact Blackmaigc camera products have already had, it's easy to forget that we're talking about a camera company rounding out of its infancy. Blackmagic has proven that it can learn lessons. Hopefully, it can now apply that knowledge for the continued betterment of its customers, present and future.
Check out page 2 for the full Blackmagic forum post on firmware updates, new features and fixes.
Here's the original forum post from Kristian Lam of Blackmagic Design:
Hi,
I know there are some concerns that we are no longer supporting the Blackmagic Cinema Camera or Pocket Cinema Camera. I just want to assure you that this is not the case.
Let me give you some background information about the development and why it is taking longer than expected.
The Blackmagic Cinema Camera was our very first foray into cameras and since then, we have shipped 3 more cameras, the Pocket Cinema Camera, Production 4K and the Studio Camera.
The original 2.5K camera had fundamental architectural differences in firmware compared to the other cameras which doubled the effort when trying to do any bug fixes or add new features to the cameras. As such, we knew we had to re-architect the firmware so as to bring it up to speed with the current cameras. This is not simple and taking longer than we thought. However, we are close now, close enough that beta versions have been seeded to some users for the past few months.
We should be able to see an update, as I'd mentioned in my post, to the 2.5K camera and Pocket Cinema Camera soon with the features below:
1. New debayering for shooting directly to ProRes or DNxHD on the Blackmagic Cinema Camera EF and MFT
2. Improved MFT lens support on the Pocket Cinema Camera
3. Compressed RAW support on the Production Camera 4K
4. Autofocus support for EF lenses on Blackmagic Cinema Camera EF and Production Camera 4K
What is also in this release are also certain hooks that are required for audio level metering and histogram display. It won't be visible as yet but will allow us to quickly followup with an update to add these 2 tools we know you guys are asking for.
Let me also answer some other questions I've been asked below:
• Formatting of media
Yes, we want to do this. A large part of the work has been completed so I don't believe this will be a big effort to implement. However, it is very unlikely that we will support deleting of clips directly in camera due to the risk of media fragmentation.
• Time Remaining indicator
Yes, this is going to happen. It's probably in the next update or an update after.
• Black Sun effect
This is a fundamental characteristic of CMOS sensors. Some sensors have additional circuitry to try and overcome this and this was available in the Pocket Cinema Camera. Unfortunately, it is not in the 2.5K sensor. Also, black sun correct circuitry is also not an on/off switch and with some sensors, it may result in other unwanted artefacts so we have to be really careful about it. Another method of overcoming the black sun effect is via image processing after the image has been acquired and passed on from the sensor. This is basically running an algorithm to try and detect what looks like the black sun and just clipping the black areas. Again, this could result in false positives and if you have a pattern in the image that is similar to the black sun, it could mistakenly be "corrected" as well. As you can see, this is a tricky situation. We are not ignoring it, but working to see what is the best way to address this.
I hope this gives you more information about what we're currently up to. I'm tempted to keep this thread locked as it tends to go off topic but I'll leave it open for now. Please try and keep on topic.
Thanks
Tags: Business