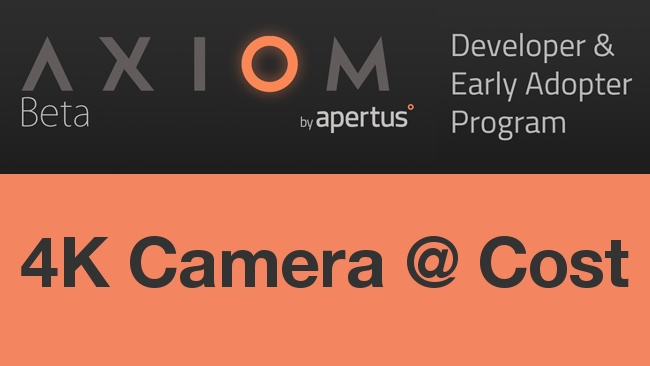 Apertus' open source Axiom 4K camera is nearing its beta release, and will be available through a crowdfunding campaign...at cost. Apertus Chairman and Product Manager Sebastian Pichelhofer answers our questions.
Since the start of NAB 2014, there's been a veritable bombardment of huge, potentially gamechanging announcements (including AJA's Cion 4K camera for $9K; Blackmagic's ultra-affordable Studio cameras and modular URSA 4K camera for $6K). But perhaps the most disruptive news came from beyond the NAB Show floor.
We at RedShark have been keeping close tabs on the Axiom, the open source 4K camera project of the Apertus Association, an organization dedicated to supporting (and pioneering) "open and free audiovisual media and technology." (Check out our full coverage of the Axiom project HERE.) Personally, I thought the NAB-wide trend of new 4K cameras at unheard-of price points (versus specs) had the potential to derail development of the Axiom. But the Axiom is moving forward and will launch its Developer and Early Adopter Program soon through a crowdfunding campaign, offering 250 Axiom Beta 4K Cameras for just the cost of materials, assembly, and shipping. That's right; Apertus is so eager to get the Axiom Beta into the hands of "early adopters, developers and hackers" that they are willing to sell the camera at break-even prices.
The Axiom Beta 4K Camera will be available for around 550 EUR / $760 USD with all necessary I/O modules. This price does not include the cost of the sensor, but Apertus is taking the extraordinary step of giving the community a choice of sensors, the most expensive being the Cmosis CMV12000. This Cmosis 12 megapixel Super35 sensor has recently been upgraded by the manufacturer, upping its max frame rate from 150 to 300 fps, and will add around 1300 EUR / $1800 USD to the cost, meaning that the overall cost of the Axiom Beta is likely to be around 1850 EUR / $2560 USD.
Those interested in the Axiom Beta should take note that this is a true beta product. In the future, you will have the option to upgrade many of the components to match the eventual production camera (which will NOT be sold at cost). But if you participate in the Axiom Beta crowdfunding campaign, you'll receive a greatly discounted camera and the growing pains associated with a development product. Of course, if you're interested in the Axiom Beta, you're probably the adventurous sort and undeterred by a few bugs. Apertus needs the input of those purchasing the beta camera to make it truly production-ready, so it's up to you to contribute your two cents to help the cause.
Here's a rundown of the Axiom Beta's planned features:
HDMI Full HD (4:4:4) output at up to 60 FPS
4K raw output via experimental HDMI formats
Capture full resolution, full bitdepth raw still images to MicroSD card
Remote control of all camera functions from smartphone, tablet, laptop
Power management and monitoring (e.g. voltage, current, temperature)
Highly customizable via modular I/O addons (e.g. SDI)
Accelerometer, magnetometer and gyroscope e.g. for image stabilization
Different lens mount options (e.g. Nikon F-mount, EF and M4/3)
Wide input voltage range (5-40V)
Very lightweight and compact ~110x60x50mm
Embedded Linux (e.g. Raspian, ArchLinux)
LUTs, matrix color conversion, FPN compensation, false color display, overlays, dead pixel compensation
Using Microzed board (instead of Zedboard used in Axiom Alpha)
We reached out to Sebastian Pichelhofer, Chairman and Product Manager of Apertus, to answer a few questions we had about the Axiom Beta.
Interview with Sebastian Pichelhofer, Chairman and Product Manager of Apertus after the break
RS: The notion to make the beta camera available at cost is truly commendable. Is there a hard limit of 250 beta cameras for the crowdfunding campaign, or can this scale depending on demand?
SP: It is a target we set for ourselves but we are flexible with the exact number of units. A much lower amount will probably make less sense as manufacturing electronics hardware gets rather expensive per unit in low volume. If we realize we there are some many people who want to get an Axiom Beta and we get into the area of thousands of cameras rather than hundreds we have to change the plan a bit as we cannot assemble 5000 by hand in any reasonable amount of time but in the end even that would scale well it just requires a different approach.
RS: On your website, you have a community poll for sensor options. The most popular sensor, the updated Cmosis CMV12000, is rated at 300 fps at full resolution. What do you foresee will be the actual 4K RAW fps output of the beta product at launch? Is there a fps goal to be achieved by the end of the beta development period?
SP: Our Axiom Alpha prototype can already deliver 60 FPS over HDMI but the bottleneck are currently the HDMI recorders that all go to 30p at max. Maybe we will see products with higher FPS soon.
RS: Will all video recording require an external recording solution?
SP: Yes, in this first stage we figured we don't need to reinvent the wheel as external recorders are widely available for very good prices and offer everything people need (e.g. ProRes, DNxHD).The new Atomos Ninja Star for example is great for people who want to use the Axiom Beta in aerial drones or very lightweight small rigs and the Shogun should be able to deal with any 4K needs. We are also in touch with Convergent Design for potential raw recording with the Odyssey 7Q. Our own raw recording module will likely see the light of the day in a next iteration of the Axiom if things go well.
RS: There will be an upgrade path for these early beta adopters, but how upgrade-able will it be? How committed are you to making sure the beta cameras will be upgrade-able to the same specs as the eventual production (Gamma) cameras?
SP: The Axiom Beta will not yet implement the Open Modules Concept (https://apertus.org/extended-open-modules-concept and https://apertus.org/open-modules-concept) but it will use some elements of it, allowing to change the image sensor module. And the general design of the camera is already rather modular (eg. having HDMI interfaces on an exchangeable module to allow a future upgrade to SDI). And as mentioned the main components will be reusable (e.g. image sensor, microzed board) in future Axiom iterations.
RS: Thanks for answering our questions! And congratulations on the announcement! We can't wait to see the Axiom Beta Camera in action. Any more insights on the timing of the crowdfunding campaign?
SP: Stay tuned, we will lay out the details soon.
Check out the full announcement of the Axiom Beta 4K Camera HERE.
Tags: Business