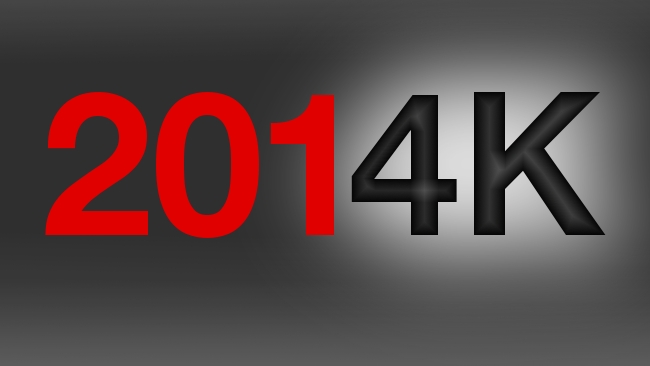 4K has been on the mind of producers, cinematographers, editors and other pros for some time now. But 2014 will be the year it breaks wide for video professionals and consumers alike, and here's why
If you're a regular reader of RedShark, then you are no doubt familiar with 4K as it pertains to video acquisition (RE: cameras) and post workflow. We have also covered 4K uptake on the consumer front. For much of 2013, I was skeptical that 4K (or UHD) would penetrate the home market anytime before the latter half of this decade. But after a fresh reading of the tea leaves, I must admit that I was flat-out wrong.
2014 WILL be the year 4K hits the mainstream for both video professionals and consumers. Keeping perspective: I don't believe every home will have a 4K television by the end of the year, but it will grace enough homes that most of you will at least know someone with a 4K set. And 4K will quickly become the most desirable delivery format for television broadcast around the world.
Here are the ten reasons why I've changed my tune and embraced the inevitability of 4K in 2014 (in no particular order):
10. Apple
With the introduction of the revamped Mac Pro, Apple reaffirmed its commitment to video professionals with a machine capable of handling 16 concurrent streams of 4K content. While the real-world value of the new Mac Pro is still a source of debate among pros, it's hard to argue with the sheer speed and power of its creation. Yet even the most ardent supporters of all things Apple were surprised by the new Mac Pro's (albeit brief) pairing with a Dell 4K monitor on the official Apple site.
Here at RedShark, we wondered whether the omission of a 4K Cinema Display meant that Apple was prepping a whole range of 4K displays for the office and the living room. Rumors abound of 65" and 55" Apple television sets to debut by Christmas 2014 at the astonishing price range of $1500-$2500.
I believe the 4K Cinema Display is a sure bet; the televisions not so much, as there have been reports of Apple's difficulty securing content deals for its mystery TV. Of course, it could be, well, just a television, but given Apple's affinity for keeping users in its ecosystem of 'magical' devices, it's reasonable to conclude that a 4K Apple television set will have a feature set that distinguishes itself from the field (or why bother making it) with full integration with its other products.
Whether or not the Apple 4K television comes to fruition, expect Apple to be a 4K leader throughout 2014, with Apple TV (the set-top box, not the television) likely to stream 4K content, iTunes becoming a hub for 4K video content, and the Mac Pro and forthcoming Apple 4K Cinema Display to be hot items among professionals and post houses.
9. China
It's noteworthy that most of the world's 4K television sets in use reside in Chinese households. While 4K TV has been marketed elsewhere as a premium product (with the requisite high price tags), the Chinese market has been flooded with low cost 4K televisions. Granted, most of these televisions have low refresh rates (30HZ), and are being sold without much available 4K content, the site Display Search Blog estimates that of the 1.5 million 4K TV shipments forecast for 2014, one million will be shipped (or rather, stay) in China.
According to Display Search Blog, the 4K boom in China has helped panel makers to further lower costs of 4K televisions, while improving quality, through the following means:
Lowering driving frequency to reduce panel electronics cost
Integrating of 4K panel electronics, such as timing controller
Revising backlight and LED structure to improve luminous efficiency
Using subpixel designs like RGBW with for higher brightness and yield rate
Increasing production scale to reduce depreciation cost and enhance yield rate
For those still of the mindset that Chinese televisions will be grossly inferior to their Japanese and Korean counterparts, I point to the much lauded budget 4K TVs from Chinese manufacturer Seiki. Or perhaps it's helpful to put it as a question: will Seiki's next television be better or worse than its previous television?
The Chinese 4K boom has reversed the top-down life cycle of HD television. At the dawn of high definition, it would be unthinkable that a Chinese model could compete with the early and high-priced HD sets. Now, Chinese manufacturers, although focusing on the low end, have the ability to increase the quality of its 4K sets in short generations, meaning they could be in direct competition with those brands we've come to know and trust.
And it's only a matter of time before the Chinese video tech industry builds on the momentum of such offerings as the KineRAW and exports options abroad.
8. Plummeting Prices
Whether due to increased pressure from upstart Chinese manufacturers or competition from the other more established brands, the prices of 4K television sets could halve in 2014, according to a Trusted Reviews interview with Jonathan Marsh, Head Buyer at the UK retailer John Lewis.
Lewis stated that as "these technologies mature, they have come down in price and become much more affordable very quickly." It's a little shocking to think that 4K television, barely a blip in 2013 (everywhere except China), could "mature" in less than a year's time, but such a precipitous fall in prices would make 4K televisions an attractive product for this year's Christmas buying season.
7. NAB 2014
The film tech industry will use NAB 2014 as a platform to introduce a bevy of new 4K cameras. Way back in August, we ran a story on Atomos CEO Jeremy Young's rather lofty prediction of 20 new 4K cameras to debut by NAB. While the exact number will only be known after the fact, it's important to note that Panasonic, which has been late to the 4K game, claimed that by the end of 2014, everything they make will be 4K (at the professional level, at least). If conservative (to a fault) Panasonic is making such a grand declaration about its 4K intentions, then it's safe to conclude the tech giant could wait no longer for fear of being drowned-out by this massive, Industry-wide sea-change.
6. Netflix & YouTube
According to the Global Internet Phenomena Report by Sandvine, a leading provider of fixed and mobile networks, Netflix and YouTube account for more than half of U.S. internet bandwidth usage for peak hours of the day. There are scores of other streaming video providers, yet they hardly register compared to the market dominance of these two monoliths.
YouTube has been an early proponent of 4K video since it started streaming it way back in 2010, but until recently it's prominence was obscured under the heading of 'Original', as in original quality. Now, the streaming video giant has introduced a 2160P 4K resolution option for its players, bringing its dedication of the standard to the forefront.
Netflix began testing 4K streams in November 2013, and recently announced that its popular original series House of Cards will be available in 4K resolution for owners of select internet-connected televisions.
This is great news for both consumers and video professionals. The fact that the most popular video streaming sites are going 4K means there are now two powerful and far-reaching platforms for 4K content, giving creators and audiences great avenues to connect at this historic technological junction.
5. OTT Set-Top Boxes
We've already discussed the likelihood of a future iteration of the Apple TV set-top box to handle 4K video streams. Of course, Apple isn't the only player in the OTT (Over-The-Top) player market. While Roku doesn't presently support 4K resolutions, its next product, presumably the Roku 4, could be the product that brings 4K to millions of living rooms. Also look for other companies to appeal to the cord-cutters (i.e. former cable subscribers) with their own set-top boxes and services in 2014, especially if Verizon's overtures to purchase Intel's OnCue service prove successful. And who knows what Google has up its sleeves. Traditional Cable providers will lag behind of these alternative video devices in terms of 4K broadcast, given cable providers decision to instead focus on bringing its services to mobile users rather than incurring the enormous cost of making their pipelines 4K-ready.
4. Virtual Reality
Although many still pooh-pooh the idea of virtual reality as a viable form of home entertainment, don't tell that to the folks behind the Oculus Rift. The Kickstarter-darling, which consists of a virtual reality system complete with headset and walking platform, raked in over $2.4 million in its crowdfunded debut.
As RedShark reported months ago, the Oculus team is developing a 4K version of its VR system. I can think of no other application that would benefit more from 4K resolution than immersive virtual reality, and I believe that a 4K Oculus Rift could be one of the game changing products of 2014 (even given the presumably high cost of such a device).
3. 4K Broadcasts
Admittedly, there's currently very little in the way 4K video satellite broadcasts, but look for the drip-drip of offerings to become a downpour by 2015. Sony and FIFA plan to broadcast the 2014 World Cup Final in 4K. Sky News projects to offer 4K broadcasts "quicker than the BBC" according to BBC executive Mark Harrison, although no hard dates have been announced. Japan looks to start 4K broadcasts in July, 2014.
While this may seem like a paltry number of broadcast players, there will undoubtedly be an explosion in interest, and the 4K broadcasters of 2015 will use the early lessons of these trailblazers to plan their strategies in 2014. There will be increased pressure on producers to provide 4K content, which means many productions will need to manage delivery of 4K shows for broadcast.
2. Halt of HD Innovation
Sony and Panasonic recently shelved their partnership in the continued development of OLED HD, in favor of focusing on furthering 4K technology. This is the clearest example of manufacturers changing course and placing their bets on 4K. When two of the world's preeminent television makers decide to abruptly cease bettering the HD platform, then you know things just got serious for 4K.
1. Desperation
After 3D television's failure to appeal to the masses, manufacturers need 4K to be a success. Presently, there's a lot of momentum around 4K development, but it may be more vital that 4K adoption has become the Industry's overwhelming media narrative. Manufacturers can't afford for that narrative to go negative.
If at the end of 2014, the prevailing thought is that consumers really don't want or require 4K televisions or media, then there's the remote possibility that it may never take off as a platform. There are big players, like the Cable Industry, which will wait as long as possible before supporting 4K. But for television manufacturers, streaming video providers, and producers, 2014 will be the year of 4K, because if not now, then maybe never...
Tags: Business