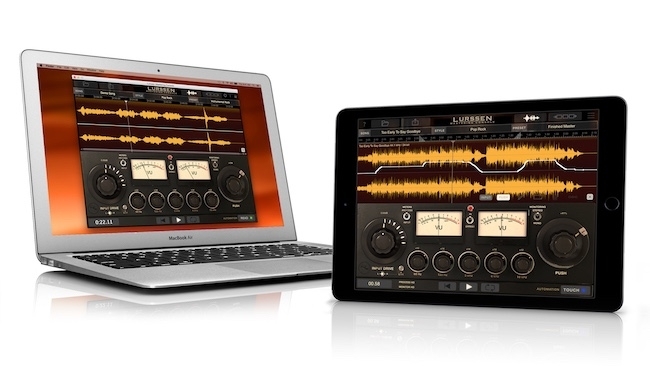 IK Multimedia has taken the years of experience gained by engineers at Lurssen Mastering and a programmed replica of the studio's (famously clean) signal chain and put it in an app.
Three years ago recording part of an album on an iPhone or an iPad was big news. To this day, only a couple of indie bands (that we know of) have done an entire album using nothing but their iDevices: Nuclear O'Reilly's appropriately-named 2009 release Phoning It In and One Like Son's early 2012 album Start The Show.
What those bands couldn't do then, but IK Multimedia is making possible now, is that often-misunderstood essential final step in the production process: mastering.
IK Multimedia has paired up with multiple-Grammy Award winning mastering engineers Gavin Lurssen and Reuben Cohen of the famed Lurssen Mastering in California to take some of the mystery out of the "dark art" and put it in the hands of musicians and producers of any skill level.
This can be taken quite literally as 'the Lurssen Mastering Console can be used on an iPad', as well as a Mac or PC. Load up a song, select from one of 20 templates called "Styles" then adjust a five band EQ, Input Drive and Input Gain until it sounds right. Automated EQ changes can be added using the Push knob to add subtle adjustments throughout the song.
One you're happy, you can easily export the finished track to a range of file formats. If it sounds like this oversimplifies the mastering process, it should. That's exactly the point. Not everyone can afford an in-studio session with an engineer or the tens of thousands of dollars in high-end gear required to master a track the traditional way in a home studio.
By contrast a fully-functional Lurssen Mastering Console can be downloaded onto an iPad via a one-time in-app purchase of $99.99. The standalone and plug-in versions for Mac and PC will be available in February for $299.99 (excluding taxes) but can be preordered now at the reduced price of $199.99.
Neither the iPhone or the iPad have replaced recording studios and I'm pretty confident mastering engineers will still have a job once the Lurssen Mastering Console has been released. Still, it is an exciting possibility to have complete control over the final sound of a track, and to actually hear the difference mastering can make to a song.
Tags: Audio