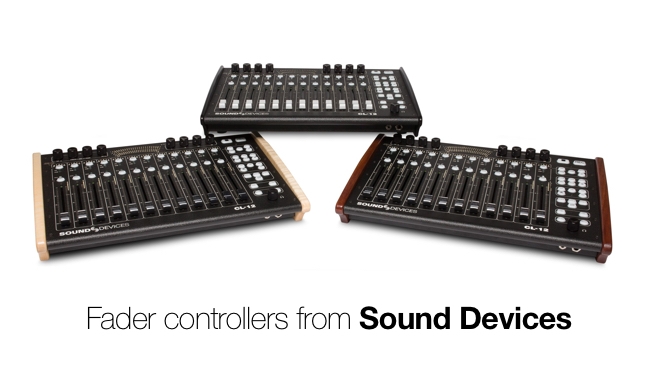 One thing that anyone who works in audio values is a good control surface, and that's just what the now shipping Sound Devices CL-12 provides.
Rackmount or portable mixers like the Sound Devices 688 mixer/recorder are powerful miniature mixing devices that can make all the difference to location audio. While they retain the quality and many of the features of their bigger "desktop" relatives, they're not necessarily as easy to operate, because they lack the space for comprehensive controls. Nor do they have any room for full size (or any size for that matter) linear faders - the preferred type of control for most audio mixing professionals.
This is a pity because often it means duplicating mixing facilities back in the studio, just to facilitate a better control surface.
Sound Devices clearly realised this when it announced its CL-12 linear fader controller in September at Amsterdam's IBC show, and the unit is now shipping worldwide.
The controllers - a "standard" one and the "Alaia", which has very high quality Penny & Giles faders and hardwood side panels ("handmade by Amish craftsmen") - connect to the 688 mixer/recorder with a single USB cable.
The CL-12 is more than an impressive bank of faders. It comes with sunlight-viewable LED metering and dedicated buttons for fast track arming, naming, routing and transport controls. There's a 3-band parametric equaliser for each of the 12 inputs, and there's a headphone port for monitoring. There's also a port for a USB keyboard for entering metadata.
This is a nice idea, which looks well implemented. It's a very good way for Sound Devices to expand its product line in its core field of competence.
I have just one request to them: can they make a MIDI version?