While for many the true scariness is found in the price of the latest Apple hardware, the new M3-powered MacBook Pros and iMacs are without doubt seriously fast.
The scary fast theme and prime time evening showing in the US suggested this might be something different from Apple, but In actuality, this was very much a typical Apple product introduction, kicking off with a new commercial for the upcoming Macs that played heavily into MacBook Pro's being for professionals, jumping from scientists to musicians to graphic artists to show the range of work that could be done on Apple Macs.
After Tim's introduction, we were ushered into Johny Srouji's lab to be introduced to M3, Apple's third-generation Apple Silicon chip for personal computers and the world's first such chips on a 3nm process.
The M3 chips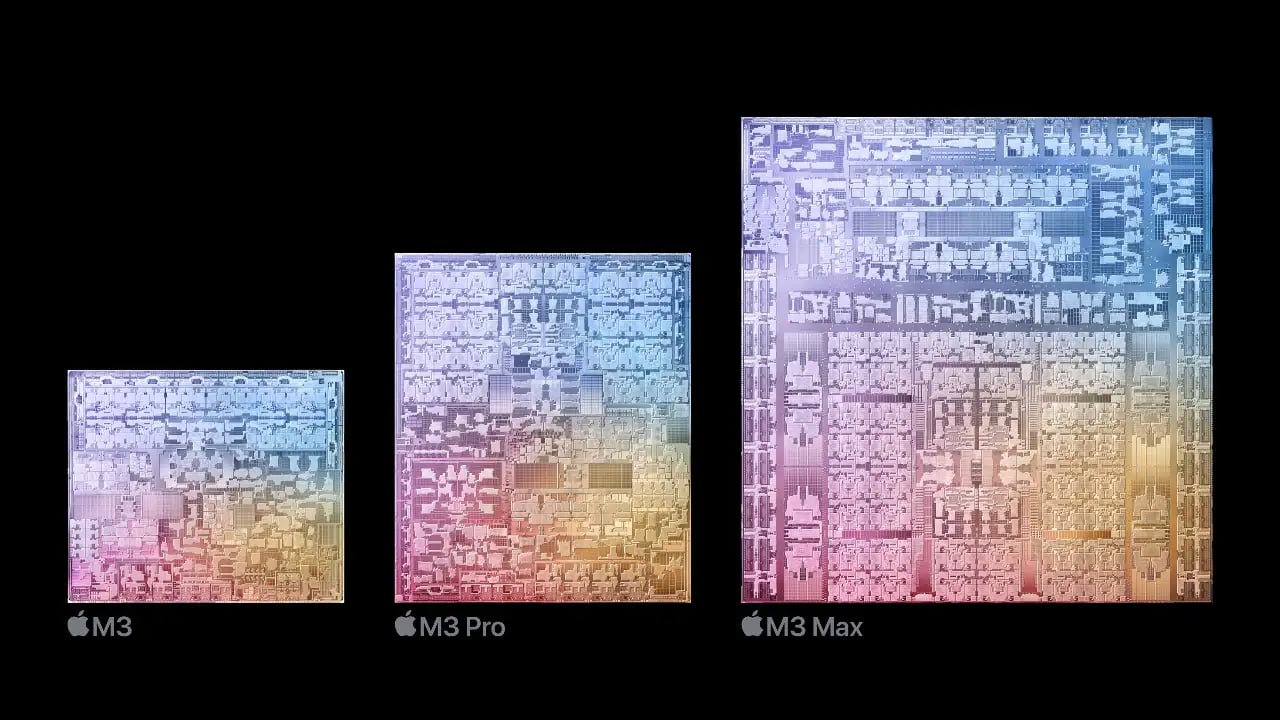 The first Apple Silicon M1 chip was launched in November 2020 with Pro and Max versions following 11 months later, Ultra five months later. M2 had a similarly staggered launch, but with M3 we get chips launched together with only the Ultra model being absent.
Similar to the A17 Pro 3nm chip launched with iPhone 15 Pro, the basic architecture is evolutionary rather than revolutionary, but graphics performance and some new features were called out. As with the A17 Pro, we get hardware accelerated ray-tracing, there's also mesh shading and an industry-first feature called 'Dynamic Caching' that aims to provide on-the-fly memory allocation for tasks for greater efficiency. Again, as with the A17 Pro, there's hardware accelerated decoding for AV1 video streams.
The stats regarding progress are impressive. M3 performance cores are 30% faster than M1, 15% faster than M2; efficiency cores are 50% faster than M1, 30% faster than M2. For both CPU and GPU performance, the M3 uses approximately half the power to achieve M1-level performance. Compared to a 12-core i7-1360P, M3's CPU achieves similar performance at 1/4 power and 1/5 for GPU performance. M3 Neural Engine performance is up to 60% faster than M1, 15% faster than M2.
The standard M3 chip features an 8-core CPU, split evenly between performance and efficiency, just like M2, plus a 10-core GPU (with 8-core on entry level models) with integrated memory starting at 8GB and maxing out at 24GB like M2. The number of transistors increases by 5 billion to 25 billion.
M3 Pro is an interesting upgrade in that it markedly diverges from M2 Pro. It's still a 12-core CPU, but evenly split for performance/efficiency - unlike previous gen which had eight performance cores and four efficiency cores. The GPU features 18 cores and there's a slight maximum capacity increase from 32GB to 36GB. At 37 billion transistors, this is 3 billion less than M2 Pro. Possibly this reflects the greater performance of the efficiency cores allowing for a different balance and a greater overall battery performance.
M3 Max, by contrast, increases its transistor count over M2 Max by 25 billion to 67 billion. The CPU has 12 performance cores, four more than M2 Max, plus just four efficiency cores. GPU cores increase by 2 to 40, while maximum memory goes from 96GB to 128B.
As an example of M3 Max's potential, Apple quoted scene rendering in Cinema 4D being 2.5 faster than M1 Max, twice as fast as M2 Max. As a reult, for the most challenging applications on the move, the M3 Max MacBook Pro holds significant promise.
In terms of display support, the M3, like M2, supports two displays - so one external display with a MacBook Pro - while the Pro supports three and M3 Max goes up to five. There are also two ProRes encode/decode blocks on the high-end chip, a single block on the others.
14inch & 16-inch MacBook Pro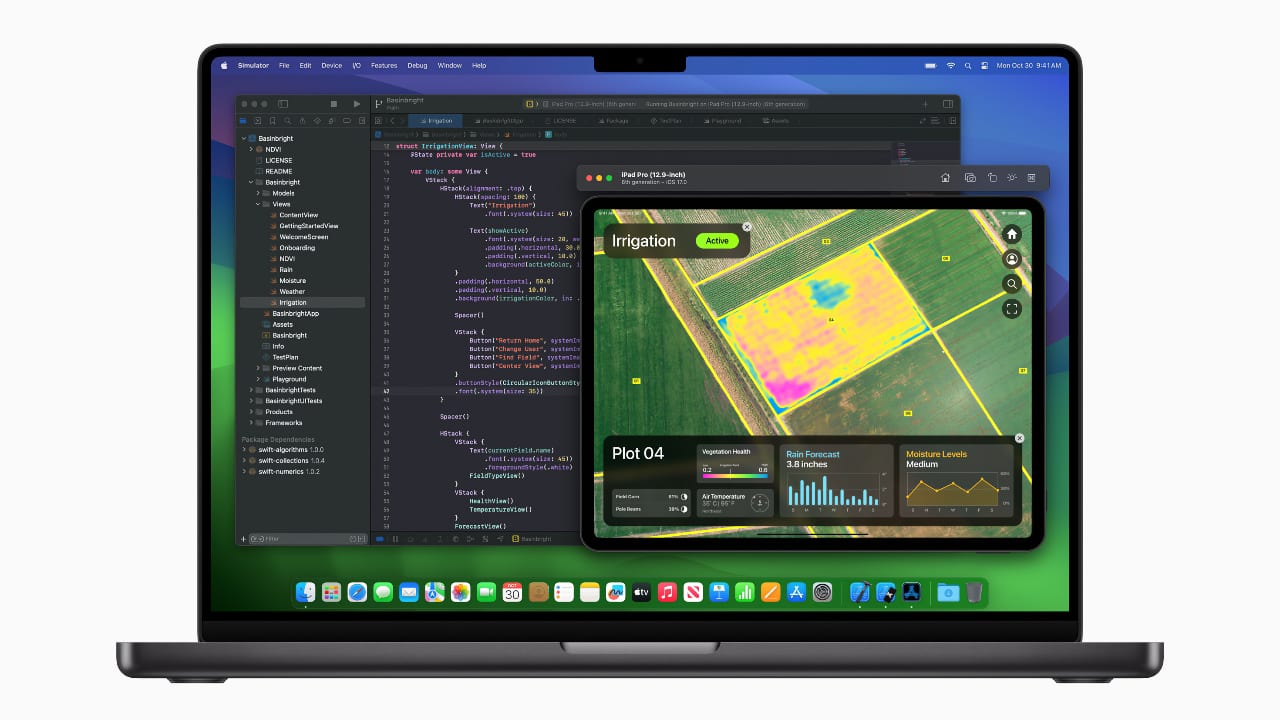 The chassis design introduced in January this year is unchanged, apart from a new Space Black (dark grey) color option, which is irritatingly limited to Pro and Max M3 models. It's also supposed to be less fingerprint prone than the black MacBook Air.
However, there's a new entry level 14-inch model based on the standard M3 chip with a starting price of £1,699 for 8GB RAM and 512GB storage, but two Thunderbolt ports rather than three (plus M3 means just 1 external display). In many ways, it's a good deal; compared to the 13-inch MacBook Pro with TouchBar there's a great new chassis design, a high refresh rate ProMotion mini-LED display, MagSafe, 1080p camera, a powerful speaker system and an HDMI port. The old 13-inch MacBook Pro stood out with its dated 2016 chassis design, including TouchBar, but it offered a way to get an active cooling system for sustained performance at near MacBook Air pricing, particularly via third-party resellers. The 13-inch Pro has always been a quasi-consumer model in pricing and performance, and with its demise the 14-inch entry-point is significantly higher and unlikely to drop until M4.
All of the MacBook Pro's offer up to 22 hours battery life and Apple pointed to peak performance being achievable on battery or plugged in, unlike Intel competitors.
You can order the new MacBook Pros with delivery on November 7th, apart from the M3 Max models which are mid-to-late November.
M3 24-inch iMac
The new design iMacs introduced in June 2021 have been stuck on the M1 chip ever since. Now, the 24-inch model makes the jump to M3 with an up to 2x performance leap compared to the previous model, and up to 4x the last Intel 21.5-inch iMac.
Pricing starts at £1,399… but that's for the entry-level M3 with 8-core CPU, 8-core GPU, 8GB RAM and just 256GB storage. It's an extra £200 to get a 10-core GPU, plus two USB-3 ports and neat gigabit Ethernet option integrated into the charger. The 512GB storage model takes it up to £1,799 and there are more options from there including 1Tb storage. Apple is taking orders now with first deliveries from November 7th.
There was no hint of the 27.5 iMac making an Apple Silicon return and at that performance level, the Apple Studio Display and Mac mini / Mac Studio are maybe the best we can hope for.
Trick or Treat? 2024 is the key year
Tim Cook's event wrap-up leaned into a 'never stop innovating' message that felt a little mismatched to mostly iterative upgrades.
Being first with a 3nm personal computer chip, just as with iPhone, is a big deal and delivering three variants in one event shows how far Apple Silicon has transformed the model refreshes previously slaved to Intel's release schedule.
That said, the performance benefits of Apple Silicon aren't fixed in place. Qualcomm's recently unveiled Snapdragon X Elite is due to arrive in PCs in mid-2024. Just as Apple supercharged its silicon expertise with the acquisition of P.A. Semi in 2008, so Qualcomm's acquisition of Nuvia in 2021 - a company notably staffed with some ex-Apple veterans - shows serious competitive intent. Intel has also been studying Apple's approach and its Meteor Lake processor will feature 'advanced packaging' technology similar to the M1 Ultra chip with subsequent chips due in late 2024 claimed, by Intel, to compete with Apple's M2.
The ability of PC software to adapt to ARM-based chips and Intel to deliver on their silicon promises may have some doubts, but what's beyond doubt is that the initial surge of demand that Apple's M1 switch delivered has leveled off. In part, this suggests Apple has made its existing devotees happier with more of what people have long expected of Mac's - slim, quiet, light machines with exceptional design. Apple buyers can appreciate these benefits being even more pronounced, while the enhanced performance has helped protect the professional market that had been steadily slipping away in the Intel era.
Apple Silicon has not yet been a transformational event in the way Steve Jobs might engineer. Tim Cook's Apple has ditched expensive Intel parts and swapped in more efficient Apple Silicon, refined designs as needed and delivered yet more record profits for shareholders.
The iPad line-up was, in part, designed as a competitor for Netbooks and cheap PCs, but a fully specced up iPad Pro with keyboard is more pricy than a MacBook Air, while the iPadOS has progressed with external monitor support etc, but remains a work in progress - certainly as an option for education or office work. A new, larger iPad Air could provide a more economical option with iPadOS improvements, but the fragmentation of the current line-up needs a lot of work to make it comprehensible due to a mismatch of features and designs due to iterative updates.
All of which is to say, this year has seen solid advances for Apple's line-up. But an iPad line-up refresh, M3 MacBook Air update, hopefully a more aggressively priced entry-level laptop, and Vision Pro shipping in the US means 2024 looks to be full of potential in realizing more of Apple Silicon's promise.
Tags: Technology