They've been away for a while, but we're delighted to have brought back the RedShark Awards for IBC2023. Here are this year's winners.
The RedShark Awards are back, and the choice is as difficult as ever - not because of a lack of innovation, but because of so much. The industry is dwelling on the threshold of an AI revolution, and there has been amazing progress in adopting the potentially epochal opportunities. But everyone understands that it's early days, so we're seeing tentative and measured steps. We think that's good. There's no point in designing the world's fastest airliner, whose only drawback is that the wings tend to fall off.
Meanwhile, cameras continue to evolve, although these days, with an emphasis on usability and processing rather than pixel counts. We're all for that. One of the most visible changes in filmmaking over the last five years has been in production technology. Virtual production is now an absolute given, with better screens, camera tracking technology and image generation, all wrapped in ever-increasing know-how and on-set experience.
And then there's the cloud. Only a few years ago, any cloud workflow was essentially an experiment until companies like Frame.io put it at the core of their development and focused on real-world usability and - importantly - security. Now, it's becoming mainstream, with Frame.io part of Adobe and companies like Atomos providing a gateway between almost every kind of video camera and cloud workflows.
Hardware keeps improving away from cameras. ASUS has continued a trend of making products - workstations and monitors that fit into the overlap between professional video creators and the world of IT. In doing this, they also embrace the unstoppable trend where filmmaking and game technology are sometimes indistinguishable.
A bit of housekeeping…
The RedShark Awards are different because manufacturers don't have to pay to enter. They're open to everyone. That matters because "pay to play" is intrinsically biased, especially towards bigger companies who can afford it. With us, it's very simple: if we're aware of it, and it's good enough, we'll give it an award.*
Our awards are for "best in show". I want to explain what we mean by that. When we started giving out awards, we thought we'd have one per category and then one for the overall "best in show". It seemed a good idea at the time, but it was a nightmare. We found that some categories (for example, "Best Cinema Camera") would have several candidates for winning, while others wouldn't have any. So some deserving companies went without an award, and sometimes, an undeserving company got an award, essentially for having a product in the right category, even if it wasn't very good. (I would add that this is a worst-case scenario).
And then we thought: why don't we just give out six awards to the six best products? They will all say Best in Show because those six are the best in show. It means that we have more flexibility to choose winners, and we don't have to worry about artificial categories. Ten years ago, who would have guessed that AI would be a major category in itself?
And so we come to this year's winners. In literally, alphabetically and mathematically no particular order, they are:
Sony for Sony Burano
Claus Pfeifer, Head of Connected Content Acquisition at Sony accepting the award from Dave Shapton
This new full-frame cinema camera from Sony is colour-matched with its senior sibling, the Venice 2. We suspect it's no coincidence that it's named after a small island close to Italy's top water taxi venue. Essentially, Sony gets an award for choosing the right direction to try hard in: usability. When you can inherit the genes of one of the world's greatest digital movie cameras, why try to make pointless improvements like more pixels when by improving its mobility, you can make it accessible to a large swathe of new users? A highlight for us is the electronic NDF, which opens up a new axis in control, and it pleases us because we love some quality bokeh.
VizRT for TriCaster Now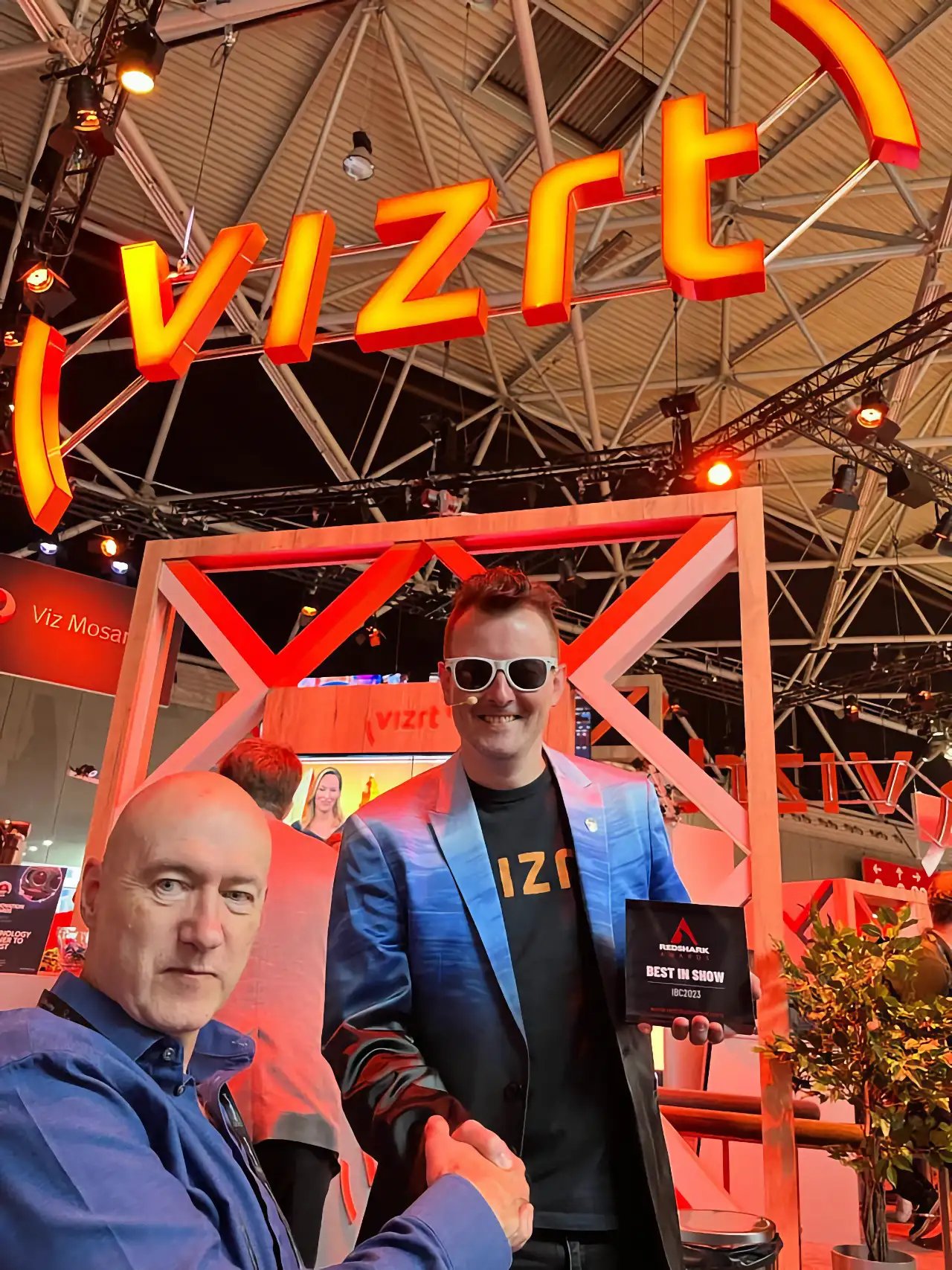 Dave Shapton again presenting the award to Richard Evans, Sr Content Producer, Vizrt
The TriCaster is nothing short of legendary. Not only did it bring affordable live production to a new tier of broadcasters, but it was the technology that indirectly gave birth to NDI. And now, never shy of embracing new technology, it's migrated to the cloud. it's a journey that was inevitable, but that doesn't mean it's easy. We're genuinely impressed.
Blackmagic Design for Blackmagic Cinema Camera 6K
Patrick Hussey at BlackMagic Design accepting his...
Blackmagic, in some ways, exists in its own universe, where products are realistically priced (or completely free!) and where they typically build the latest tech and make it affordable. Take the newly announced Blackmagic Cinema Camera 6K. We've thought for a long time that 6K is an ideal compromise between 4K and 8K, where shooting natively in 4K doesn't give you enough options for reframing, stabilisation etc, and 8K is over the top if you're not working on high end television or films. The new Cinema Camera 6K is a great combination of Blackmagic's technical skills, and looks amazing value, too.
ASUS for ProArt Cinema PQ07
Nicky Lin, Director of Product Management at ASUS
What an interesting company. Already established in "conventional" IT channels for years, it branched out into products for creators with its ProArt brand. Today, the company has established itself as a power-player in calibrated monitors for content makers, with HDR (easily switchable between most flavours) and SDI - which is surely definitive of a professional monitor. All of this at prices that are affordable for the gigantic army of creators with big (and realistic) ambitions, but smaller budgets. They're great for educational settings as well - and they're affordable enough for production teams to specify the same monitor across all stages of the workflow - ensuring consistency across the board. The star of the show is the ProArt Cinema PQ07 - a 135" monster screen with Micro LEDs and an extremely find pixel pitch. It's aimed at professional use in, say, viewing or dubbing theatres, but is also ideal for displaying video productions to anyone in a larger space, accurately and sympathetically. No, it's not new, but it still blows us away.
Adobe for, well, everything
Michelle Gallina, Principle Product Marketing Manager and Sean Lyden, Director of Product Marketing, bracketed by RedShark's Matt Gregory & Dave Shapton
This is a slightly unusual one. We're giving an award to Adobe for, well, everything. The company keeps pushing forward with new products and new technologies, and it's just downright impressive. Don't forget that Adobe was first out of the gate with AI several years ago, with its content-aware fill. Later it brought all its AI technology under the heading of Sensei, and this year, it surprised everyone with Firefly - a generative AI for Photoshop that was trained solely on its own stock libraries, thereby keeping rights issues under control and potentially benefiting the original contributors to those libraries. Its expansion across the Adobe range since has been astonishing. And now, with Frame.io under its wing, it is a major player in cloud workflows and collaborating working.
Atomos for AtomOS 11 & RemoteView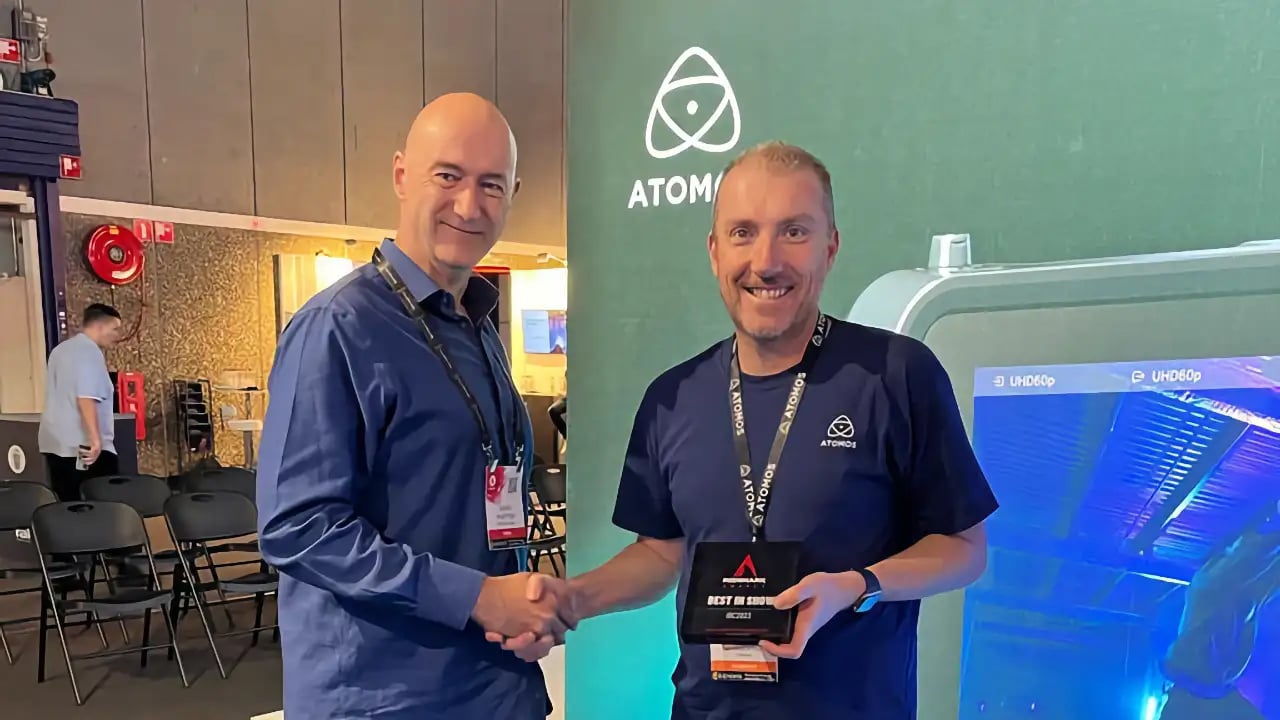 And Trevor Elbourne, CEO of Atomos, accepts his gong
With both new Ninjas and Shoguns already under its belt in recent weeks, it would have been easy to give this award to Atomos for its hardware. But instead, we decided to concentrate on software. Atomos RemoteView lets you wirelessly share what's on your Atomos screen, not just with other Atomos monitors, but also with iPads, Macs and Apple TVs. You can monitor what's happening on-set and look through any connected camera taking the shot, from anywhere in the world. It doesn't need expensive hardware – it uses the public internet, so it's global. And that's all very cool. AtomOS 11 is the software that's enabled that, and also adds a whole host of other features to qualifying monitor-recorders including EL Zone exposure referenced colorized image, ARRI False Color, and new scheduled playback and recording tools.
Highly Commended
[Andy Stout writes:] There was actually a lot of gear that we liked at this year's show, but we only had six of the awards made so there was only so much we could do about that. Maybe we need to expand, as the winnowing process was not an easy one by any means. If we haven't already covered some of the gear below, we will in the next couple of days.
So, we very much liked the new ARRI Sky Panel +. Indeed, lighting was quite a fecund stamping ground for innovation at the show, with glimpses of the Anova Pro 3 also proving more than intriguing.
The second generation of Motion Impossible's AGITO robotic dolly upgrades what was already one of our favourite bits of kit, while the latest release from MRMC, the SR-1, a new pan-tilt head designed for use in locations that are inaccessible or hazardous for camera operators. The latest Canon N100 PTZ camera looks more than useful too.
Virtual production has seen some excellent innovation from Sony with the new Crystal LED Verona displays, alongside Zero Density's Traxis tracking platform, and Pixotope's Live Controller.
And to prove that it's not just the big expensive bits of kit that we consider, we gave very serious consideration to the Smallrig Universal Camera Cage for Smartphones, which will set you back just a shade over $40.
There's more too, and we'll add the best of them to this list as we continue to process all the news that's coming out of what feels like the most active and successful trade show of the post-Covid era.
Congrats though to all the winners. And we look forward to seeing what progress everyone has made the next time we do this; probably at NAB 2024 in a mere 210 days…
*None of the companies that have won this year are small, but that is an indication of R&D budgets perhaps as much as anything. Maybe we should have a new category for smaller companies next time round. Let us know. Ed
Tags: Production IBC2023