Hitchcocks version of Rebecca won an Oscar. Here's how modern filmmakers are recreating the original novel with the help of the Arri ALEXA 65.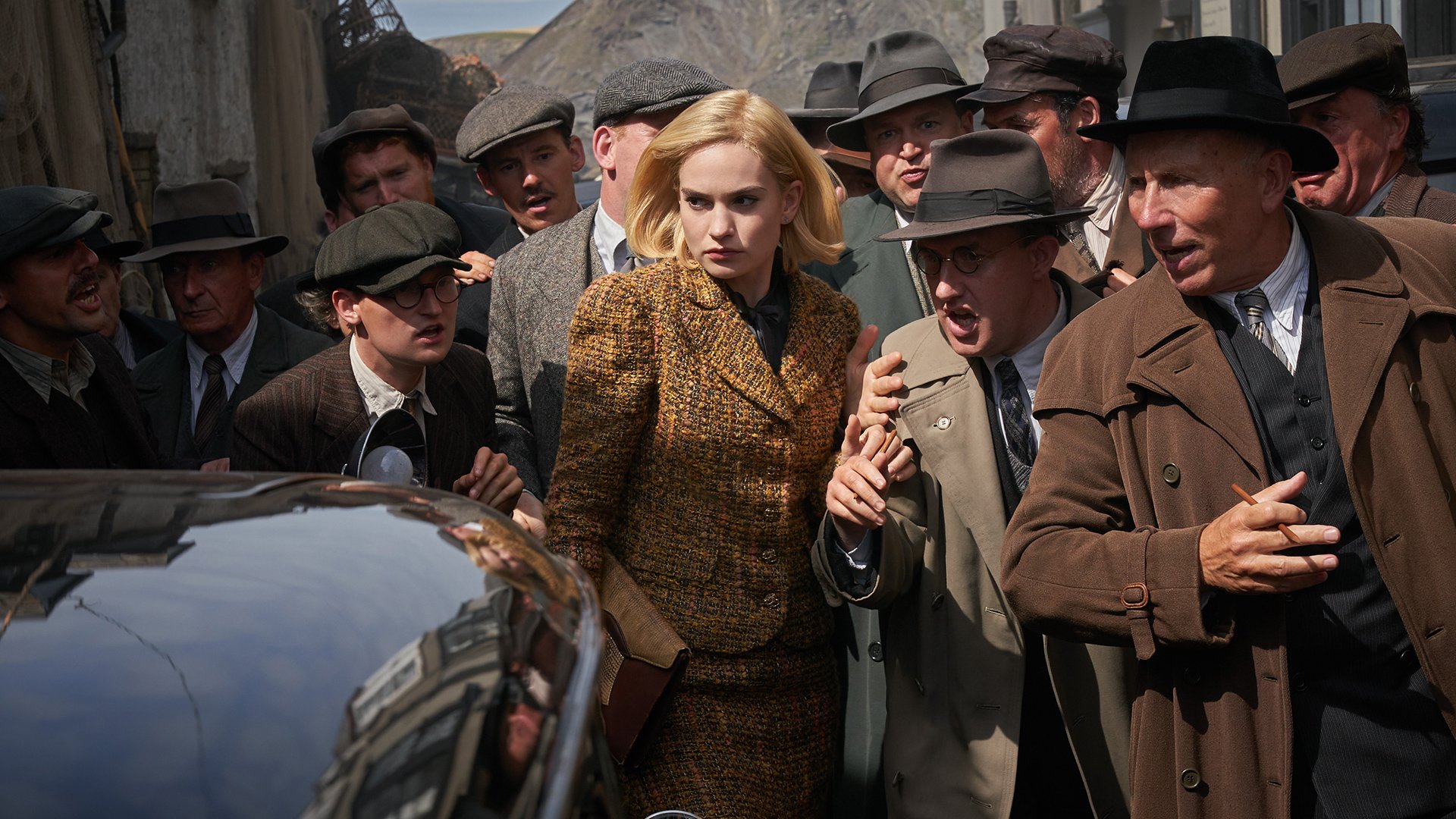 A literary classic of gothic romance adapted by Alfred Hitchcock in celebrated Best Picture Oscar form is not necessarily a remake you would associate with the director of Kill List – but Ben Wheatley is not one for being pigeonholed.
With Kill List, Sightseers and A Field in England the British auteur was staking out a startling career in horror and macabre comedy but with his 1970's set JG Ballard adaptation High Rise, kinetic epic shoot-out Free Fire and kitchen sink drama Happy New Year, Colin Burstead Wheatley has expanded his repertoire.
Rebecca, scripted by Jane Goldman (X-Men: Days of Future Past) is made for Netflix with probably Wheatley's biggest budget to date. It's a sumptuous period drama that gives him an opportunity to direct a film that harks back to the days of studio-bound Hollywood glory.
"I think Ben was quite keen on legitimacy," says Laurie Rose BSC, who has shot all eight of Wheatley's features. "Ben produces and writes a lot of his own work but I think he took this on because it was working with someone else's script and to make progress in terms of budget in what he is allowed to do."
The filmmakers were also attracted to a story that may be less familiar to audiences than they think.
"We've all got a sense of the Hitchcock version in our minds but I had to revisit it," says Rose. "It is astonishing and beautiful but out of date in terms of the writing and the way that it was made in the studio system."
Wheatley says that what he really loved "was that du Maurier had a scheme, which was to smuggle in something quite sinister inside the wrapping of something that looks like a romantic story. You're lulled into that false sense of security before it's pulled away from you."
They had to steer away from emulating Hitchcock's 1940 version starring Laurence Olivier so as not to infringe copywrite. "Our version is far more faithful to the darkness of the book," he says. "In our Rebecca, there's a modern element to the gaslighting story (deliberately causing someone to doubt their sanity) wrapped in a tale of posh people with servants and big houses - and it goes wrong."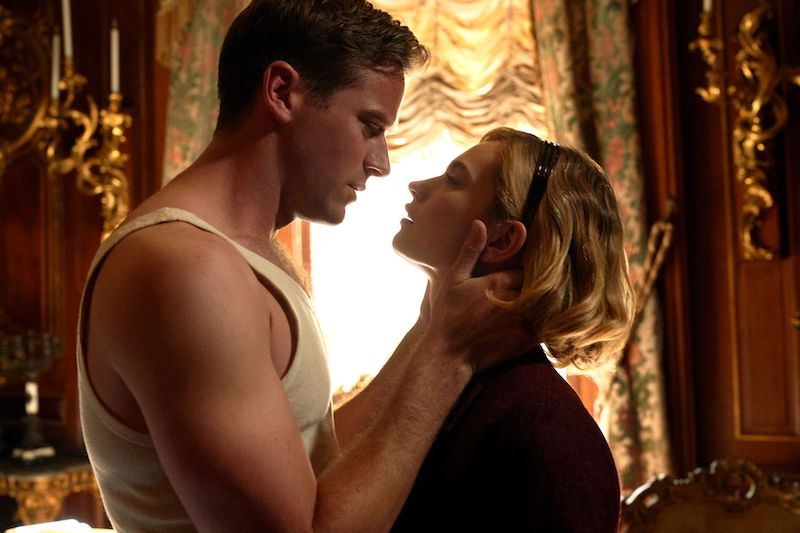 Rebecca actually immerses the viewer in a Russian doll of genres. What begins as a sweeping romance in sun-kissed Monte Carlo moves into darker psychological territory after the newlyweds, Maxim de Winter (Armie Hammer) and his second wife (Lily James) arrive at Manderley — his imposing estate (and the object of one literature's most famous opening lines) — where the young woman finds herself battling the haunting legacy of Maxim's first wife, Rebecca, not to mention Mrs. Danvers (Kristin Scott Thomas), the sinister housekeeper bent on keeping her former mistress's memory alive.
Rose's approach was to capture the Hollywood studio-bound elegance of the 1940s. He recalls two particular scenes — at polar ends of film — that showcase this in different ways.
"We worked with a really beautiful light in France, so it was a real opportunity to revel in that sunshine," he says. "The scene on the beach where they're talking about bottling memories, just showed the intimacy of things. The sun was very low and shallow and using the sun flare was just beautiful. Everything just about hit at the right time."
His other particular favourite scene was a showdown with the main characters in the library.
"It was a shot that was so indicative of a film from the forties. It was done in long single takes. We were on a dolly, basically running live. So, as they came into the room, we backed up and then we moved in and would move out and across. It was hyper-mobile, almost like a live performance very much like the scenes you might get in a Hollywood film from the '40s. We hit these very precise marks that kept the dynamic of the scene up for actors. The dialogue was rapid fire and it was all just beautifully choreographed."
This more formal style, working with premium production design, is unusual for the Rose and Wheatley who tended to favour (and because of limited budget) a more run and gun handheld approach. Rose seized the chance to shoot with the giant Arri ALEXA 65mm sensor.
"I knew I wanted to shoot Arri 65 digital with full frame DNAs and [producers] Working Title were keen to support it. Our B-cam was an Alexa LF, partly so we could save a bit on data [if the 65 had been his sole camera]."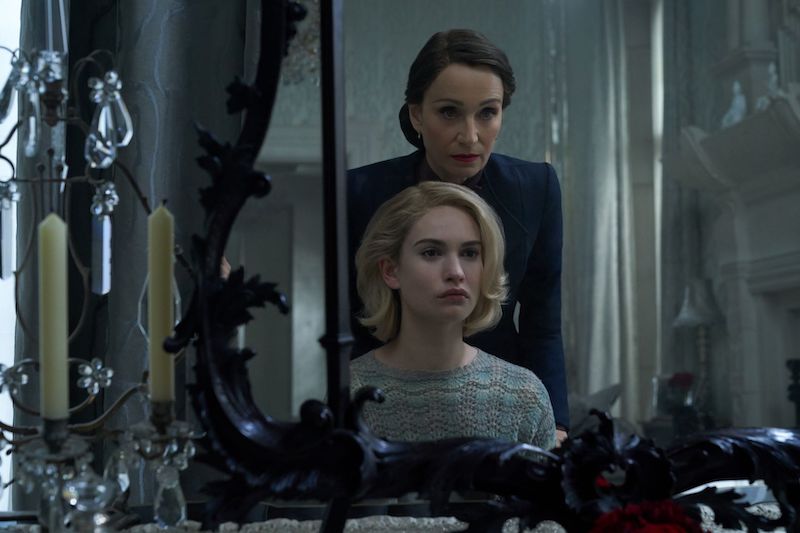 The Arri ALEXA 65 shoots 6K and the LF is a 4.5K sensor. Rose shot 5.5K on the 65 to reduce the difference in resolution between the two.
"There was a wide portrait 50mm that I liked - sweet in the centre and softened out super quickly around the edges. Also a red-dot variant 80mm I fell in love with for the indescribable way it fell off and the way it flared. I wore it at every opportunity. You end up with a real voice in the lenses."
He doesn't like to bake in a hard look, preferring to remain true to the costumes, landscapes and interiors and exteriors of the heritage house locations.
"I don't tend to lay over anything unauthentic. I always monitor with a very, very light touch rec.709 because I know I can shoot within that colour space know I can add a lot in post if needed. It means my neg is safe and I know I can hold my highlights and there's plenty in the shadows."
'Last night I dreamt I went to Manderley again' is one of the most evocative lines in literature. If ever there was location as character it is this. But with so many of England's most famous estates having been featured in numerous productions over the years, the task of making Manderley seem new and never-before-seen was tricky. Production Designer Sarah Greenwood designed a composite of eight different country houses and estates, including Cranborne Manor (Wiltshire), Hatfield House (Hertfordshire), Mapperton House (Dorset), and Osterley House (Isleworth).
"Manderley had to be mysterious behemoth of a house that no-one could begin to make sense of," says Rose. "It made it a little difficult to track shots because we had to Frankenstein someone's movements. The actor walks about out of a room in one place and into a room in a different location but nobody will have the blindest idea."
Rebecca's own boudoir is a "fantastical, fantasy space" with higher ceilings, more gothic the rest of the house, decorated with art deco, dark wood and silver and tarnished mirrors. "It's dreamy and ethereal," he says.
Wheatley's upcoming projects include Tomb Raider 2 with Alicia Vikander.
Tags: Production