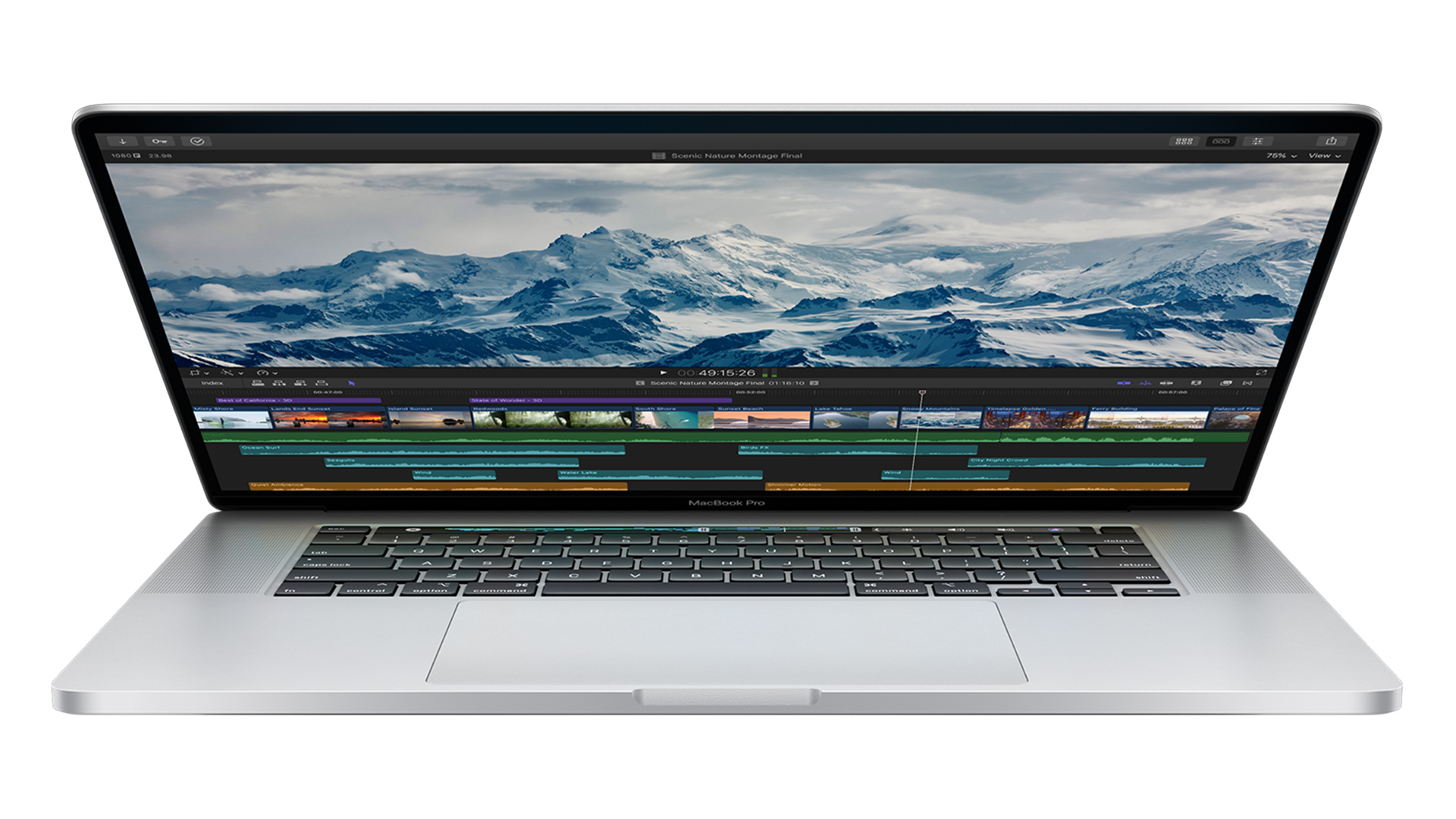 Apple today announced a significant update to its MacBook Pro line of computers. Brace yourself, because this is more than just a CPU upgrade.
Today's MacBook Pro announcement had been expected for the last few days, so it didn't come as a total surprise. However what cannot be denied is that this heralds a major overhaul of the lineup, possibly the biggest since the late 2016 revamp.
The headline feature is a move from a 15" display to a 16" Retina one. It sounds like a small jump, but in fact one single inch is bigger in overall effect than you might think. This means that the 15" model is no more. The new display can show a claimed brightness of 500 nits and comes in at 3072x1920 resolution (vs the previous model's 2880x1800). It uses what Apple calls a narrow-band LED backlight, which helps represent the P3 wide colour gamut. But it also contains a patented metal layer in the TFT, which according to Apple enhances brightness and colour uniformity, as well as reducing pixel cross-talk.
The top end 8-core model in the lineup features a 9th gen Intel Core i9 processor with a base speed of 2.3GHz (with turbo boost up to 4.8Ghz), while the 6-core version has a base 2.6GHz (turbo boost up to 4.5GHz) 9th gen Core i7.
Thermal design and memory
Previous MacBook Pro designs had come in for criticism for thermal throttling, and questions will inevitably arise over whether this issue has been solved. Initial inspection would seem to indicate that Apple has spent some time over this, completely redesigning the thermal system, with a claimed 28% increased airflow and 35% larger heat sink than the previous generation. It doesn't state that there is zero throttling, but it would seem that it has designed the new system with much longer periods of time under heavy CPU load in mind. Apple states that this allows the new machine 12 watts more of sustained power.
The Thermal handling system has been completely redesigned. Image: Apple
Memory can be configured up to 64GB of 2666MHz DDR4 memory, while the base GPU of the 8-core is an AMD Radeon Pro 5500M with 4GB of GDDR6 memory. This can be configured up to 8GB. The 6-core machine starts with an AMD Radeon Pro 5300M, and can be configured with the same 5500M of the 8-core model if you wish. An example of how the overall speed differs, Apple claims that you'll get an 80% increase in speed with the new computer, using the 8GB option, when executing tasks like grading in Resolve compared to using the Radeon Pro Vega 20 that was in the previous 8-core MacBook Pro.
Each machine can be configured with up to 8TB of internal SSD storage, although as you might expect this isn't cheap, coming in at a whopping £1980 on top of the existing price. Most users will likely be using external storage anyway for important work unless they are travelling super light. But with the latest generation of Thunderbolt compatible drives being both tiny and prices getting more reasonable, 8GB of internal storage is perhaps overkill. But it's there if you want it!
Newly designed 'scissor' keyboard
Another headline feature is the new keyboard. It's been completely redesigned after the criticism of the old model. Apple calls it, wait for it... the Magic Keyboard. Okay, I'm not going to give Apple any credit for imagination with that one, but the new keyboard should eliminate the problems some people had with the old butterfly one. The new keyboard utilises a 'refined scissor mechanism'. This is in fact the same mechanism that is used in the standard Magic Keyboard, hence the reuse of the name.
The keyboard mechanism on the new computer has been completely redesigned. Image: Apple
Apparently Apple spent a lot of time getting feedback for the new keyboard. Phil Schiller told CNET in a recent interview, "we decided that while we were advancing the butterfly keyboard, we would also - specifically for our pro customer - go back and really talk to many pro customers about what they most want in a keyboard and did a bunch of research."
He went on to say "To make this new scissor mechanism work appropriately in a notebook, we had to adapt it to the angle, which is different in a notebook than in a slanted desktop design for ergonomics. And it had to work in a design that had a backlight, which the notebook has that desktops do not." It's actually quite amazing just how much work goes into something like a keyboard so I'd recommend reading the full interview to find out the background of the new design.
Related to the keyboard is the Touch Bar. Contrary to some people's predictions when it first arrived it has not simply disappeared into obscurity. Sure, it has limitations, but it can be really useful in some tasks. The new computer now features a physical escape key, as well as a Touch ID key either side of it.
Physically the new machine is around an inch wider, but depth stays very similar. Image: Apple
Sound design and power
Sound has also improved, using a six-speaker sound system with dual force-cancelling woofers that reduce system vibration, and apparently lowers the bass range by half an octave. A 'studio quality' three-mic array is designed with podcasts and music recordings on the go, with Apple claiming that the quality rivals professional third party mics. A bold claim indeed, and I'll be very interested to hear how these work out in practice.
Power is provided via a 100Wh battery, which the company says gives up to 11 hours of wireless web browsing and video playback. The battery life in previous models has been very good, so there's probably little to doubt that such claims won't be far off the mark.
Connectivity comes in the form of four USB-C style Thunderbolt 3 ports. Yep, you'll still need adaptors for legacy equipment. Personally I haven't had much of an issue with it apart from the odd old hard drive I've needed to connect. I like the compactness of these ports, though I can understand why they are not to everyones taste. What they give you though, is the ability to power two 6K external displays.
Prices
Price? The base 6-core will set you back £2399, while the base 8-core costs £2799. These prices are Pound for US Dollar, although likely the US price excludes local taxes. This isn't too far off the price of the older version, and looking at some of the other powerhouse mobile 'workstations' on the market would seem quite competitive for what you are getting. The new computers are available to order now, and if you own older equipment you can trade it in to get money off the new price.