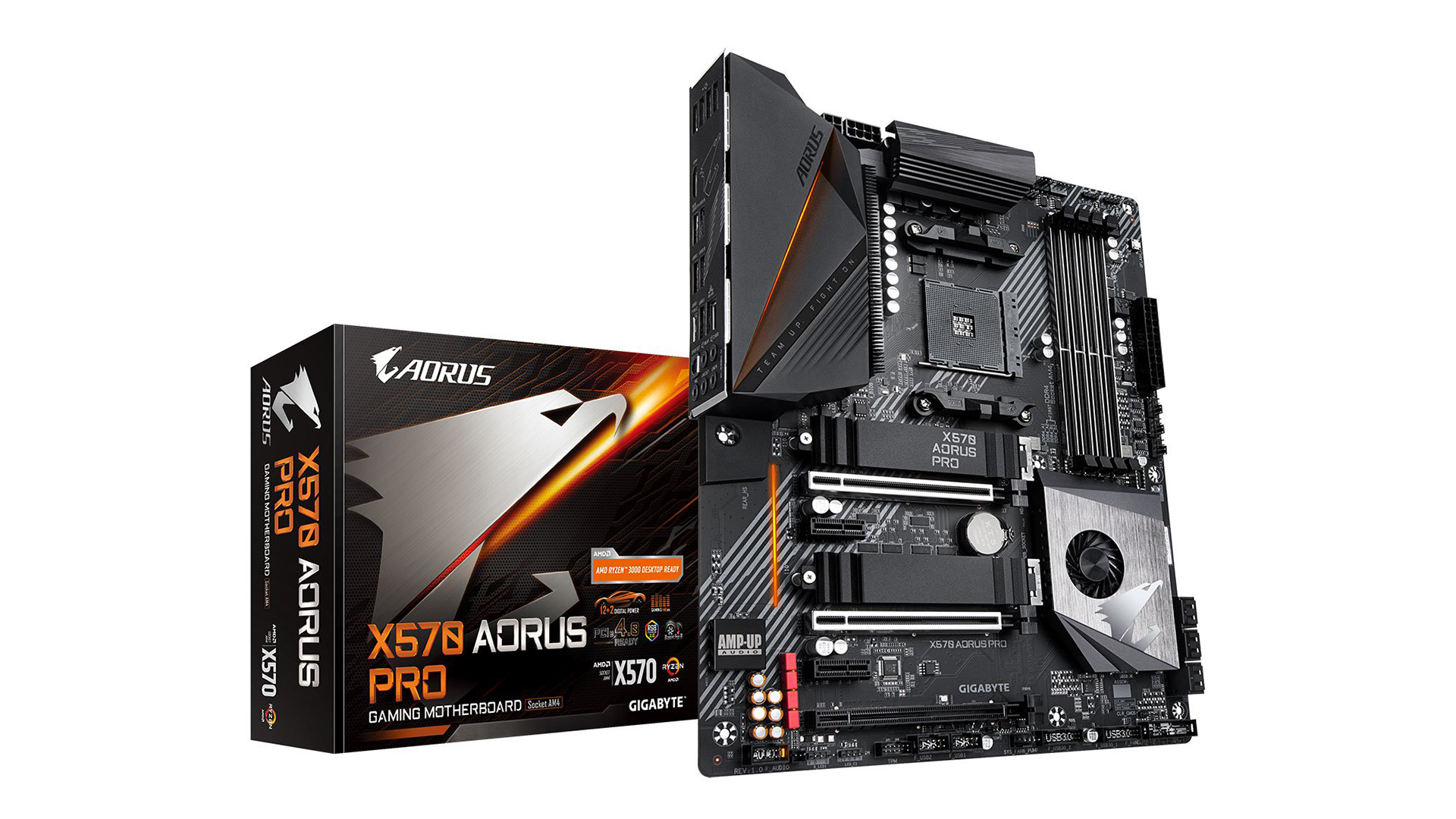 When AMD launched their family of Ryzen 3000 CPUs, they also delivered the new X570 chipset. AMD X570 continues to support Socket AM4, just like X470 and X370, so you could be forgiven for assuming it is a tweaked and revised version of those chipsets. It isn't.
In fact, X570 is a radical departure as it was designed in-house by AMD and is manufactured on a 14nm process by Global Foundries. By contrast, the X370 and X470 chipsets were supplied by ASMedia and fabricated on an enormous 55nm process that practically counts as legacy technology.
We understand the X570 chipset uses the same design as the IO die found inside Ryzen 3000 CPUs where it is connected to the CPU core chiplets, which means this chipset has a considerable degree of sophistication compared to other chipsets that pretty much act as a hub for minor functions such as USB.
This radical approach to the chipset has allowed AMD to introduce PCI Express 4.0 (also referred to as PCIe Gen 4) which offers double the bandwidth of Gen 3. There are a number of factors to consider with PCI Express:
Which generation PCIe do you have, and what is the bandwidth of each lane?
How many lanes do you have in total?
How can those lanes be configured?
It is fairly common for mainstream motherboards to offer PCIe 3.0 x16 for graphics that can be configured as 2x8 for dual graphics with another four lanes of PCIe for 'other stuff'. That is fine if you have a PCIe x1 sound card but far from ideal if you want to use three PCIe x4 SSDs that suck up a considerable amount of the total PCIe and may lead to some of your motherboard devices going dark.
Bandwidth
AMD has gone to town with Ryzen 3000 and X570 and has provided a total of 40 lanes of PCIe 4.0 where each lane has a bandwidth of 2GB/second. The CPU and chipset each provide 40 lanes, although the lanes from the CPU are divided by 16 for graphics and four to connect to the chipset. The 20 lanes from the X570 chipset are configured as 1x8, 1x4, 2x2 and 4x1.
You need a Ryzen 3000 CPU to power your PC, otherwise, those PCIe Gen 4 lanes on your X570 motherboard will be downgraded to Gen 3 which only offers half the bandwidth. However, that is not necessarily the end of the world. We all know a Gen 3 x16 slot will support the most demanding graphics cards on the market and very little hardware is bottlenecked by an x8 connection. In other words, if you install a pair of RTX 2080 Ti cards on an Intel Core i9 motherboard and the 16 lanes of PCIe Gen 3 are divided 8+8, the graphics will work perfectly well. So why the heck might you want to upgrade to PCIe Gen 4?
The worst answer is to support your graphics as the only Gen 4 graphics on the market at present are AMD RX 5700 and RX 5700 XT that simply do not require the extra bandwidth.
The second worst answer is future-proofing. If you build your new Ryzen 3000 system today, you will be able to install new devices in 2020 and 2021 that simply do not exist today, such as a consumer 8K video capture card. This may be true, but you could always wait until a killer new product actually arrives before you make the leap.
The best answer is to allow the use of the fastest storage that is currently available.
SSDs
Phison has launched the PS5016-E16 SSD controller with 8 NAND channels. This is the world's first PCIe Gen 4 controller that is used in the Corsair 2TB MP600 Gen4 SSD and also in Gigabyte Aorus Gen4 SSD in 500GB, 1TB and 2TB capacities. Other brands such as Colorful, Galax and Patriot also use the Phison E16 controller.
Where a high-end SSD such as a Samsung 970 Pro has a rated speed of 3.4GB/sec, we can expect PCIe Gen 4 SSDs to run at 5GB/second. At Computex, we heard Khein-Seng Pua, Chairman and CEO of Phison Electronics Corp, make it clear the E16 controller is merely their first Gen 4 controller and that Phison will soon unveil a controller rated around 6.5GB/second. We will also see the Phison E19 controller that supports four channels of NAND and should, therefore, come at a lower price.
The PCI-SIG (Special Interest Group) first announced PCIe 4.0 in 2017 and we are now seeing the beginnings of a Gen 4 roll-out. Intel has not yet announced a CPU with PCIe Gen 4, but no doubt that will happen sooner rather than later. PCI-SIG has announced the PCIe 5.0 standard with double the bandwidth of Gen 4 and while it will undoubtedly take a few years for Gen 5 products to appear, we can see the direction of travel. Amazingly, we expect PCI-SIG to finalise the details of PCIe 6.0 2021, presumably with products arriving in 2023 or 2024.
There is little reason why mainstream consumers should be the least bit interested in these technologies as pretty much any SSD is fast enough for day-to-day use. Gamers may appreciate seeing the next level load in a matter of seconds, but the real winners here are content creators. Anyone who has to deal with file sizes that are measured in the tens of Gigabytes and who blanches at the thought of using RAW and stepping up to 100GB or 200GB will know exactly what I mean.
If you want PCI Express Gen 4, the only game in town right now is Ryzen 3000 allied to an X570 motherboard.
Tags: Technology