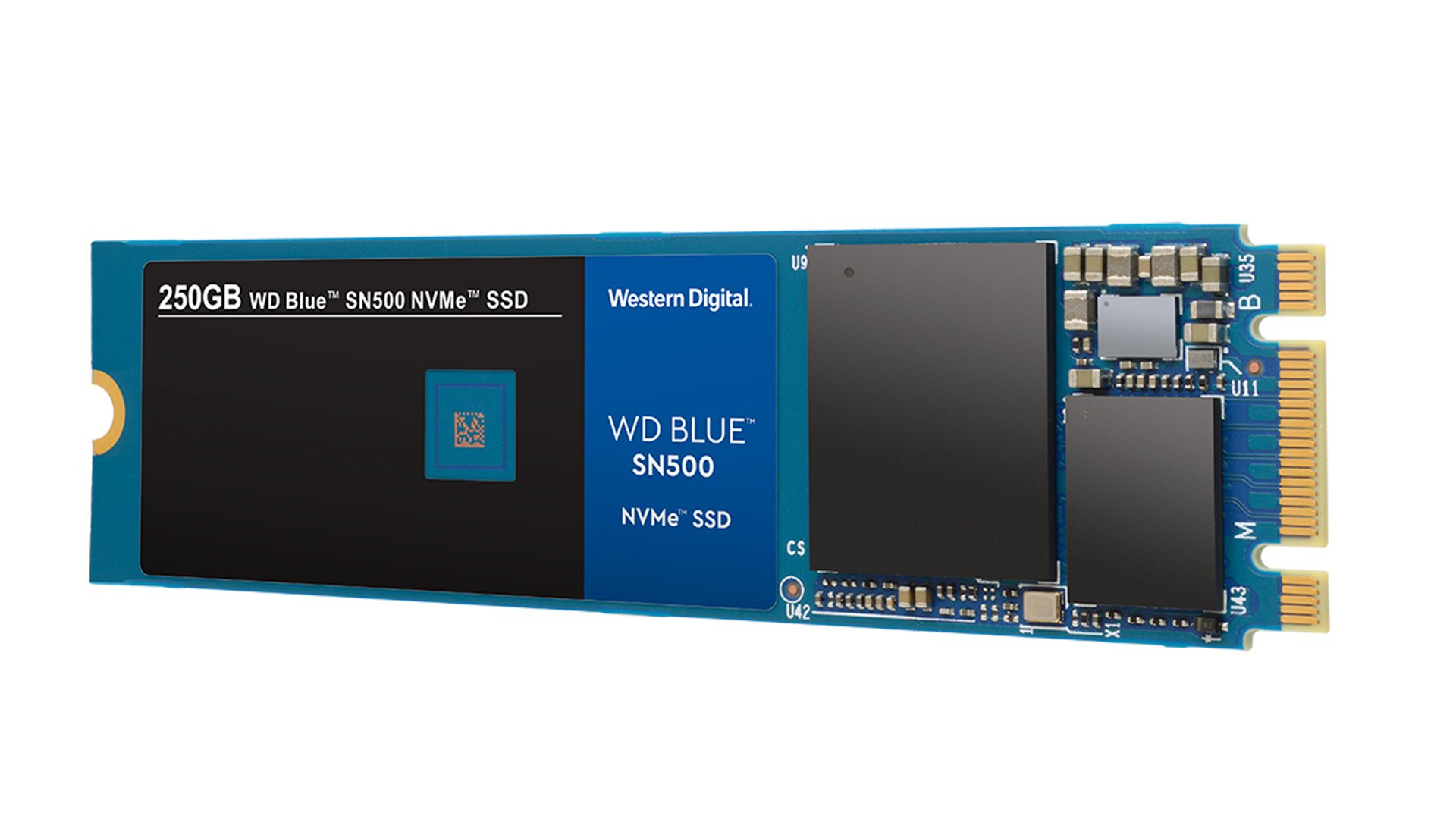 The new WD Blue SN500 is a big step forward for truly affordable SSD storage.
Western Digital has announced "... the new WD Blue SN500 NVMe SSD ... designed to be an entry-level NVMe drive which sits between the WD Black SN750 and the SATA models of the award winning WD Blue.
The new WD Blue SN500 NVMe SSD is built on Western Digital's own 3D NAND technology, firmware and controller, and delivers sequential read and write speeds up to 1,700MB/s and 1,450MB/s respectively (for 500GB model) with efficient power consumption as low as 2.7W."
Full marks to WD's PR people as that statement tells us pretty much everything we need to know while avoiding the usual flimflam and hyperbole.
WD bought SanDisk back in 2016 and has been slowly migrating from its former position as a hard drive company to its new status as a storage company that mixes HDD and SSD. At some point in the future we assume HDD technology will vanish and the transformation will be complete but right now we are in a period of flux and the new WD Blue sums up the situation to perfection.
Colour coding
When WD launched SSDs in the consumer space it borrowed the colour coding system it was already using for HDDs. The Green SSD was the budget option running on a controller from Silicon Motion with a maximum capacity of 480GB and available with a SATA interface in both 2.5-inch and M.2 forms.
WD Blue SSD also comes with a SATA interface in both 2.5-inch and M.2 forms however it sports a controller from Silicon Motion and has a maximum capacity of 2TB which clearly makes it more useful than the tiddly Green.
When WD launched the Black SN750 SSD it lived up to the Black name by fighting for the Performance market. The Black is only available in the 22x80mm M.2 form factor and has a PCIe 3 x4 NVMe interface. Listed capacities range from 250GB to 2TB, although we can currently find the 1TB on sale but not the 2TB. The controller chip in WD Black is their own silicon and it is clear that Black is intended to compete with Samsung 970 EVO. It may be interesting to note that Black uses 64-layer NAND, just like the Blue and Green.
A cut down black
In essence the new Blue SN500 SSD is a cut-down version of the Black SN750 that uses a version of WD's in-house SSD controller. The interface has been cut in half and only employs PCIe 3 x2 however it still has NVMe. This suggests we can expect Blue to be as fast as Black in certain respects, such as latency, however we would also expect the reduced bandwidth to hurt outright performance.
The configuration of this particular controller does not support DRAM cache. There is a tiny amount of cache in the controller (something like 10MB) and the absence of a serious amount of cache must further hurt performance.
WD Blue SN500 is only being launched in two versions with 250GB at US$55 and 500GB at US$78. It is clear the drive will only use one or two NAND packages, which makes sense when you consider the reduced bandwidth of the PCIe 3 x2 interface. We are aware that WD Blue SN500 is available as an OEM drive in M.2 forms that measure 30mm and 42mm in length so this 80mm version will mostly consist of empty PCB.
The takeaway here is that WD Blue SN500 will likely deliver rapid SSD performance with low latency and fast response however it will probably suffer when it comes to long, sustained reads and writes. That will sound like bad news for professionals but realistically the 500GB limit makes it a no-no for that market in any event.
By contrast there will be plenty of casual PC and laptop users who will be able to use WD Blue to step up to an M.2 SSD with NVMe at a killer budget price.
Tags: Technology