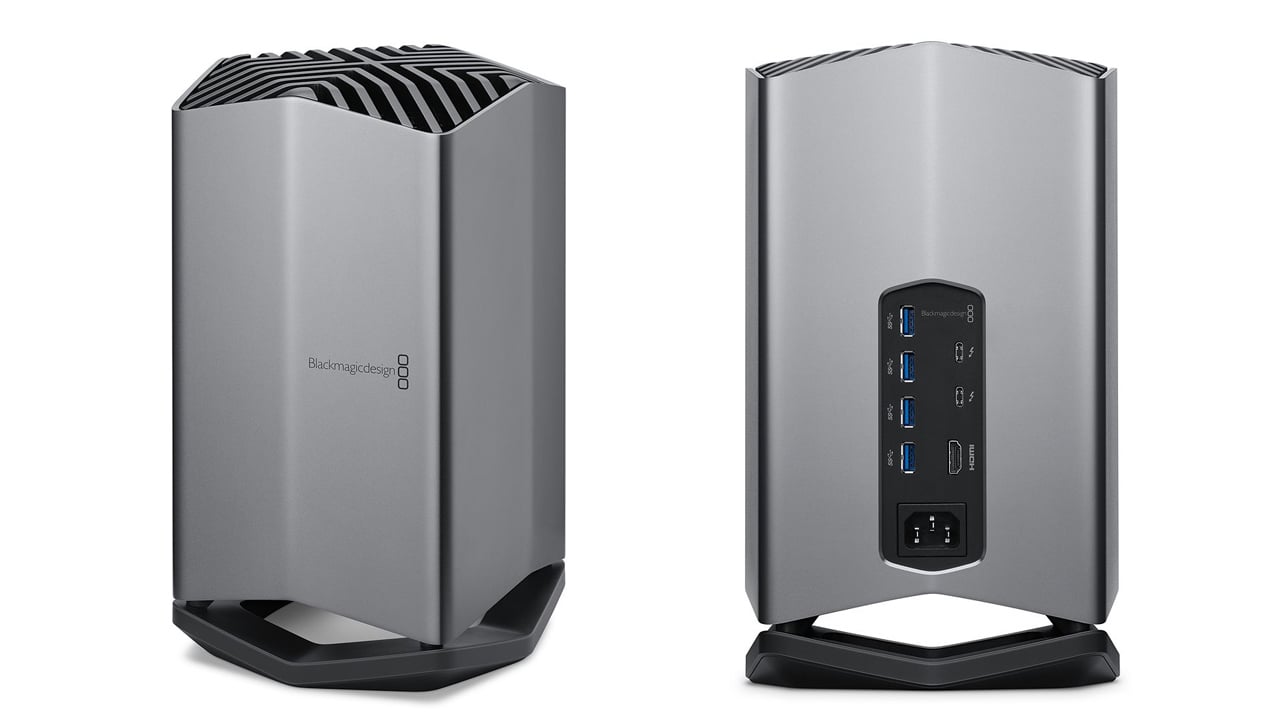 eGPUs are most certainly gaining popularity. What is the state of play for eGPUs for both PCs and Macs?
Blackmagic Design has announced an eGPU (External Graphics Processing Unit) named the Blackmagic eGPU which certainly deserves an award for literal accuracy.
You may well know that an eGPU is a housing that contains a graphics card that connects to your PC, Mac or laptop, typically using Thunderbolt 3. If you wish to brush up on the subject might we point you towards our coverage of the HP Omen Accelerator and perhaps also to our write-up about Intel's plans for Thunderbolt 3.
You can spend the best part of £500 on a posh external graphics housing from Razer that comes complete with swish RGB lighting but does not, unfortunately, include a graphic card. Once you have plugged in a suitable GTX 1070 or 1080 you can connect the assembly to your Razer Blade Stealth or Razer Blade laptop and behold, you have mighty graphics.
Where once you had integrated Intel graphics or a discrete GTX 1060 you now have enough CUDA grunt to drive your favourite games along at blazing frame rates. At any rate, that's the idea but the fact is that gaming on an eGPU is a disappointing experience. The problem is that gaming requires bi-directional data traffic so your laptop has to send data down the Thunderbolt cable and data has to be able to return the other way. If you are very lucky you will find that your GTX 1080 eGPU will perform at the level of an internal GTX 1070 which is a fairly poor return for about £900.
The Alienware Graphics Amplifier
Alienware
Dell/Alienware does things differently as they use a unique cable on the Alienware Graphics Amplifier. At first glance this appears to be a move to lock you into a proprietary system, however this is not the case.
We raised this point about interfaces for eGPUs in conversation with Dell at CES 2018 and were informed the connection used by Dell/Alienware is pure PCI Express. In other words it is different to Thunderbolt 3 however it is not proprietary. It seems the reason everyone else uses Thunderbolt 3 is because it is simple, effective and small. The fact is that Dell/Alienware has a much faster connection and this is the only option that gamers should consider.
You get a better bang for your buck if you use an eGPU for video editing. We all know that NLEs such as Adobe Premiere can combine the resources of your CPU with the GPU in your workstation either in CUDA or OpenCL mode. It stands to reason that any laptop with pitiful Intel graphics is missing a trick and that the smart move is to use a GPU to reduce rendering times.
Companies such as Gigabyte will happily supply an eGPU called Gaming Box that comes complete with an Nvidia GTX 1070 or 1080 or an AMD RX 580.
While they don't look as pretty as the Razer Core, they come complete with the graphics card and are ready for action at a considerably lower cost.
You will, of course, have to ignore the name 'Gaming Box' and mentally refer to the device as a 'Video Box.'
Incidentally, Gigabyte showed the RX 580 Gaming Box at Computex 2018 connected to a MacBook. This market hadn't been relevant when Gigabyte had previously stuck with Nvidia graphics as Apple drivers don't support Nvidia hardware. By contrast iMac uses RX 580 and Apple drivers understand the technology perfectly so connecting a Gigabyte RX 580 Gaming Box to a Mac is a cinch.
Blackmagic Design eGPU
The downside here is that Adobe recently updated Premiere such that it can finally use Intel graphics. Premiere is very efficient when it comes to CPU power so if you add more cores or increase clock speeds you will see your rendering times tumble. By contrast Premiere is fairly hopeless when it comes to graphics unless you pile on the effects. Transitions and mundane tasks such as Motion are all about the CPU so while you will see your graphics card burst into action at times, it really doesn't do all that much. The Intel update to Premiere means most people are limited by their CPU rather than their GPU, even when they are using a thin and light laptop.
The company that seems to best understand graphics power is Blackmagic with their awesome Davinci Resolve, and I can illustrate this point. I work with an editor who has used various Macs, iMacs and MacBooks and currently works with an iMac Pro with 18-core Core i9 and Vega 64 graphics that cost the thick end of £10k. He naturally loaded up Final Cut Pro X and was very happy until he tried Davinci Resolve 15 at which point he was amazed compared to Final Cut Pro X. Both the CPU and GPU were loaded past 90 percent and rendering times dropped significantly. He noted the latest version of Davinci Resolve supports eGPUs so he shelled out for an eGPU housing and a second Vega 64 and rendering times plummeted still further. We asked Blackmagic how they had managed to crack this particular trick and were told 'Sorry we won't discuss that as it is our secret sauce.'
So the fact that Apple has launched the new MacBook Pro with Intel 8th Gen CPU in 13-inch and 15-inch forms and also has exclusive dibs on the new Blackmagic eGPU, well that makes perfect sense. Indeed it seems like a match made in heaven.
It is too early to tell but right now it seems that the 13-inch MacBook Pro with quad core Core i5 at £1749 would make a very fine mobile video editing tool. Save the £300 Apple demands for Final Cut Pro X, pay £600 for the Blackmagic eGPU and install the free download of Davinci Resolve instead.
We have little doubt the performance of the Blackmagic eGPU and the Gigabyte RX 580 Gaming Box will be essentially identical but you know where your loyalties lie.