(Replay) The earliest space exploration was not done with the aid of rockets but weather balloons carrying instrument packages up high into and then beyond the atmosphere. And as Japanese amateur astrophysicist, Keisuke Iwaya, shows, modern camera kit is more than capable of making the journey.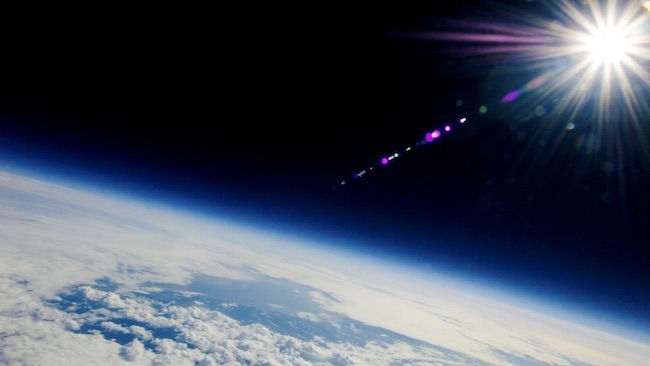 Iwaya's Fusen Ucyu (Balloon Space) Project has seen him and a small team attach various cameras to weather balloons, fill them with helium and watch them soar up into the sky, but the footage he obtained with the Blackmagic Pocket Cinema Camera was some of the best yet.
The BMPCC was coupled to an Atomos NinjaStar with a 128GB CFast card, packed into a special and lightweight housing and let go. As the captions on Iwaya's video make clear, over the course of a two-hour journey the craft ascended to a maximum 28.5km (17.7 miles) before the balloon popped as intended and the camera housing freefalled — and then parachuted — safely back to Earth.
The whole journey was shot at 24fps ProRes 422HQ on the NinjaStar via a Panasonic Lumix G Vario 7-14mm lens at f/4.0 mounting a Kenko Pro1 Digital ND16 Wide filter. The voyage has been edited down to a couple of minutes and about an hour in you start to fear the worse as the whole lens assembly mists up. Then the atmosphere thins and the curve of the Earth appears before you and you start thinking 'Wow. That looks kind of fun'.
Given that the rest of the world is currently flying drones here there and everywhere, this sort of extreme high-altitude work is appealing — even more so when you realise you can get a 6ft diameter weather balloon capable of carrying a max payload of over 5kg and ascending to over 31km on Amazon now for around £50. So, if anyone fancies lending me a camera…