It's so compact it practically sits in the palm of my (smallish) hand! It's the long-awaited Sony FX6.
I had a brief palm and hands on with the camera a few weeks ago as well as a basic briefing prior to release of more detailed specs from Sony. By the time you read this, more granular details should be available.
But let's start with the basic positioning of the FX6. It is a replacement for the popular FS5 and continues the Sony trend of moving to full frame image sensors. Several months ago, Sony announced that its production line of cameras, which at the time included FX9 and Venice, would be under the Cinema Line banner. The FX6 is the first camera to be branded Cinema Line on the camera.
Sony told me that its objective was to combine mobility and versatility in a device with pro camera operability and capable of cinematic expression.
It is built around a 10.2 megapixel full frame sensor with the BionX XR processor. This fast-read out sensor with extreme low light sensitivity sounds awfully like the Alpha a7sIII (which I have purchased and will be sharing some kit options and workflows with you in the coming weeks). But this is no a7sIII in a camcorder form factor. You'll see when we get into the details.

The Sony FX6 is so small it almost fits into the palm of a hand. Image: Ned Soltz.
Sony FX6 Dual base ISO
While many of us suspected that the a7s III sensor was indeed a dual ISO sensor, FX6 base sensitivity in SLog is ISO800 with an amazing ISO12800 high sensitivity mode. Dual ISO cameras have another advantage. With the Base ISO set to high sensitivity mode, the user can reduce (or increase) actual shooting ISO. That produces a cleaner signal than boosting the low sensitivity base ISO. In the case of the FX6, a high sensitivity ISO of 12800 allows a world of possibilities for low light shooting.
Shooting in both CineEI modes and S-Cinetone modes, the S-Cinetone in particular matches FX9 and Venice. Sony claims up to 15 stops of dynamic range. But this shared color science with the mid range and high end Cinema Line cameras allows filmmakers in all production segments the choice of camera appropriate to budget and production needs.
Pictured here on the new DJI Ronin RSC 2 gimbal with a Rokinon 35mm f/2.8 AF lens, the combination is well within the limits of even the smaller of these two new products. This is pictured without top handle and monitor, but simply adding the monitor keeps the camera within weight specs for the Ronin.
The Sony FX6 is ideal for gimbals. Image: Ned Soltz.
To reveal the reason—without battery, VF and handle, it weighs 1.9 pounds and measures 4.6"x6".
Where I sensed borrowing from the a7s III is listening to more detailed sensor and sensitivity specs. It has a FastHybrid autofocus based upon contrast as well as sensor phase detection. We are seeing a new generation of video cameas in general where autofocus can actually be trusted in, for example, fast moving shots. It has both face detection and real time eye autofocus with sensitivity-configurable autofocus and tracking.
Unlike a7sIII which shoots XAVC S mode, the FX6 shoots XAVC, wrapped in MXF rapper as opposed to MP4. In 4:2:2 10 bit mode, it is entirely I frame. It will shoot both 3840 4K as well as DCI4K 4096. In HD mode it can handle up to 240fps while in 4K QHFD 120p.
Sony FX6 Configurability
The top handle is removable and of course includes Sony's MI shoe for wireless mics or Sony's XLR-K3M module. And like even the FS7 MkII, it can handle 4 channels of audio when using the MI shoe plus the two XLR inputs on camera. A convenient and removable side handle also has a zoom rocker and basically what you always had on Sony side handles. But this also tells us that the camera will handle not only E mount still lenses or cine primes, it can also handle any of the Sony motorized lenses, including the 16-35 Cine zoom also being introduced today (keep reading to learn more).
It has 12g SDI, HDMI, TC and XLR connectivity and can output 16 bit RAW via SDI. We didn't need much guessing to figure that we'll see Atomos compatibility much as in RAW over HDMI from the a7s III or 12 bit RAW from SDI. Note that RAW output on this camera is only SDI.
Like the a7s III, it embeds gyroscopic metadata which can be read by Sony's Catalyst Browse and stabilized within this software. Note, though, that I have not had great luck with stabilization in Catalyst Browse since, for example, it will not read ProRes RAW or any of the H.265 encoded files. And stabilization is quite slow even on my 16 core 2019 MacPro with dual graphics cards. So better to stick with a gimbal or minor stabilization in post.
The screen is highly configurable allowing several mounting points on the handle as well as two mounting points on the camera itself should you not wish to shoot with the handle, such as tripod mounted or gimbal. The foldable sunshade helps in outdoor shooting but it certainly is not the brightest screen I've seen. There is no eye-level viewfinder.
It also incorporates electronic variable ND, a feature going all the way back to the FS7 Mk II and FS5 but with a little twist. FX6 also has an auto ND setting. Sony folks love to show off using the variable ND effectively as an iris to create deep or shallow DOF. I let them going through the demo because they like it so much but then had to say that I was doing that way back with my FS7 Mk II. But the auto variable ND is just another adjunct to its very trustworthy automatic mode.
And for WiFI, it has Sony Content Browser Mobile support.
It records to dual slots capable of SDXC or the new Sony CFExpress A cards, currently available in 80 and 160gb capacities.
Menu system
FX6 borrows the quick menu system from FX9 and incorporates touch screen controls as well as touch screen auto focus. I did not particularly care for adjusting controls on screen because of the relatively small size of the screen and the awkwardness of trying to control a small camera and adjust with a finger. Sometimes a larger camera actually gives more balance and as we all know, its inertia allows for stable hand-held shooting.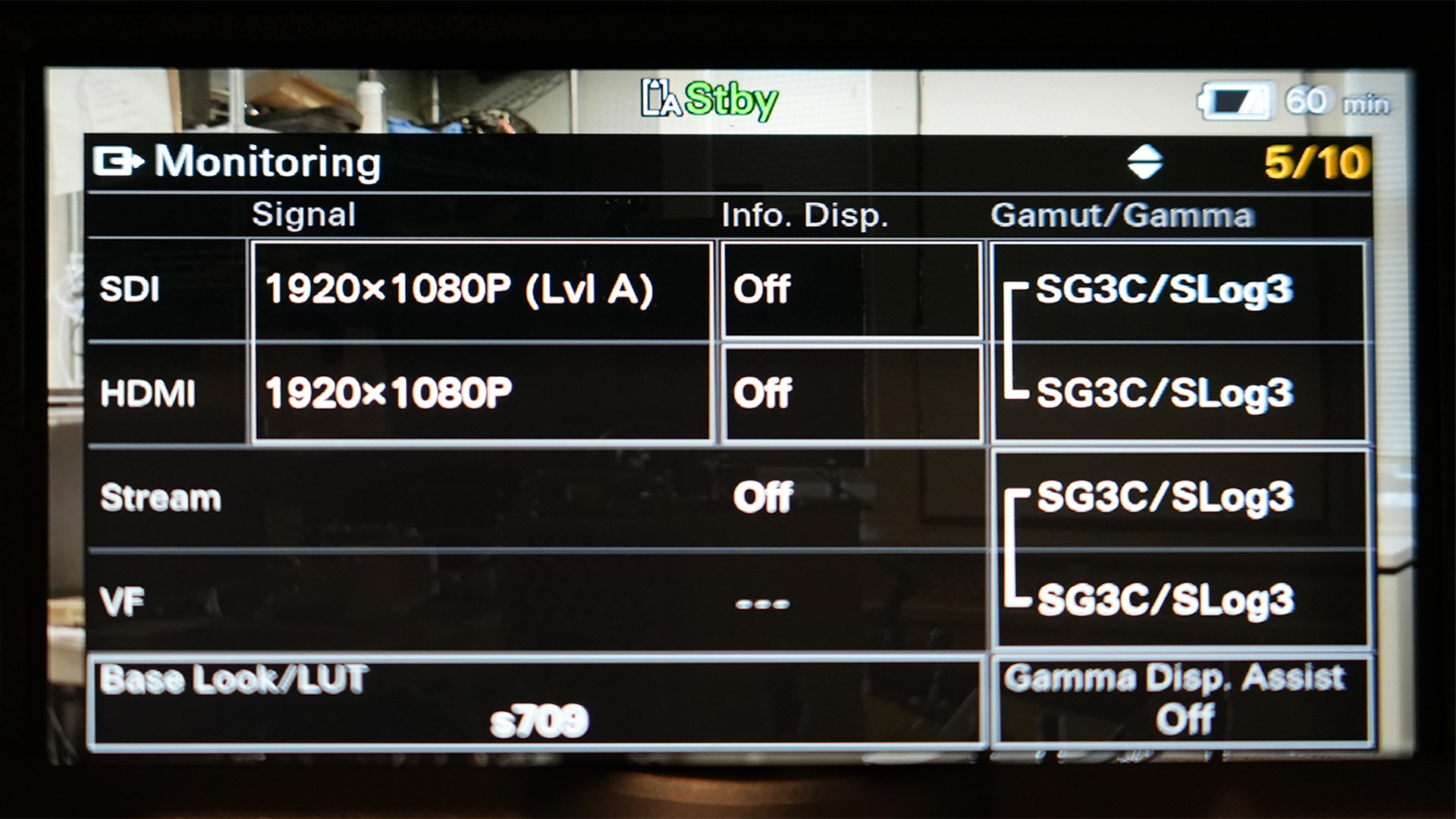 But Sony has been putting quite a bit of development into its menu system in recent alpha and video cameras and has been listening to users. The result here is a streamlined but powerful menu system.
I make it a point never to show footage from pre-production cameras but what I can say is that Sony isn't misleading when it touts negligible rolling shutter from its super-fast readout sensor.
Now for the important question—price. US retail will be US$5999 without lens and $7199 with the 24-105 f/4 Sony G lens. I own that 24-105 and have shot it from even before its release. Sharp, minimal breathing and smooth zooming mechanism. Pairing the FX6 with either of Sony's motorized zooms, the full-frame 28-135 or Super35 18-110 could be more awkward for handheld shots with such a long lens on a 6-inch camera. But the option is there.
The FX6 is a perfect camera for run-and-gun, documentary, wedding and events, highly mobile work, gimbals or lightweight cranes, budget-minded filmmakers who don't want to sacrifice quality and major productions needing cameras to match FX9 and Venice. It is jack of many trades and, considering the popularity of its FS5 predecessor, should be an attractive camera to this wide market segment. For individual shooters, it is price-accessible. For larger budget operations, it is price-performance effective.
But I suppose the highest recommendation I could give is that I would buy it without hesitation.
Oh, and one more thing—Sony is also releasing the long-promised FE C (for Cinema) 16-35 T3.1 G lens. It has a detachable motorized zoom and autofocus as accurate as a Sony still lens. Optical performance is expected to be that of the Sony G series still lenses. I did not have one to test but am hoping in the future to have the chance to try it out. It will sell for US$5500
The FX6 and the FE C 16-35 lens are expected to start shipping on December 15.
Tags: Production News