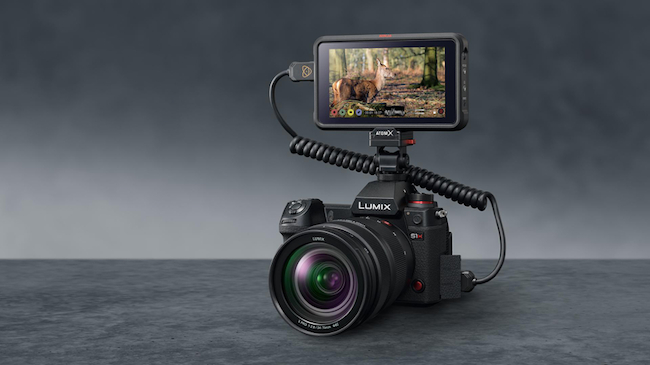 Panasonic S1H users have been waiting for this moment since the camera's launch. But now the long awaited ProRes RAW update has been given a release date. Read on to find out the full details.
Anybody who has glanced at an online forum covering the Panasonic S1H recently cannot help but notice that there is one question that comes up on an almost daily basis. When is the ProRes RAW update going to be released? Well, we now have the answer.
The date that owners need to put into their diaries is the 25th May 2020. So now we have the release date, what are the full details, and why has it taken so long?
Sending raw video data over HDMI is relatively new. Traditionally this was only performed over an SDI connection. It mustn't be forgotten how big a deal it was when Panasonic's EVA1 camcorder enabled 5.7K raw over SDI. HDMI on the other hand is an entirely different game. However recently it was proven that raw over HDMI is possible with the release of ProRes RAW firmware for the Nikon Z 6.
The S1H is now the most powerful hybrid camera on the market
Just like the S1H, the Z 6 took a while to have the function enabled. Also just like the Z 6, the ProRes RAW functionality of the S1H has been developed in conjunction with Atomos. But there is one quite sizable difference between the raw abilities of the Z 6 and that of the S1H.
The S1H is capable of a full 5.9K of resolution. That's quite a large ask of an HDMI feed into what is normally a 4K device, the Atomos Ninja V. So it is understandable that fully developing it to the point where it was reliable enough for release would take some time.
New abilities
Once installed, the new LUMIX S1H Firmware Version 2.0 offers the following 12-bit ProRes RAW resolutions.
5.9K (5888x3312) full-frame 16:9 at 29.97p/25p/23.98p frame rates.
4K (4128x2176) Super 35mm 17:9 at 59.94p/50p/29.97p/25p/23.98p frame rates.
3.5K (3536x2656) Super 35mm anamorphic 4:3 at 50p/29.97p/25p/23.98p frame rates.
The eagle-eyed amongst you may note the curious absence of integer 24p. Which seems a little odd given that the S1H can be used in a 24hz mode for cinema shooting, giving the option of using a true 24p frame rate. It does appear, at this point in time at least, that integer 24p ProRes RAW shooting is not available. Although this could perhaps change in the future.
Alongside the addition of ProRes RAW, the new update makes a number of bug fixes, as well as functionality changes. While there's quite a number of minor fixes, there are a few that stand out as being quite significant.
For example V-Log or Rec.709 is selectable on Live View monitor during RAW output. Shooting assist functions including WFM (Wave Form Monitor), Vector Scope, Luminance Spot Meter, Zebra Pattern can be also used during RAW output.
Further notable additions or changes include the ability to view down converted output over HDMI while using 6K, 5.9K and 5.4K video modes.
Noise reduction in the V-log mode has been expanded to -1, which is designed to suppress any issues of ghosting or after images that some users have been experiencing. Furthermore an issue with banding in 4:2:0/10-bit mode has been minimised as well.
Another important issue that has been cropping up is freezing while recording at 400Mbps on some SD cards. This issue has been investigated and apparently fixed with the new update.
For any user of the S1H, firm details, finally, for when they can get their hands on these new abilities will be a ray of sunshine during these times of lockdown.
Once the update is released, this is the link you'll need to get it.
Tags: Production