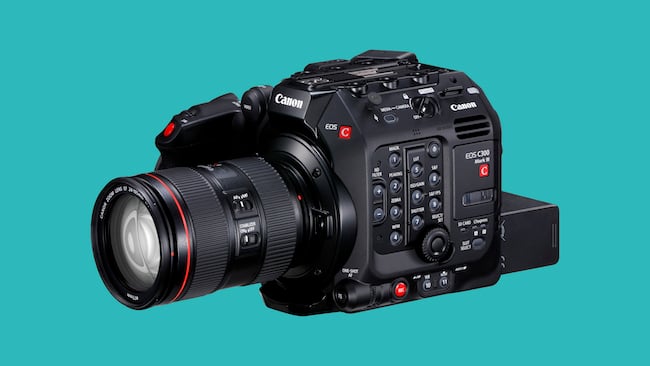 Today Canon expands its cinema camera production line with the announcement of the C300 Mark III. Here's our roundup of what's new.
C300 Mark III
The C300 Mark III is physically identical to the C500 Mark II except that it is based around a Super35 sensor. This sensor, however, is completely new and features what Canon calls DGO (Dual Gain Output) - dual photo diodes on each photosite. Essentially this technology enables different gain amplification on each photosite, expanding the dynamic range to 16+ stops with an emphasis placed on details into shadows.
It supports resolutions up to 4K, with HDR in both PQ and HLG modes. Recording is to CFExpress cards and you can opt for the very useful Canon RAW Lite internally (up to 120fps @ 4K) as well as both 4:2:2 10 bit XFAVC in both intra and long-GOP formats (up to 120fps @ 4K and 180fps @ 2K).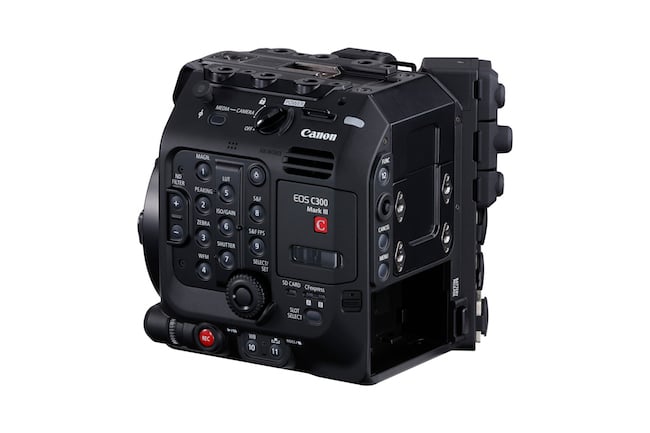 Like the C500 Mark II, the base camera itself weighs only 3.9 pounds, accepts the same extension back options and has 5 axis Electronic Image Stabilization which can be coupled with lens IS. A user-changeable EF to PL mount with shim kit will also be available.
Both cameras have electronic defraction correction which actually restores texture rather than just applying sharpening. New autofocus algorithms in the Dual Pixel Autofocus system simulate the speed of autofocus that could be achieved by an AC/focus puller. Canon also stressed that there is now close co-ordination between still and cinema camera teams for seemless use of both cinema and DSLR/mirrorless cameras in same production.
The C300 Mark III should be available later this year with estimated pricing around $11,000.
Cine-Servo 25-250mm Lens
This lens joins the Cine-Servo 17-20 and the 20x 50-1000 cinema lens line up and is a welcome addition. This has always been a very popular focal range in film production and should find tremendous adoption by cinematographers.
Weighing only 6.7 pounds, the lens is rated T/2.95-3.95 with ramping only beginning after 187mm. While a Super35 lens, the addition of a 1.5x extender actually gives the lens full frame coverage while reducing T stop to T/4.4-5.9.
This new addition will be available later in 2020 with an estimated price of $30,000
EOS R5 Teaser
Canon is teasing us with additional goodies about the forthcoming mirrorless EOS R5 camera.
We have already been told to expect a CMOS 8K full frame sensor and now we're told that for the first time it will have IBIS (in body image stabilization) which will work in conjunction with lens stabilization.
It will record 8K RAW video up to 30p at a 4:2:2 bit depth to an H.265 codec and inlcude a dual pixel CMOS sensor that supports both HLG and PQ HDR modes. Enhanced autofocus will include both human and animal detection.
At 4K recording, the EOS R5 will support up to 120fps full frame. It will also inlcude 1 CFExpress slot and 1 SDXC slot.
We can expect some periodic morsels from Canon as development progresses and we'll bring you that information as soon as it's available, but for the time being there are no expected ship dates or pricing.
Analysis
Just by specs alone, Canon has nailed it. The C300 series has been a darling of unscripted TV and has excelled, in among other things, with its autofocus capabilities which made it highly suitable in a fast paced shoot. The introduction of the C500 Mark II brought full frame to higher end productions in an easily manageable form factor. The C300 Mark III with its light weight gives the option of handheld or even drone support while offering extensive in camera options and output to external recording devices with a more "kitted out" rig for live events or scripted productions.
I remember some great 25-250 cinema lenses from Cooke and Angenieux. Now Canon offers the digital world this very practical focal length and lighter weight with optics and features to support digital acquisition.
Oh… and put me on the wait list for the EOS R5.
Tags: Production