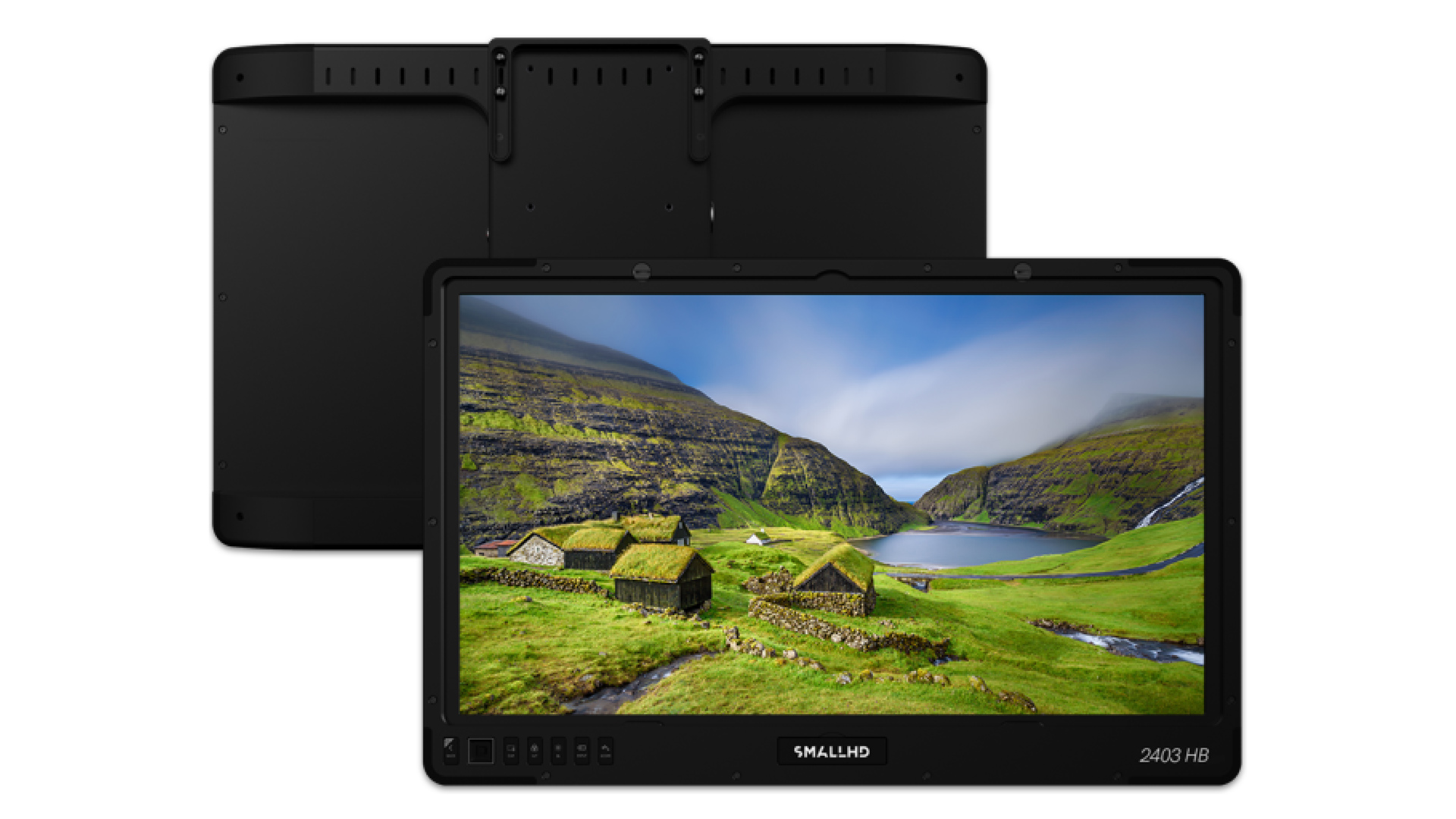 SmallHD has made a name for itself with its rugged and quality production monitors. It offers a variety of monitor options, from the very affordable FOCUS HDMI and SDI ($299), to its upcoming 4K HDR field monitors. And now the company has announced what it's saying is the world's brightest 24-inch production monitor, the SmallHD 2403 High Bright.
The SmallHD 2403HB, 24-inch field monitor really is bright at 1600 Nits, and is daylight viewable, even in the noon sun, while maintaining a quality image. Manufactured with a milled aluminum housing and weighing 13.9 pounds, the 2403 HB is portable and ideal for both indoor and outdoor use. The images on the monitor should hold up just fine when filming outside, regardless of the time of day, plus there's a wide viewing angle. The price is lower than its predecessor, at $2999.
There are plenty of pro-level ports to access, including 2x 3G-SDI inputs, 2x 3G-SDI outputs, HDMI I/O port, a stereo headphone jack, and power (XLR input and 2-pin locking output, both 12 Volts).
SmallHD runs the 2403HB on its OS3 software, which features a fast interface, and tools like Exposure Assist, Waveform, Dual View, customizable IRE ranges, 3D LUT overlays, and much more. OS3 really gives cinematographers the power to not only fine tune the monitor, but the kind of tools to assist in achieving the camera shots they and the director want.
SmallHD 2403 High Bright Monitor Specs
• 24-inch IPS LCD
• 1600 Nits Bright
• 1920 x 1080 Resolution
• Rec 709
• Wide Viewing Angle
• Daylight Viewable
• Exposure Assist
• OS3 Software
• 13.9 Pounds
• Portable
• I/O Ports:
• 2x 3G-SDI Inputs
• 2x 3G-SDI Outputs
• HDMI I/O
• Headphone Jack (Stereo)
Conclusion
Filmmakers and cinematographers want brighter monitors with more options to help achieve the looks they want, and SmallHD has been delivering it for some time now. With the 2403 High Bright, you're getting a 24-inch monitor that gives the tools and brightness - at 1600 Nits - that they need to work in any conditions, outdoors or indoors. It will retail for $2,999 USD, which is less than previous versions, plus it is lighter, tougher and more portable. This is a production monitor to take a closer look at.
The SmallHD 2403 High Bright will be available to purchase soon, so check out its site for more details.