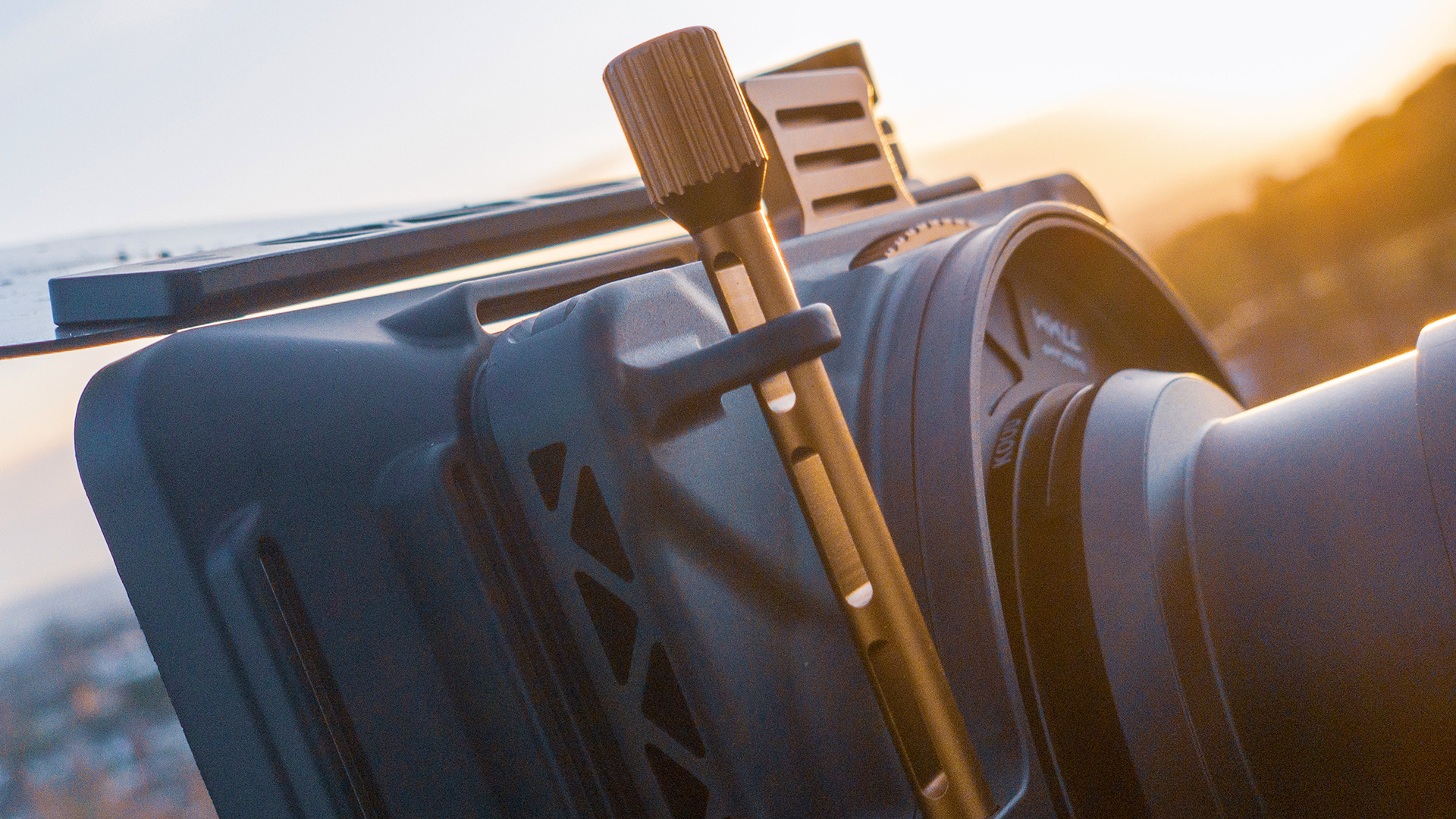 Review: Can a new matte box offer anything different to the competiton? PolarPro's BaseCamp system is designed for active camera people. Read on to find out what's different about it.
The humble matte box. It's one of those camera accessories that some people think is just an exercise in making your camera look coo and if you use one without ever purchasing any filters for it you may get laughed at extensively by 'real' DPs.
But the matte box has more use than adding filters to change the look of the picture. It also plays an important part in helping to reduce unwanted light flares. You wouldn't know it from today's YouTubers, but light flares were once seen as undesirable!
One thing that the matte box has been short of though, is innovation. It's pretty hard to come up with a new design that offers anything different from the crowd. Decent, high end matte boxes are serious bits of kit with multiple filter stages that can often be expanded to hold more, and often feature 'swing away' designs so that they can be removed and glass can be changed without having to remove the matte box itself from the physical camera rig. Oh, and they're expensive.
The people at PolarPro have quite clearly been thinking about how a matte box can be made to suit the more active shooter, who may often be using a lightweight hybrid/mirrorless rig. And what they came up with is the BaseCamp system.
Great packaging is a hallmark of PolarPro, and the BaseCamp VND kit continues that tradition.
What's special about it?
BaseCamp offers some key features that makes it suitable for shooting on the move. For a start it is claimed it is the world's lightest matte box. I have no way to qualify this, however the core system, including filters, weighs around 298g. In other words light enough to be used on a drone or a gimbal. In its full configuration with the hood stage, carbon fibre flag and adaptor rings weighed in at 478g on my scales.
The second is that it's designed to be easily removable and quickly swapped between lenses and/or cameras. The design of BaseCamp lets it attach to different cameras either by way of a pre-mounted screw on lens ring, a clamp ring (for cinema lenses) and also a rails system.
Lastly, and this one really sets it apart, it's the only matte box I know of that has been natively designed to take a variable ND system (VND). For fast shooting with hybrid cameras VND is often essential. But a big problem with them is that you can't really screw on a VND to your lens and then use a matte box. BaseCamp completely changes this by building in the capability into the system.
Open the box, what's inside?
As per all other PolarPro products, BaseCamp comes in a beautiful box. The company puts a lot of effort into this, and it shows. The system I was supplied with is the VND kit. What surprised me the most when I opened it up was that this wasn't just a matte box with a VND filter. There's a lot more besides.
The list of contents includes
The BaseCamp Core (the matte box itself)
Carbon fibre top flag
A really nice padded storage case
Six lens clamps (80, 87, 95, 100, 104, 110mm)
77mm thread on adaptor
82mm thread on adaptor
Circular polariser
Aluminium frames square VND filter
Two lens cloths
The BaseCamp Core
The square VND filter. This works in conjunction with the separate circular polariser.
Quality and operation
The BaseCamp matte box is very nicely finished in a high quality feeling plastic for the main body. While it is very light, it is also reassuringly sturdy. The back of the box has a circular recess where the circular polariser goes. This is important because without it the VND cannot function. Putting this into place without getting fingerprints on it would be tricky, so I used the supplied lens cloth to put it into place. Once it's in a spring loaded tab keeps it there. If you aren't using the VND functionality PolarPro also be making other circular filters that can use this slot, such as diffusion.
Once that's in you can put the VND filter into the square slot, which is where other alternative filters can go as well. The VND filter is well thought out with a protective aluminium frame, and a tab at the top for holding it with. This slides into the system easily, and you can lock it into place with a rotating knob on the right hand side. Alternatively you can purchase PolarPro's range of set ND filters that range from ND2 all the way through to ND256. The VND filter that was supplied ranges from 2-5 stops. If you need more there's also a 6-9 variation to cut even more light.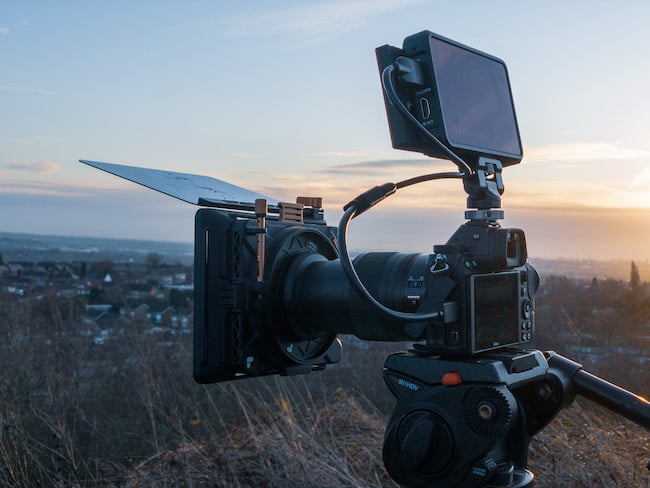 In the configuration I used, the first thing that needed to be done was to screw the thread on adaptor to the lens. If you have multiple lenses you will be using the matte box with you might want to purchase more of these so you can swap it over more quickly. Although bear in mind that your lens cap might not fit onto the lens when it is attached. This could be solved by purchasing one of PolarPro's own Defender lens protectors in the 114mm specification. This will mean that the lenses take up more room in your bag, but it will make swapping over the matte box much faster.
In use
The BaseCamp system is a professional looking bit of kit when its all mounted onto the camera. The front unit that has the light flag attached to it can quickly be unclipped if you only need the filter stage, making the system lighter and more compact. This is an option if it is windy and/or you don't need to prevent flaring.
The VND system works well, and is, as you'd predict, very useful when used with a hybrid camera. The only gripe I have with it is that the rotation can be a little too stiff, which makes it a bit more tricky to adjust if it's cold and you're wearing gloves. I think if there was any future variation I would make more of the rotation wheel exposed so that it is a bit easier to get a purchase on it.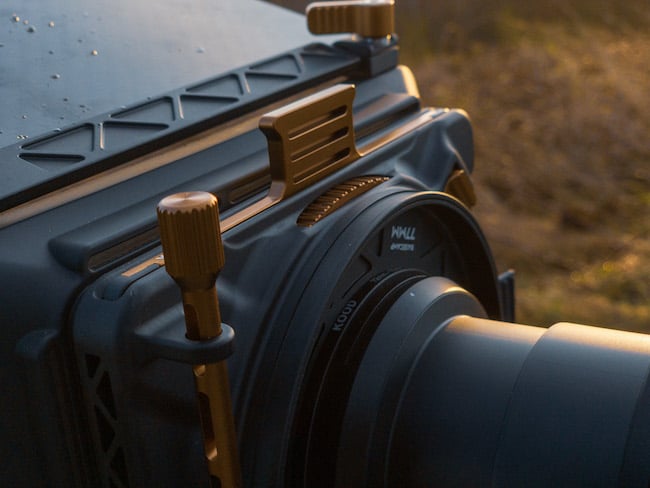 The rotary dial for the VND operation could be a bit more exposed to make operating slightly easier due to its stiffness.
That said, it does the job effectively, and does a great job of cutting down the light with, as far as I can tell, zero vignetting or other nasty effects.
Conclusions
BaseCamp doesn't have a swing away function. But to complain about that sort of misses the point that this is a very light system that has been designed to be clipped onto lenses. As such it is very quick and easy to move between glass. The clip on system makes it particularly useful with hybrid cameras that are using stills lenses that extend when the focal length is changed, something that's a bit of a limitation with traditional rails mounted systems.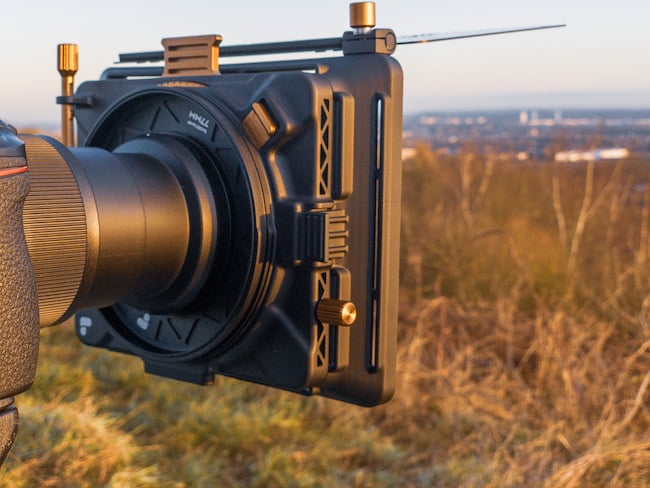 The clip on system means that BaseCamp works nicely with lightweight extending style stills glass.
The VND kit used in this review costs $699.99 straight from PolarPro. This might sound like a lot of money initially, but you can very easily spend a very similar amount of money on other makes of matte box just for the base matte box alone. Therefore BaseCamp represents incredible value for the money. If you want to make your own system up, custom kits are available.
Matte boxes aren't for everyone. Some will still prefer to use screw on filters. But once a system of slot in filters has been built up, a matte box such as this becomes incredibly versatile and quicker to work with than traditional screw in types, and it is a very high quality system. And, yes, it makes your camera look cool as well.