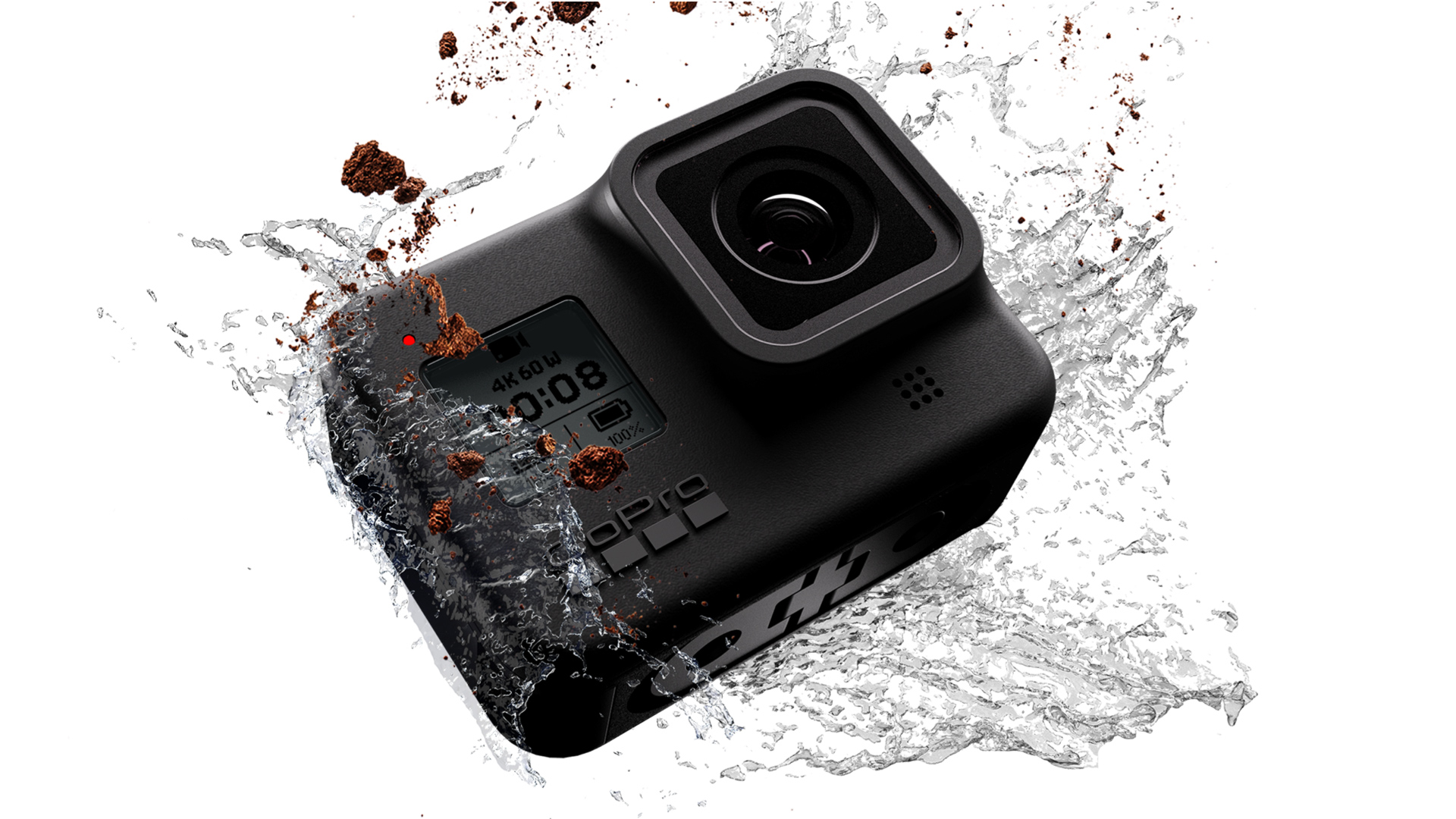 Just got yourself an action camera for Christmas? Here's a few ideas for some slightly lesser known accessories for it.
One of the beauties of GoPro cameras is that the mount has all but become a standard, with pretty much all action cameras, bar a few exceptions, using a compatible way of mounting the device. This means that there are an absolutely massive amount of accessories available out there, and many of them work across different makes and models. With Christmas here, and likely lots of action cameras being purchased, here's a few neat mounts and other accessories that you will find incredibly useful when using these tiny cameras. And as any action camera owner will tell you, the first rule of action cameras is that youi can never have too many mounts and accessories!
PolarPro StrapMount
PolarPro's StrapMount is a versatile mount that is designed, as its name suggests, to be mounted onto straps. This could be a backpack shoulder strap, or a buoyancy aid strap.
It works by clamping the two halves of the mount together with thumbscrews while the strap passes through it. It's pretty easy and quick to put on or to take off, and it is flexible, too, since it can be mounted both horizontally or vertically depending on the direction of the strap it is being mounted to.
The part that the GoPro or action camera fixes onto can be removed with a quick release leaver. This means that if you have mounted the accessory in a vertical orientation, the actual camera mount can be reoriented so that the camera can still record horizontal video.
This mount works best with the newer generation of action cameras with extremely good stabilisation systems, and/or a nice, taught strap that it is being mounted to.
GoPro Magnetic Swivel Clip
GoPro's own Magnetic Swivel Clip serves a similar function to PolarPro's StrapMount, except that it fixes to the strap by clipping onto it. This gives it the advantage of being able to be more quickly released and relocated, and the swivel mount means that the camera can be fine tuned to horizontal if the mount isn't quite level.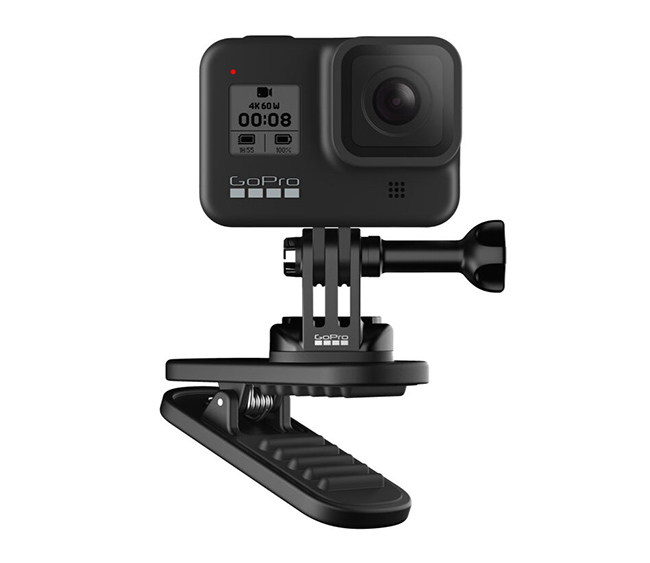 In high vibration, big movement scenarios the PolarPro mount will stay firmly attached, but GoPro's mount makes for a good option for slower paced situations. It can also perhaps be mounted to thicker, and wider straps and other parts of clothing.
GoPro Tripod Mount
A tripod adaptor is one of the best accessories you can purchase for an action camera. It means that you can not only mount a GoPro to a 'proper' tripod for ultra stable time lapses, but it can also attach to flexible tripods such as the JOBY Gorillapod. I've got a few of these adaptors permanently fixed to certain accessories.
X Clear Nano Suction Mount
The X Clear Nano Suction Mount is perhaps the simplest, and yet unique GoPro mounts that I have seen. It is credit card sized, and so it fits into your wallet or pocket very easily, which is always a bonus as it means it is a mount you can take with you anywhere. The premise behind it is simple. It attaches to the rear screen of your GoPro, and then you can mount the camera to any smooth surface simply by sticking the camera onto it.
Now, at first glance you might think that a reusable sticky mount is a silly idea. After all, it would loose stickiness after the first few times of using it, wouldn't it? Actually no. The Nano Suction mount is exactly that. A suction mount.
It works by having its surface covered with millions of microscopic suction cups, so it will keep on working day-in-day-out. If it gets dirty it can be cleaned easily by rinsing it with water.
Uses for it could include mounting it to car windows, ceilings, walls etc. You don't have any control over the angle of the camera, but in the right situation it will let you unobtrusively mount it in places you might not otherwise be able to.
Anker PowerCore series
The Anker PowerCore 20100 (20,100mAh) has uses above and beyond action cameras. For example it can power a Panasonic S1 for a few hours without any trouble at all. It can charge two phones or USB devices simultaneously. All of which makes it ideal to power your action camera with, should you need some extended recording time well away from mains power. For example nighttime time lapses in remote locations.
The device has 4.8A output and surge protection. Anker rate the product as being able to charge an iPhone 7 seven times, or an iPad mini 4 twice. From my experience it makes a great companion to both the S1 and S1H cameras as an external power source. At $49.99 it is extremely well priced too.
Additionally Anker has just released the PowerCore Essential 20000 PD at $53.99. This is rated at five and a half charges for the iPhone XS, nearly five charges for a Galaxy S10, and over two and a half charges for the iPad Mini 5. The PowerCore Essential is also able to deliver a full 18W for high speed charging of compatible phones (Power IQ 2.0 and PD). The GoPro can also utilise this ability for the first 50% of power charging, too. Importantly, unlike the 20100 or the previous PowerCore Essential 20000, the Essential PD has a USB-C port built in as opposed to just USB-A.
Both PowerCore systems have a useful LED power indicator too, and when you run out of power the single remaining light will flash.
GoPole FlexBase
The GoPole FlexBase is a flexible tripod that can be moulded to mount to any type of surface you care to think about. The premise is similar to the well know Gorilla Pods, but the FlexBase is, well, more flexible. Other makes and versions of the same thing are available and they all work the same. Each tripod leg can be contorted into all sorts of positions.
You could, for example, wrap the legs around a tree branch, or through a fence lattice, or a pole. It can pretty much be mounted onto anything and is one of the most adaptable mini-tripods that I've come across. It's also strong enough to cope with the weight of some mirrorless cameras as well. With the feet together it can be used as a short pole.
There are many more weird and wonderful accessories out there, but if you've just got one of these mini-marvels for Christmas I hope this will give you a few ideas if you aren't already an action camera enthusiast.