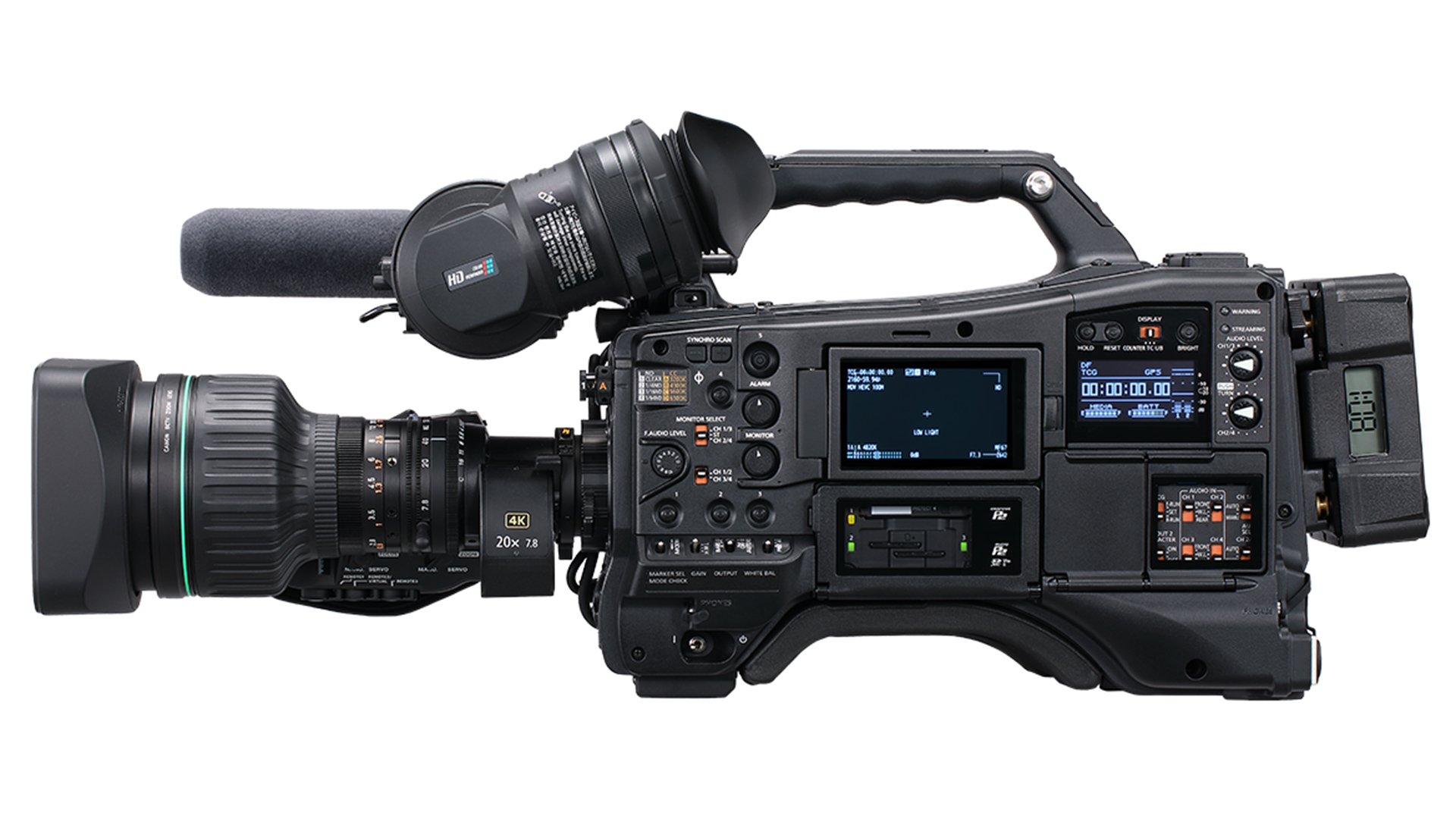 Panasonic's new 4K AJ-CX4000 shows us that there's still life in the traditional ENG camera yet.
There was once a time when a new ENG/EFP camera release was big news. There was a reason for this. Not only were these types of cameras used by news crews across the world, but they were also used extensively for corporate and industrial production too, meaning that their reach was far and wide. Palmcorders were what you used if you were on a very tight budget.
But we don't generally tend to hear much about developments in the ENG camera realm these days. 'Cinema' style cameras, mirrorless cameras, and very high performance smaller camcorders are now doing a lot of the work traditionally employed by the venerable ENG device. It's quite a sizeable investment to pay for an ENG camera, plus all the heavier tripod gear, battery systems, and B4 lenses for the average small video production outfit.
But for broadcasters or high level production crews where fast, yet high quality, field production is still required, there is possibly no other camera design around that is as fast to work with, or as robust as a broadcast zoom equipped ENG machine. And this is where the $25,000 Panasonic AJ-CX4000 comes in.
The AJ-CX4000 is designed to follow on from the AG-CX350 as an addition to the CX range, but it also shares some notable features with the AK-UC4000 studio camera.
Like the AK-UC4000 the AJ-CX4000 has a 4.4K 1MOS sensor. No specifics have been given, but we would assume that this is either the same sensor, or one very similar, because the new camcorder also employs internal optics to allow 2/3" style B4 lenses to be attached. Why would this be required? Well, the AK-UC4000 actually has a S35 sized sensor, and the internal optics convert the projected light from the B4 lens to cover the larger sensor area. This avoids having to cram such a large number of pixels onto a small area.
As is normal these days, the CX4000 can record to HLG for direct HDR output, which is assisted by functions such as an DSR monitoring gamma option, HDR/SDR parallel output, and a VF/LCD HDR/SDR selector, and eight-mode gamma selection.
Recording formats
All this is recorded to an internal HEVC type codec with 10-bit colour precision. It also supports the MXF P2 file format, which uses either AVC-Intra or AVC-Long GOP HD recording. Users can choose between recording to expressP2, micro P2, or SDXC memory card types.
Four channel 24-bit/48kHz audio recording is catered for, wit the audio source for each channel being selectable. The camera also feature a NDI|HX mode, allowing video transmission and camera control via IP connection, without the need for an external converter. The camera can be connected to the AV-HLC100 Live Production Centre and HN/UN series PTZ integrated cameras for end-to-end live video production and streaming.
12G-SDI output provides up to 60p UHD 10-bit 4:2:2 video. Other ports include HDMI out, TC in/out, Genlock In, USB3.0 (Device), and USB2.0 (HOST, wireless module). It can also be controlled remotely using a tablet/smartphone app on either iOS or Android.
Lastly, the camera features both a 3/5" colour LCD touch screen for monitoring and interface control, as well as a 2.4" black and white organic EL display for status information.
The AJ-CX4000 will be available at the end of December.
Cameras such as the AJ-CX4000 show that the ENG camera is far from gone, even if it is sometimes forgotten!
Tags: Production