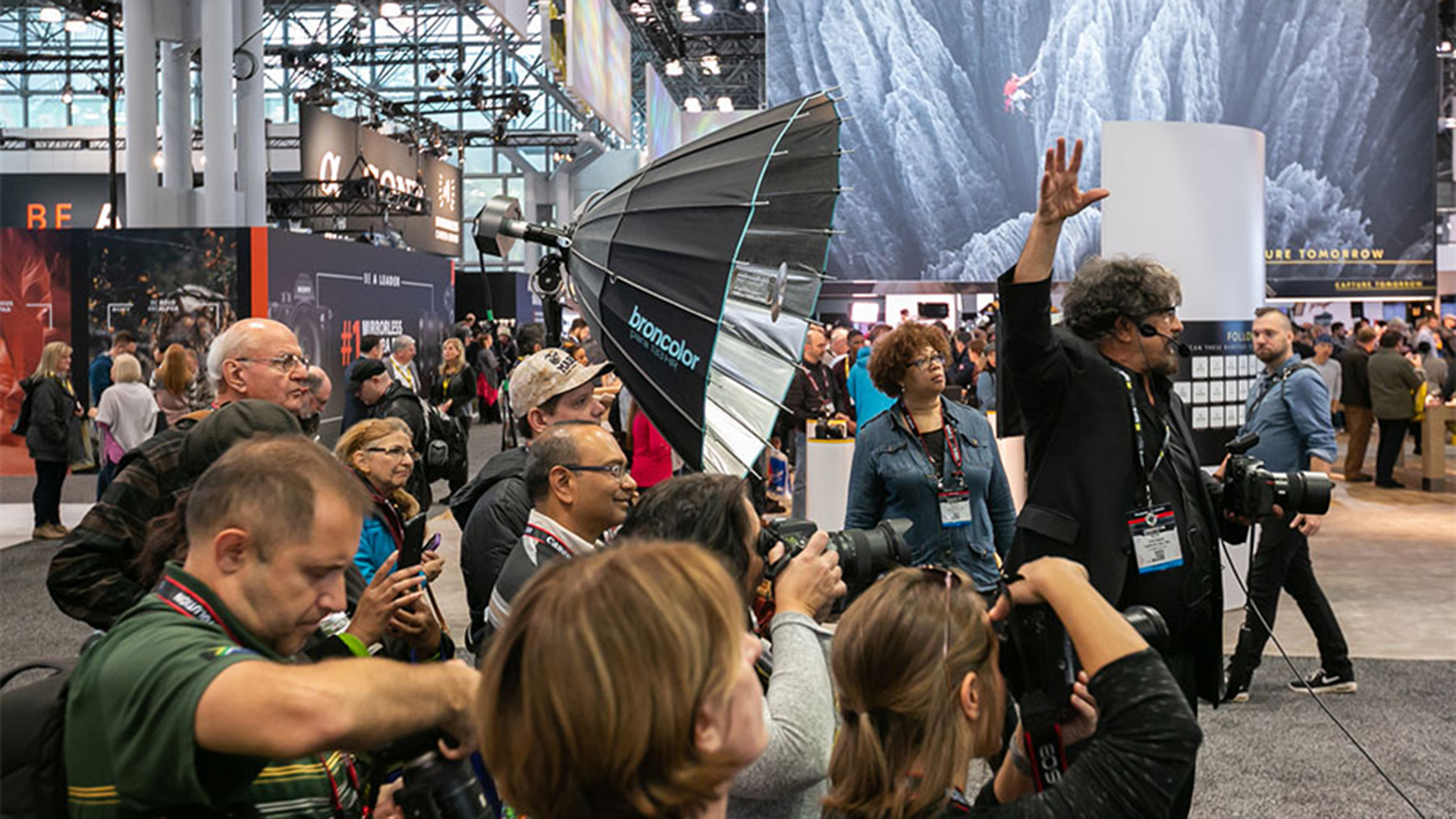 New York's annual PhotoPlus Expo has concluded with announcements and demos of the latest photo gear. Yet, with the increasing convergence of the still and video worlds, there are a number of innovations in the video world to merit our attention.
The show itself—well, let's say that it reflects the continued decline of the trade show as we knew it. Long-time show attendees can recall when even in recent years exhibitors occupied multiple halls of the Javits Convention Center. This year, booths covered only about three quarters of one hall. And at least in the two days I attended, crowds seemed a bit sparce as well. While we will await final attendance numbers from show management, the ebbing of trade shows can be attributed in part at least to cost. I've heard vendors who choose not to be named speak of high booth costs (a small booth could cost $20,000), high labor costs, the rise of the internet blogger/influencer to demo products and perhaps a general economic uncertainty in many industry quarters.
The most innovative use of the expo timeslot, though, was not on the show floor. Sony chose to forgo its usually-large booth in favor of offsite Sony Creative Space. Sony secured a facility two blocks from Javits and let out all the stops. There was a presentation stage with hourly mostly-photo related lectures and demos, multiple set ups with models and scenes to test various Sony still and video cameras, Sony experts galore ranging from senior management to product specialists, and authorized vendors very happy to sell you the latest Sony gear. Then there were several daily photowalks around photogenic (and videogenic) neighborhoods of New York. Additionally Sony partnered with B&H Photo Video and Abel Cine for photo and video centric evening events.
Video exhibits featured the new full-frame FX9 camera as well as the Venice. Again, video product specialists were present to demo.
The quietly-announced A9 II made its debut as well as the A7r IV, now shipping in quantity. I've been testing the A7r IV for the past two weeks and can certainly see an improvement in video quality over the A7r III owing to the faster focusing ability and new sensor.
Perhaps Sony's idea might be the trade show of the future—vendors securing space which they themselves are able to control with smaller vendors cooperating to share space.
But now to a few video highlights of the show itself, in no particular order.
Panasonic
We've covered Panasonic's new full-frame video entry, the S1H in some depth with our correspondent Phil Rhodes making the trek to LA for the roll-out. Panasonic announced that Netflix has qualified the S1H for A-Cam acquisition. This is no small accomplishment as it makes the S1H the first camera in its class to achieve A-camera qualification.
Canon
Canon has affirmed its commitment to both mirrorless and traditional mirrored-DSLR style cameras in the introduction of the 1DX Mark III. Again, we've covered the announcement [perhaps link to the article] but it is significant for video users. Autofocus is vastly improved and its strong internal 10-bit 4:2:2 codec with C-Log puts it ahead of those manufacturers who still only offer 8-bit internal recording.
Canon R and RP mirrorless cameras will see two new fast lenses—the RF 70-200 f/2.8 and RF 85 f/1.2. The RF 70-200 zoom is the smallest zoom lens in its focal range.
Sigma
Sigma showed its palm-sized full frame FP camera which represents a real break with the mold of traditional cameras. Not only is it the smallest full-frame camera, it incorporates a number of other features. A "Teal and Orange" color mode creates a large contrast range between orange shades (skin tones) and teals (cyan and blue) which enhances skin tones. It works in both cine and still modes.
Fill Light adds "extra light energy" to shadow regions of an image emulating the use of a physical fill light.
HDR stills are available now and in future firmware updates it will be enabled in video mode.
It currently shoots internal I-frame video up to UHD/24p and in a future update will support CinemaDNG 12 bit RAW.
The Director's Videfinder function emulates popular cameras from Arri, Sony (Venice), and Red and in a future update will be able to record that visualization.
Switching between still and video mode is handled by a toggle atop the camera body.
The FP uses L-Mount lenses, developed by a consortium of Panasonic, Leica and Sigma.
It is a camera to watch and honestly one I wish I could own.
Lume Cube
Let's just switch to lighting for a minute.
Lume Cube showed its new Lume Cube 2.0 and I picked one up for a future review. It can now run up to 1.5 hours at full power with its 80-degree beam angle. Lume Cube advertises a CRI of 96+ and comes with a revised remote app which can even unlock a hidden "low light" mode. The Lume Cube is only a fixed 5600K color temperature (both original and 2.0 versions) but 2.0 now includes both the diffusion as well color correction magnetic filters. For $89, it's worth having a few of these in the kit.
The $150 Lume Cube Panel, though, is THE product to own. I bought one the day they started shipping in late summer and have constantly used it.
It can output up to 1600 lux and even at full power (which you would rarely want to use) it can run 90 minutes. Take it down to 5% brightness and you're talking over 7 hours. It is adjustable in brightness increments between 5-100% and color temp between 3200-5600K. And it has both micro USB and USB C ports since none of us ever seems to have the right cable.
Litra
Litra is broadening its reach with the introduction of the $219 Litra Pro. While still compact and able to sit atop a mirrorless/DSLR camera, it is the first full-spectrum bi-color light in this class with a battery life of 45 minutes full power and up to 10 hours lowest brightness. Full spectrum means no green spike. And it's waterproof to 90 feet.
The Litra Studio is a whole new product range for Litra. Studio is a fully portable and camera mountable RGBWW light capable of producing up to a million colors and via its app, add gels, presets, and effects. At $650 it rivals more expensive competitors.
So, even a show with fewer exhibitors can nonetheless offer opportunities to introduce new products and see them first hand.
I for one still enjoy the trade show. There is no substitute for human contact with vendors and publicity folks and just something about actually holding a product rather than watching an influencer tout it. But that's a topic for a different time…