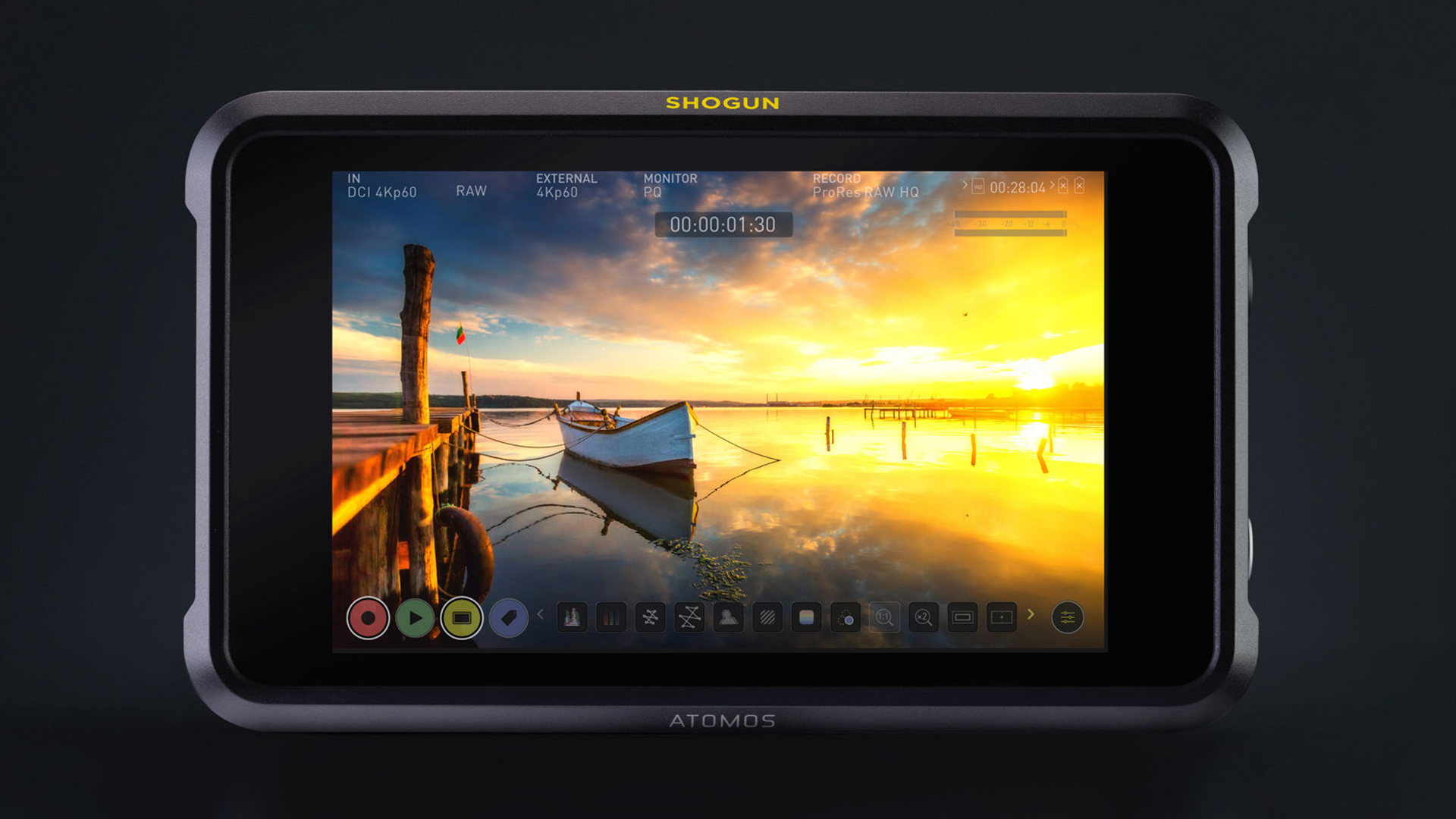 Replay Review: The Shogun 7 from Atomos is one of the first products from the company to use its Dynamic AtomHDR zoned backlight IPS LCD technology. It's definitely a mouthful to say, but what's it like to use for real?
The Atomos Shogun 7 is one of the company's flagship products, and one of the first to offer what can be considered to be a true HDR display. While previous models offered high brightness levels, this was not the same as displaying true HDR. The Shogun 7 has changed this. A new 360 zone backlight allows for true blacks to be displayed, while the company claims it is capable of displaying a full 15+ stops of real dynamic range. They are some bold claims, so let's take a closer look to see what it's like to use in practice.
The neatly packaged Shogun 7 box. Don't forget to order batteries!
Open the box
The Shogun 7 comes packaged neatly in a lockable solid foam case. It comes with the monitor unit itself, an AC adaptor, and a 2.5" SSD/HDD caddy. There are cutouts for the required NP-F style batteries, but you will need to purchase these separately.
Take the Shogun 7 out of the box, and superficially it looks pretty much identical to the Shogun Inferno. Connectivity comes in the form of separate full size HDMI in/out sockets, Quad Link 4 x 3G/6G SDI (coming in a future firmware), 4 x 3G-SDI, 2 x 12G single link SDI. It also has the ability to output up to 12G SDI over 2 ports. You cannot use all of these at once, and some ports do double duties, so physically there are five BNC sockets to use, plus Sync.
The unit will cater for up to eight channels of audio over HDMI, and twelve over SDI at 48KHz 24-bit resolution. There is also a two-channel XLR in/out socket, although you will need a separately available adaptor to take advantage of this. Lastly there's a 3.5mm headphone out.
The build quality is excellent, as you'd expect from Atomos. Weight wise it is pretty much the same as the Inferno at 709g without batteries and media, although interestingly the precise spec of the Shogun 7's screen is a 7.2" versus a 7.1" screen on the Inferno although both are rated at 325PPI pixel density. The physical resolution of the Shogun 7 is also 1920 x 1080.
Pin sharp, beautifully detailed, and very viewable outside
Switch it on
Turn the Shogun 7 on and the immediate difference between it and the Shogun Inferno is that the 7 uses the latest version of the AtomOS 10 operating system (the Inferno uses version 9). This simplifies the user interface a lot, and makes most functionality much faster to access. If you own or have used the Ninja V you will be familiar with this system. It's less confusing than the version 9 system and faster to set up as well.
The Shogun 7 will auto-recognise a lot of input types. For example it will take the HLG output straight from a Panasonic S1 and display a true HLG HDR output. Depending on your camera it will also account for any log style input as well by setting it to one of the available presets, and you can configure it with any 3D LUT you want to upload to it. At present the Shogun 7 will cater for the specific outputs of everything from Sony SLog, Panasonic V-log, Nikon N-log, RED LogFilm and a whole lot more besides, as well as camera specific colour gamuts.
Just like other monitors in the Atomos range, the Shogun 7 will record to ProRes, ProRes RAW (with cameras that support it), DNxHR/DNxHD, and CinemaDNG formats. There's also a record pre-roll available so you don't miss a shot, allowing up to eight seconds in HD and four seconds for 4K modes.
All the usual assistive functions are present, and easy to access, such as false colour, peaking, waveform, parade, vectorscope etc. These can all be shown miniaturised in the corner of the display, or enlarged to fill most of it for more accurate use.
The side of the Atomos Shogun 7 showing the XLR mic audio input
Picture quality and HDR
The difference between the Shogun 7 and the older Inferno is pretty marked when you view the two side-by-side. Taking the HLG output from a Panasonic S1 for instance shows the differences instantly. Both units can take an HLG signal, and both have great colour, although the 7 is capable of showing 105% of DCI P3. However the dynamic range capabilities of the Shogun 7 are instantly noticeable with the deepness of the shadow areas and blacks making the same areas on Inferno look grey and washed out by comparison. This isn't to say that the Inferno is rubbish by any respect. It's an exceptional display. But the new display technology in the Shogun 7 is very clearly a step change forward, and this shows in the specs, with the Inferno capable of displaying around 10 stops of realtime DR compared with 15 stops for the Shogun 7.
The result is that, assuming you have ideal viewing conditions (an important consideration), the Shogun 7 really does allow you to view the full DR capability of your camera. Outside in bright sunshine the Shogun 7 is still very viewable due to its sheer brightness, although you will want to use some sort of quality shading in order to utilise its HDR monitoring abilities properly. That's the trouble with HDR, your viewing conditions are more important than ever before.
However the differences are such that once you have seen the abilities of the new display, you can't unsee them, and it is difficult to go back to using the older model. And so I can say unequivocally that the Shogun 7 is a big upgrade on previous displays. It's simply beautiful to use.
When you add in multi-camera monitoring and switching over SDI for up to four cameras, as well as the ability to throughput to Dolby Vision capable displays in realtime, and it is clear to see the Shogun 7 as a powerful multi-function tool, rather than just a simple on-camera monitor. True, a 7" display won't be for everyone. For portability, if you want to be fast and light and don't mind foregoing the additional HDR capabilities you might prefer the Shinobi or Ninja V.
At $1499 the Shogun 7 is much more pricey than the Inferno, which you would expect given the added capabilities over its stablemate. But with pretty much all cameras now capable of recording HDR footage, and given the additional switching features, I am inclined to suggest that if you can squeeze to that extra cost, the Shogun 7 will be worth every penny. But don't forget to factor in batteries and recording media as well, which can push that cost of ownership up. But if you want a really high quality 7" monitor, you won't be disappointed with this one.
Tags: Production