Review: The URSA Mini Pro 4.6K G2 is the latest in Blackmagic Design's successful and popular URSA series. If there was one model in Blackmagic's catalogue that shows just how far it has come on with mature camera design, the URSA is it. Does the latest generation of the camera hit the mark?
First released as, shall we say, a rather big and heavy camera, Blackmagic quickly released a 'Mini' variation of the URSA. Not surprisingly the first URSA was dropped eventually and the URSA Mini became the flagship in the company's camera range. Consider this for a moment. The first URSA was released in 2014. It seems like an age ago, but that was only 5 years ago. Fast forward to today and the Ursa Mini is now available in Broadcast form with a B4 mount, and now in what Blackmagic calls the "G2" variation.
Design
The $5995 URSA Mini Pro 4.6K G2 continues the trend for having a name in all caps (a note to company reps reading this, can we please stop this habit?), and from the outside at least it looks like the previous version of the Ursa Mini Pro. But looks are deceiving, which I'll come to in a moment. We presume the G2 monicker is a reference to being a second generation camera, even though it is really a third, or maybe even fourth if we compare it to the very first URSA.
It has the same solid metal body construction, the same gorgeous angular shaping, and it still feels as if its construction quality would give a Challenger tank a run for its money.
The review version of the camera came complete with the shoulder mount kit, which includes an adjustable shoulder pad with a built in VCT-14 tripod plate wedge, and a top handle with the URSA Mini OLED viewfinder. This is adjustable fore and aft by loosening off a thumb screw so you can get the perfect shoulder balance and viewfinder position.
The very solidly built URSA Mini OLED Viewfinder.
The viewfinder has three buttons on it to toggle peaking, display overlays, and focus assist zoom. The camera is equipped with an ENG style ND filter wheel that goes up in 2 stop increments with a maximum of 6-stops.
The front of the body is home to user assignable buttons, which by default toggle false colour and the display LUT. A HFR button features for switching the camera instantly into slow motion mode. Above these are ENG style switches that control ISO/gain, shutter, and white balance. All of these functions can be controlled directly from the large flip out LCD display, but clearly while mounted on your shoulder you will be using the physical controls instead.
Above this is a menu control wheel and also a multi-function wheel, which can be used to control iris on electronic lenses or audio monitoring volume.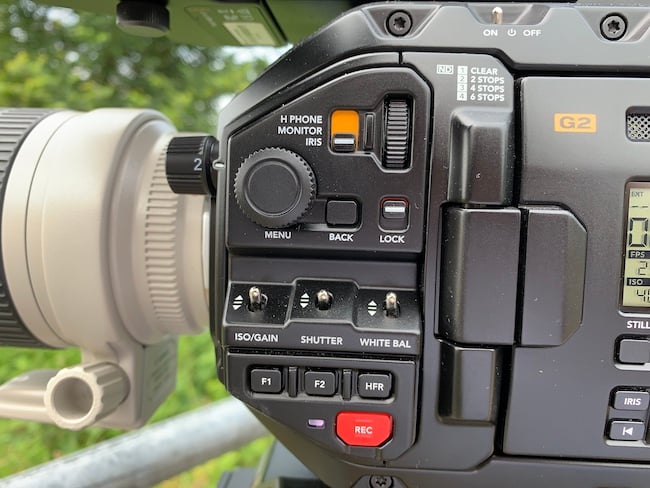 A close up of the front of body controls. The HFR button allows you to quickly enter slow motion mode in an instant.
Twin XLR audio in sockets are situated on the top rear of the camera. This isn't quite as convenient as having them on the back, but they are at least very easy to access, and are protected by a rubber dust cover when not in use.
The rear right side of the body is home to Lanc in, SDI in/out and ref/TC in BNC ports. Below this is a 4-pin XLR socket for 12v power in. The front right is also where you'll find 12v XLR out and another SDI out socket for powering the viewfinder or other device. Importantly there is a lens interface for when you might be using B4 lenses.
I've left the large LCD display until last. This is the heart of the device. Behind it are two CFAST 2.0 and two SD card slots. It is here where one of the external differences between the G2 and the previous version of the camera comes into play with the discrete USB-C socket, which can be used to hook up an SSD drive for recording to.
The usual mic selection switches are also here, allowing a choice of mic, line, and AES input types as well as a 48v phantom power selector. Menu and playback controls, focus zoom, and peaking feature, too.
On the rear of the screen there are volume control dials for audio levels and a standard LCD display showing timecode, frame rate, shutter speed, white balance etc. It's a very well laid out informational display and essential for when the LCD is folded against the body.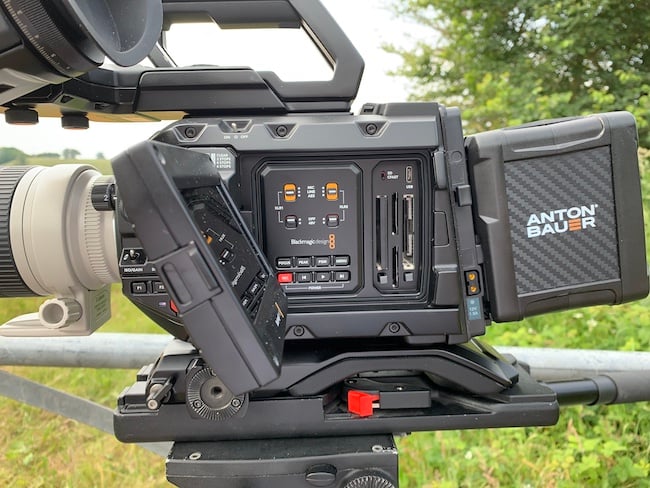 Behind the LCD you'll find storage slots, playback and menu controls, and the all important audio settings switches.
On the front of the LCD is... Another LCD. Perfectly daylight viewable and with all the important information you need at a glance.
What's different
Much of what I've describe above will be familiar to existing URSA Mini Pro owners. So what's actually different in the G2?
For a start the internal electronics have been redesigned. There's a new 4.6K S35 sensor capable of 15 stops of DR. The G2 can go to a maximum of ISO3200, so it isn't a low light monster, and it doesn't have the dual native ISO functionality of the BMPCC 4K.
The headline feature of the G2 though is its high frame rate capabilities. Try as you might to lament the over use of slow motion, but the fact remains that it is a very in-demand feature, and there's a bit of a race on amongst manufacturers to increase such abilities across their ranges. The G2 is capable of a maximum frame rate of 300fps in windowed HD mode, 120fps in 4.6K mode, and up to 150fps in 4.6K 2.4:1 mode (a reference to the aspect ratio). These top frame rates are only available while shooting BRAW, while ProRes modes can shoot at slightly lower maximum frame rates.
300 fps is a very attractive figure, even if the sensor has to be windowed to achieve it. At that sort of frame rate we enter the realms of being able to truly evaluate motion. In other words, while some very creative shots will be possible, it is also high enough to be of real, practical analytical use as well.
The lens mounts are also easily field swappable on the G2. This is a big deal because it means that with one camera you can have a B4 style ENG rig, a low cost cine camera with EF and F mount lenses, and a higher level cine camera with PL glass. And don't go thinking that you can simply adapt other cameras in a similar way. The URSA PL mount for instance is fully compatible with Cooke's i/Technology protocol. You won't get that with a simple 'dumb' adaptor. This is a truly versatile camera, and in fact this one feature would appear to make the URSA G2 an entirely new genre of camera. Is it a cinema camera? Is it an ENG camera? Is it a compact general use camera? Actually it is all of those things, and it does them well!
The two XLR audio inputs are on top of the camera, and protected by a dust cap.
Powering up
Switch the G2 on and start-up time is around 7-8 seconds. This isn't lightening quick, so in fast moving situations you will need to be aware of this. That said, I've known much slower devices! Once on, the LCD is bright and the user interface, as per all other BMD cameras, is very clear and easy to use. The menu system, too, is familiar from the other cameras in the range. It's worth saying again, all other camera manufacturers could learn a huge amount from the menu and settings system that Blackmagic Design employs on its devices.
The easy setup on the URSA came into its own when I used it to shoot a conference. Audio was easy to set and adjust on the fly using the external rotary dials. I will note though, that like the BMPCC4K, if you set both the channel 1 and channel 2 audio inputs to the same XLR socket, you can't independently adjust the volume for each recorded channel. I took two feeds off the mixer desk using two XLRs and set the second channel to be my safety net with reduced volume. However, the camera does in fact allow you to set one channel to be, say, XLR 1, and then the second channel to be "XLR 1 - Mic Backup". You still can't independently adjust the volume of each channel, but the camera will fix the mic backup channel to 50% volume. Curiously, when you do this you only see the audio meters respond on channel 1. The audio circuits would seem to be very quiet, in line with most recent BMD cameras with high quality pre-amps.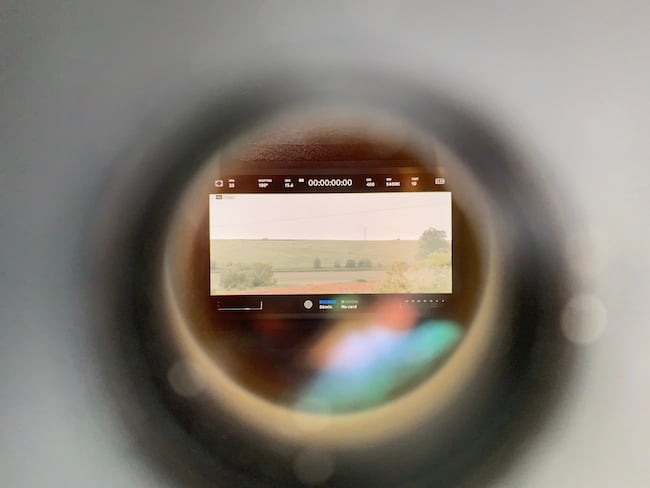 A view through the exceptionally sharp and bright OLED viewfinder.
I had the URSA G2 filming alongside my BMPCC 4K during the conference, both recording to ProRes LT given the length of footage required. The URSA (and in fact both cameras) performed flawlessly, despite being powered on continuously for the whole day. The G2 has some pretty big air intakes on the top of its body, so overheating should never be an issue with it. There is a slight fan noise, but although it is something to be mindful of, shouldn't be intrusive enough to cause an issue during most scenarios.
I did notice that when I was using the flip out LCD, at certain angles it could interfere with adjusting the dial for DSLR iris control. This wouldn't be a problem with B4 or other manual style lenses. But given the number of people who will be using electronic DSLR lenses with the camera it is worth noting, although the iris can also be controlled with the touch screen as well.
Conference filming with the URSA Mini Pro G2. It performed flawlessly.
Initially I was to shoot the conference using two cameras from another manufacturer, including a 2/3" ENG rig. The logistics meant that I felt that the URSA and BMPCC 4K were very well suited to the purpose instead, and in fact I am glad I used them instead of the ones in my original plan. The URSA offered up a much nicer picture, but it also coped much better with the lighting (think big windows on the side of a building) than the alternative camera.
That's it for now. In the next part of this review I'll be covering overall picture quality impressions and the all important slow motion capabilities.