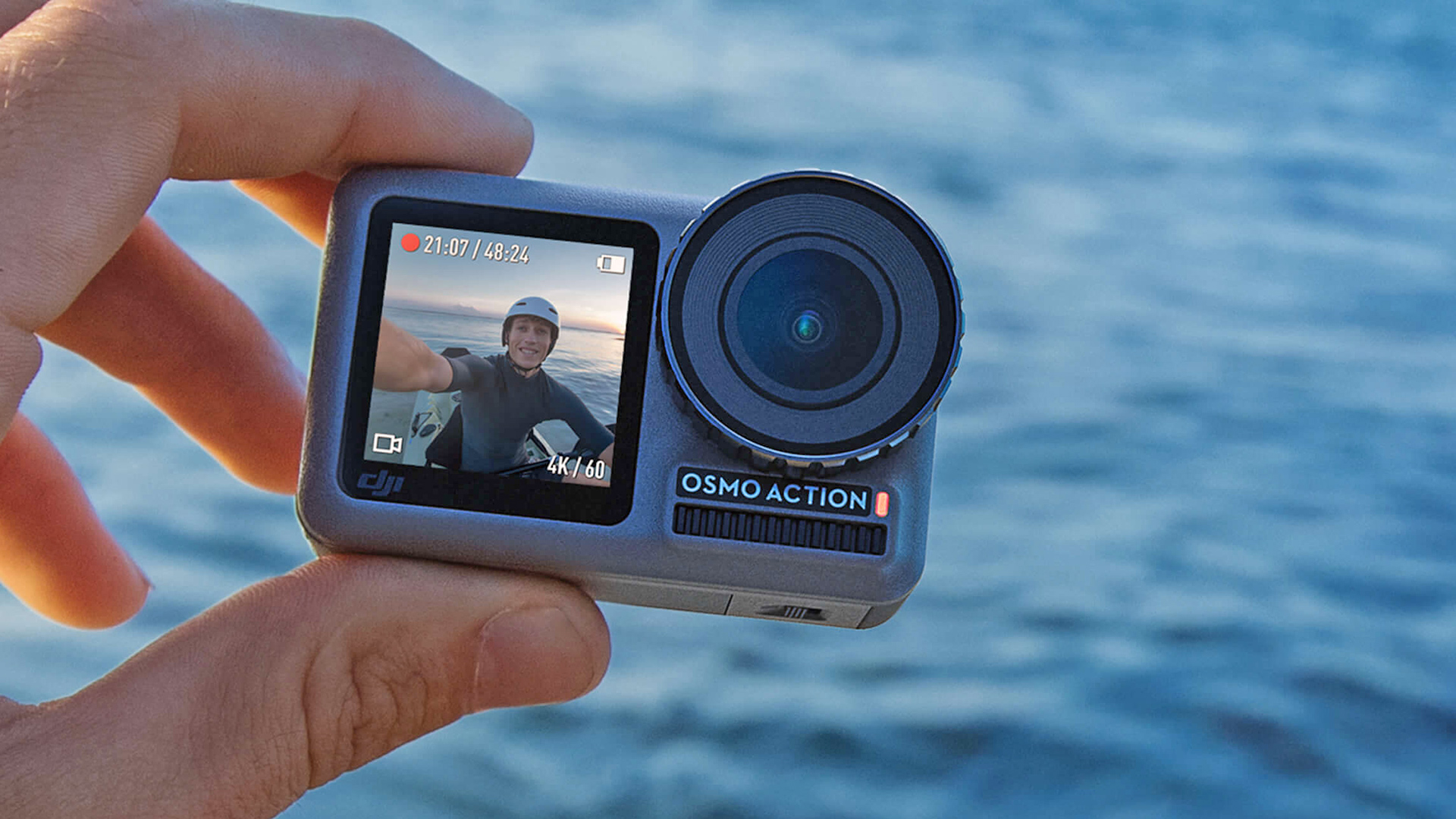 Review: The Osmo Action promises a lot to action camera fans. In the final part of his review, Simon Wyndham looks at what the camera is capable of.
So what's the picture quality like?
The camera generally seems to make good choices with exposure, although like any camera with a chip this small, there can be noise issues in the shadows or when the device decides to bump up the ISO. Although you can place limits on how far you will allow the auto ISO to go, or to set it manually. You can also set EV compensation, and like pretty much all action cameras it is sometimes a good idea to set this to around -0.5 to -1 to protect highlights as much as you can.
The one aspect I didn't like was the digital edge enhancement. Unfortunately this cannot currently be turned off or adjusted. It's a feature that I really do hope DJI will consider adding in a future firmware update, firstly because it will enable the Osmo to be cut in with other cameras more easily, but also because it will go easier on the compression system.
The default colour setting can be a little too contrasty, so I found it best to use D-Cinelike. This isn't a real log option, but does desaturate things and lowers the contrast a bit. Having said that I know a lot of general users who will use this camera I know will prefer the contrasty, sharp, colourful look right out of the camera. It's an all too easy fact to forget that the majority of users of this camera do not care about sharpness settings or log gamma. They just want to be able to get results fast, make a quick edit, and show their mates what they've been doing.
And this brings me to compression. The Osmo Action uses H.264 at a maximum of 100Mbps. RedShark readers might bemoan the lack of an H.265 option. It is after all a lot more efficient and gives much better results for the comparatively low bitrates typical that such cameras utilise. But H.265 comes with its own baggage, including requiring much more processing grunt when it comes to editing. Remember those general users I mentioned? Well they don't like their computers slowing down to a crawl just to get a few clips out on Facebook or YouTube. Would I like to see it implemented in the camera? Sure I would. Will it affect most of its primary intended users? I doubt it. However, H264 does show its limitations when it comes to the slow motion footage, especially in highly complex environments such as white water, with some macro blocking showing that doesn't appear in alternative H.265 footage from the same angle. But that's the trade off you make if you want easier to handle footage in editing.
Rock Steady and slow motion
The talk of the town about the Osmo Action is the Rock Steady stabilisation function. It is features like this that are really revolutionising action movie making. But is it any good in the real world?
In short, yes, it's impressive. Running along with the camera in my hand gave great results, and it was amazing to see how well it coped even in the less than ideal weather and lighting conditions it was presented with. It did less well with a rucksack strap mounted fixing, but there was a lot of movement to compensate for. Is it gimbal quality? Not quite but it's very, very close in some instances!
There are trade offs. The angle of view is of course reduced a fair bit due to the cropping required for EIS. So you won't want to use it for everything. But it's a great tool to have at your disposal without the hassle of a gimbal.
The left side of the Osmo Action showing the opening in the frame to allow access to the USB port when the cover is removed. For non water based activities only!
The Osmo Action can perform up to 120fps in HD slow motion mode without sound recording, and 60fps in 4K real time with sound. Bear in mind that in 4K and 2.7K 4:3 modes you'll be limited to a maximum of 30p and no option to use Rock Steady or Dewarp in 4K (but you can in 2.7K). On the other hand Rock Steady does work in normal 4K 60p. Likewise, in HDR mode, which I might add gives some great results in challenging conditions, you cannot use Rock Steady. Furthermore in HDR mode you cannot set EV compensation or ISO, although you can use Dewarp.
When using Rock Steady there is a delay of a second or so on both the LCD displays, which will be an issue if you are using the camera to track objects or people, particularly if they are fast moving.
Most of these limitations and caveats will be down to processing power. They aren't deal breakers. For example the ability to use the Dewarp and Rock Steady function in 2.7K 4:3 mode is a useful one even if it isn't high frame rate. And the LCD delay isn't something you'd be particularly concerned about if you are mounting the camera on a helmet or mountain bike most of the time.
Lastly, but still importantly, is sound. I mainly used the Osmo in a white water environment. The loan period didn't give me enough time to arrange a proper river trip, but still I got to test it in a noisy outdoor environment albeit on a low grade river (so not as noisy as it might be elsewhere). And the results were surprising. It picked up both my partner and friend's voice really clearly, despite the distance we were, and despite the white noise of the water all around us. Going into the white water itself the recording sometimes threw up some 'tinniness', but in general it seemed to pick up things surprisingly well all things considered.
The right side of the DJI Osmo Action showing one of the microphones
Conclusions
There are a lot of functions on the Osmo I didn't have a lot of time to go into with the very short period I had the loan camera for. Stills for instance, and night photography. Although I can confirm that the device will take raw photos, go up to 120 seconds exposure, and can also apply the dewarp function to get rid of the fisheye look for stills as well as video.
For fans of adventure sports and activities, the Osmo Action has some appealing features. What it lacks in some areas it makes up for with a lower price, and by being very easy to use. But it also offers up a few of its own tricks, like the front facing screen.
In short I think that the Osmo Action is a solidly built action camera for users who want rapid results instead of endless tinkering with setup menus.
Should you consider it instead of the GoPro? The Osmo Action doesn't have as many options for high frame rates in 2.7K or 4K modes, and its angle of view is narrower than its nearest rival. However if you want results fast, want less processor intensive footage, and you want reliability and amazing, sometimes superior, stabilisation for less money, the Osmo Action will be a great choice.
The Osmo Action costs £329 ($349).
Some rough and ready test footage below. This isn't cinema, but will give an idea of what it's like in the real situations it might be used in. Including me having an 'off' day while kayaking! No grading, no music, just the sound right out of the camera.