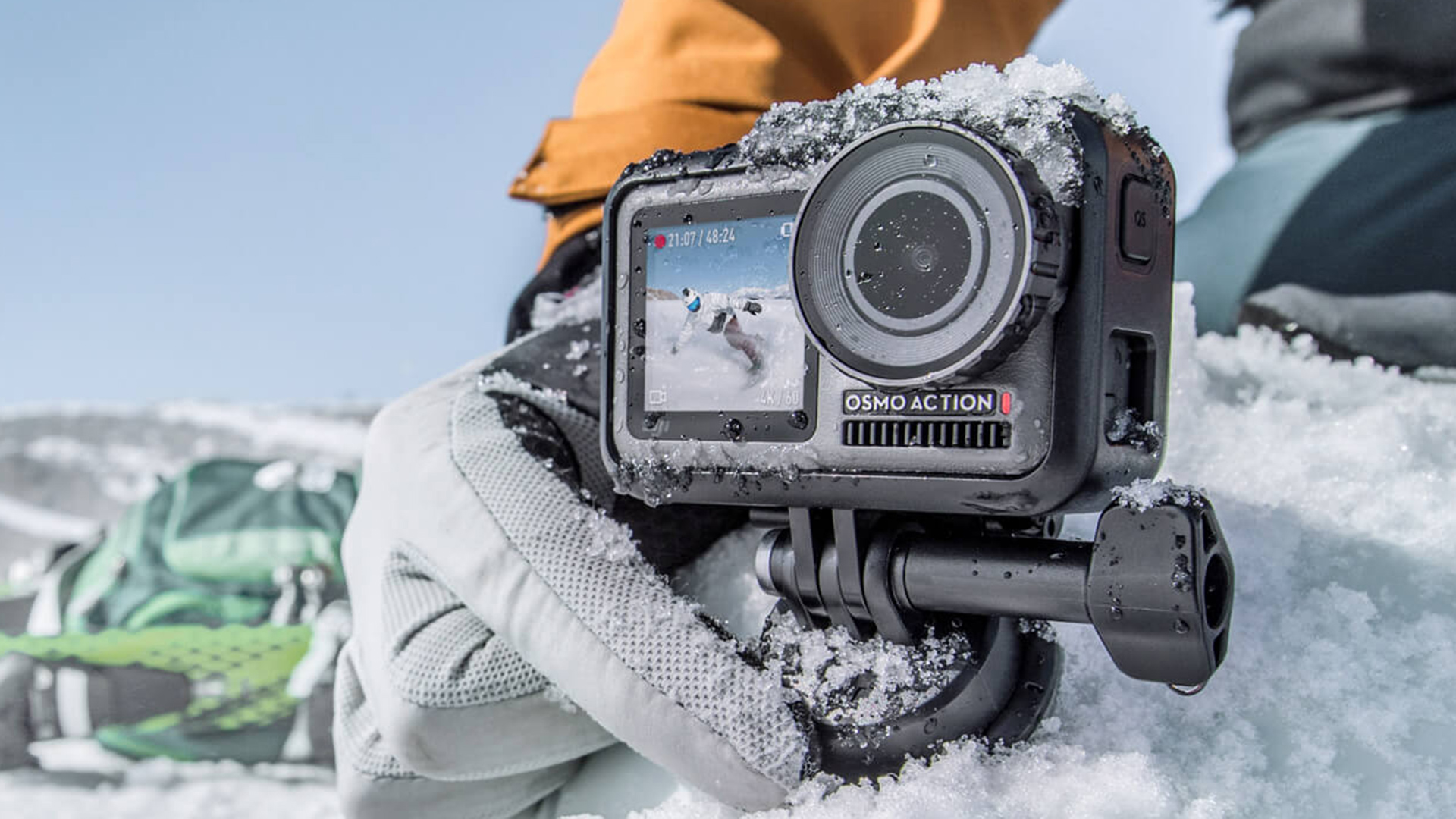 The action camera market is, if you look at it as a whole, a pretty crowded place. But while there are a lot of different models available, there are surprisingly few that stand out as being exceptional. Until now. 2019 looks like it is hotting up where action cameras are concerned, with new announcements from the likes of Feiyu Tech and now DJI.
The current market leader is of course GoPro. It is impossible to escape, although its most recent camera, the Hero 7, was met with mixed responses. Offering pretty much the same quality picture as the previous model, the main stand out feature was its Hypersmooth stabilisation, which it has to be said is pretty impressive. But now its competitors are catching up, and in some cases surpassing this capability with their own stabilisation modes. So here's a short rundown of the action cameras to look out for in 2019.
GoPro's Hero 7 Black remains the market leader, but it is coming under heavy competition now
GoPro Hero 7
Let's start with the Hero 7 Black. As mentioned previously the picture quality of the 7 doesn't really offer much above the Hero 6 Black, but the Hypersmooth stabilisation still keeps it in contention. The sheer number of mounts and accessories available for the GoPro cameras is also a major plus point. So all pervasive are these accessories that most of the new cameras out there are generally compatible with its mounts, making it pretty much an industry standard.
Another plus point for the Hero 7 Black is ProTune modes, and the ability to fine tune the picture by adjusting sharpness, saturation etc resulting in a very smooth, and pleasingly natural picture. At £380 it is still one of the most pricey action cameras out there.
The Yi 4K+ is getting on a bit, but still holds its own and is great value
Xiaomi YI 4K+
The YI 4K+ is starting to get on a bit now, and we have no idea if or when a successor will be announced. But it is still a very capable action camera with a tuneable picture. Offering 4K at up to 60fps with H.264 recording, it still keeps up with the best. The Yi 4K+ also has a bit of a following where firmware hackers are concerned. Modified firmwares have made the camera capable of up to 300fps in 720p mode and up to 70fps at 4K, and 200Mbs recording bitrates.
Although it is still a very capable camera, it requires an additional housing to make it waterproof, meaning that it is bulkier than more modern rivals. The rear screen is hard to see outside, and it is likely that as the year goes on it will be further surpassed in abilities by newer cameras. At £230 though, it remains excellent value.
New kid on the block, the Feiyu Tech RICCA
Feiyu Tech RICCA Sports Camera
Feiyu Tech surprised everyone by announcing its RICCA Sports Camera. Like most of the new cameras coming out, it looks very similar to the GoPro in terms of shape. But the Feiyu Tech camera sports a beautiful looking metal body, and is waterproof to 1m for 30mins without a case. This means it might not be as robust as some rivals in harsher water based environments such as surfing big waves, and its maximum frame rate of 30fps at 4K resolution does lag behind the competition.
On the other hand it has some very capable looking 6 axis electronic stabilisation and in camera lens distortion correction, raw photo capability, and H.265 and H.264 recording codecs. But one feature that will be sure to be an attractive proposition to a lot of customers is its battery life. With a claimed 150 minutes of continuous recording via a 1400mAh battery, the RICCA appears, on paper at least, to trounce the competition in this regard. All will be revealed when the RICCA finally appears for sale.
The DJI Osmo Action is shaping up to be a hard hitting competitor to the GoPro
DJI Osmo Action
Like the RICCA, the Osmo Action was a surprise announcement, and it has created quite the stir. At £329 it is cheaper than GoPro's flagship, yet either has or surpasses its main rival in terms of many of its capabilities. 4K at 60fps is here, along with an electronic stabilisation mode called "Rock Steady", which from the examples we have seen actually not just betters GoPro's Hypersmooth mode, but is considerably better. And that's a pretty astounding feat. Dual screens also feature, making self shooting, a large part of action cam filming, much easier to do.
DJI has thought through a lot of the practicalities too, with features such as screw on filters, and what appears to be a very responsive voice control.
The lack of H.265 recording might put some who want the latest and greatest off, and the field of view is much narrower than the GoPro, but regardless the Osmo Action looks like it is shaping up to be a very worthy contender in this market. We will have a full review of the Osmo Action on RedShark very soon, so look out for that.
Sony's RX0II. Pricey, but very capable.
While Sony's own FDR-X3000R is getting on a bit, it can still hold its own against the more recent crop of cameras, despite its much more bulky form factor. But it is the new RX0 II that is most interesting this year. It's much more pricey at £730 than even the Hero 7 Black, but it features a really neat flip out LCD screen, and for this type of camera, a massive 1" CMOS chip, making the picture quality from it far surpass that of any equivilent type of camera. This might not make it as suitable for 'capture all' type scenarios due to depth of field issues, but as a creative tool it adds something new into the mix.
It's waterproof to 10m without a case, and can withstand 2000N of crushing force, and it can capture slow motion at up to 1000fps at reduced resolution. The picture is fully adjustable too. Combined with the minimal lens distortion, this is the one to get if you want to intercut with your big camera. True, the price may be off putting, but it is hard to argue against the capabilities of this device.
So far 2019 is shaping up to very interesting so far where these cameras are concerned. The big question is what, if anything, will GoPro come up with this Autumn to compete? 4K at 60fps is now normal, so I would expect one feature enthusiasts will be crying out for is even higher frame rates, as well as more improvements to Hypersmooth. But will there be one earth shattering capability that really brings the Hero back to the forefront? We shall see. Hopefully!
Tags: Production