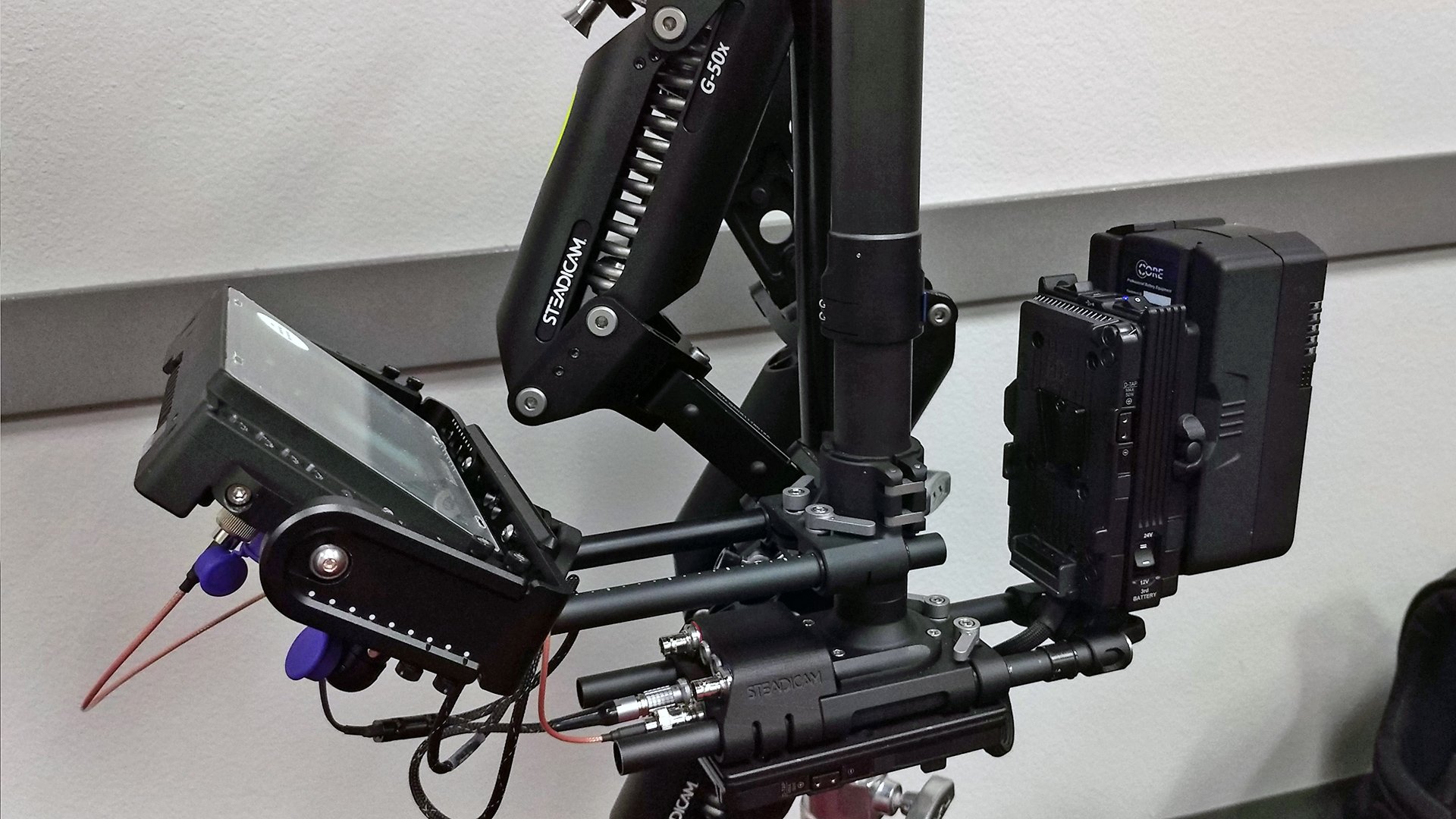 Tiffen has several new products in store for the film community, including new LED lights and an entirely new generation of Steadicam.
Lighting
First up are LED versions of its Lowell light line, including the Tota. Don Bachmeier, Tiffen's lighting specialist, gave me an introduction.
There are a lot of cinematographers who love their Tota lights. They emit enormous amounts of light with a huge spread, and they're compact and dirt cheap, yet built solidly enough to last for years. I've used them for flood fills to great effect.
But they're also extremely hot. They'll keep even a good sized living room warm, and you really don't want something like a silnylon diffusion to touch one, or a ceiling, or a person, or pretty much anything not made of stone or metal.
Don told me that the new LED Totas emit the same amount of light as the 750 Totas though they're now daylight balanced rather than tungsten, and with the same wide dispersion. They run cool enough to attach to cabinets, and the electronics package is compact and connects with a cable, so it's a lot easier to slide an LED Tota into place on the end of gobo arm than with the hot tungsten version. They can run off of batteries as well, making them a viable option for location work.
With a list price of $450 they're a bargain. They ought to find their way into a lot of cinematographers' kits before long.
Tiffen also has an LED version of the DP light at a similar price point, and it's built into a housing that supports the same modifiers as its hot, tungsten predecessor. It's also a bargain at more or less the same price as the LED Tota.
Drone Gear
The big new thing that Tiffen has in store for drone owners and operators is ND filters. There are versions made for specific gimbals that have built-in cameras including the mavic 2 Pro..
Steadicam
There are two new Steadicam products in Tiffen's lineup.
The first is the Steadimate-S essentially a kit that allows a Ronin-S operator to use a Steadicam to stabilize a Ronin-S. It uses a Steadicam vest and isoelastic arm with a gimbal that connects to the Ronin-S with a collar. The kit inclues a counterweight kit to balance the Ronin-S with, pretty much the same way that one would balance any other Steadicam, though the recommended drop time isn't the same as for a Steadicam. With this setup, starting at approximately, $1000 (they said more like $1500 for a kit that includes an arm that would be able to handle the extra weight of a camera like a Red), essentially enables a Ronin-S operator to smooth out its motion so that the result will look like actual Steadicam footage.
The Steadimate-S
It may sound a little ridiculous at first to mate a Ronin-S to a Steadicam, but if you have a Ronin-S and have tried putting even a lightweight camera like a Black Magic Pocket 4K with a Sigma lens on it and gone running after actors then you'll want a Steadimate-S.
Tiffen also had a prototype of a next genreation Steadicam called the M2 in a meeting room on an invitation only basis. It incorporates a motorized head that offers offsets and tilts, but the big improvement is in the stabilization.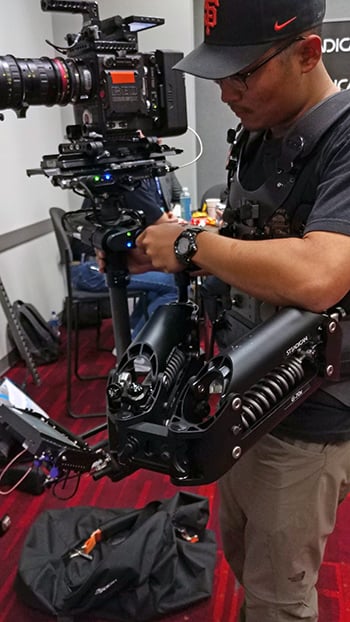 The prototype Steadicam M2 in action
Steadicams are designed to be a bit bottom heavy. That leads to nicely balanced rig, but it's also prone to a pendulum effect if the operator isn't careful. Of course, any experienced Steadicam operator learns how to prevent the pendulum effect, but having the Steadicam maintain that for the operator means that the operator's attention can be more focused on getting the shot the DP has designed.
Being a prototype, some of the parts on this were 3D printed and there are some plastic parts that will be replaced with robust metal parts when their designs are finalized. The Steadicam operators who came by to try it seemed pretty impressed.
The cost of this kit will be about what you'd expect for a professional Steadicam, and like most Steadicam systems these days, it's quite modular and current Steadicam owners will be able to adopt the new technologies without buying a whole new Steadicam system.
Also being in the prototype stage, it's not certain when the M2 will be available for purchase.
Tags: Production